Organize your life and save $THOUSANDS$ of dollars by using RTA cabinets to maximize your space in bathrooms, laundry rooms, garages, TV rooms, and bedrooms.
You can purchase Kitchen Cabinet Discounts' Ready-to-Assemble cabinets in their RTA flat pack state, OR for just $18 to $21 more per cabinet, your cabinets can be assembled by our warehouse. Whether you buy our cabinets assembled or unassembled, you'll see we sell quality cabinets at cheap cabinet prices. Plus, we offer more than 300 different items/sizes in EACH of our 18 cabinet lines.
ORGANIZATION HINTS

Design rooms for double-duty.
Build up, not just out out.
Turn wasted nooks into practical work spaces.
Add storage organizers to drawers and pullouts.
Keep frequently used objects close.
Want to create a glamorous FLOOR-TO-CEILING EXECUTIVE WALL in a study, library, livingroom, hall, or bedroom? Use RTA cabinets!
This 9'X11' bedroom was cramped with a twin bed, a drawerless desk, and small dresser. By removing just the desk and adding an entire 90" wide X 94" high EXECUTIVE WALL of RTA cabinets that went all the way to the ceiling, this room now doubles as a stunning study and bedroom. These NAPA VALLEY BORDEAUX RTA cabinets frame a central space in a bedroom that is ideal for a computer, fax machine, or writing area. The 90" long counter offers plenty of work space. The 12" deep wall cabinets store books and supplies, and the 24" deep, spacious SOFT CLOSE base drawers hold files and/or clothing. Total cost of floor-to-ceiling RTA cabinets, spectacular glass mullion doors, 4" crown molding, and decorative trim? Just $2,234 in the Napa Valley Bordeaux or Madison Avenue styles with drawer base units shown; only $1,771 if you use the same size regular base cabinets with double doors and shelves below, instead of triple drawer bases.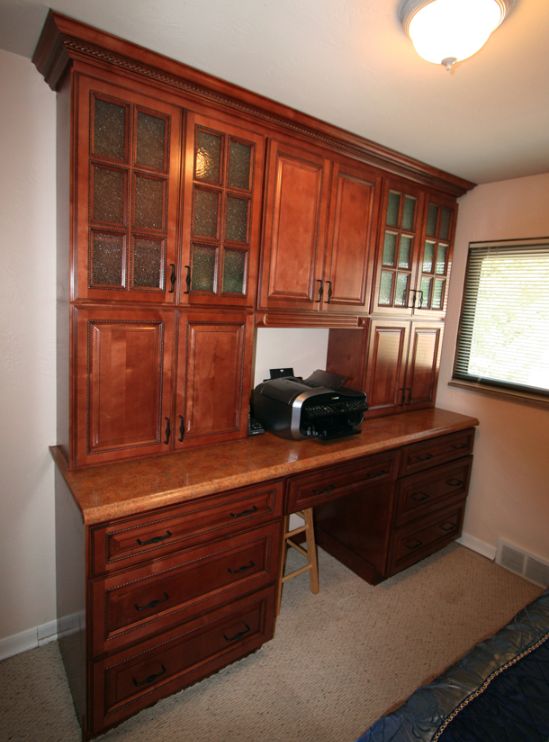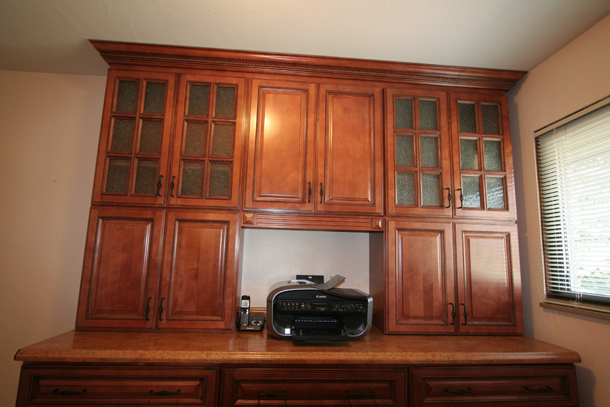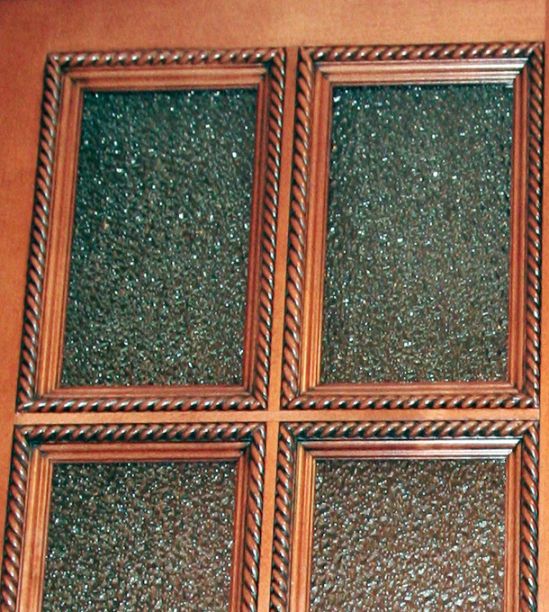 ______________________________________________________________________________________________________________________________________________________________________________
Add a Butler's Pantry, Bar, or Serving Station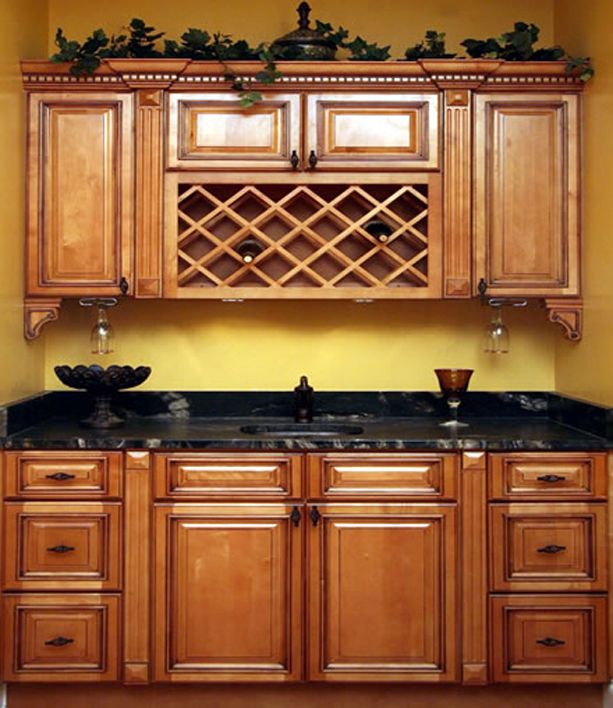 A BUTLER'S PANTRY offers additional storage space, another food preparation area, and doubles as a serving station. Butlers' pantries can be added to dens, family rooms, wide walkways, finished basements, closed in porches, and even laundry rooms. This one features fluted fillers and a double stacked cuts of four inch crown molding that make this area stand out. The bottom unit includes a 30" wide sink base flanked by decorative base fillers and 12" drawer bases. The wall includes two W1230 wall cabinets, a W3012 stacked over a 30" wide X 18" high wine rack, and two fluted wall fillers. Four inch dentil crown molding makes a grand topper.
Total cost in most of lines of our semi-custom RTA cabinets: just $1,355 with corbels; $1,281 without corbels.

______________________________________________________________________________________________________________________________________________________________________________
Customize an Office with Bookshelves to Fit Your Space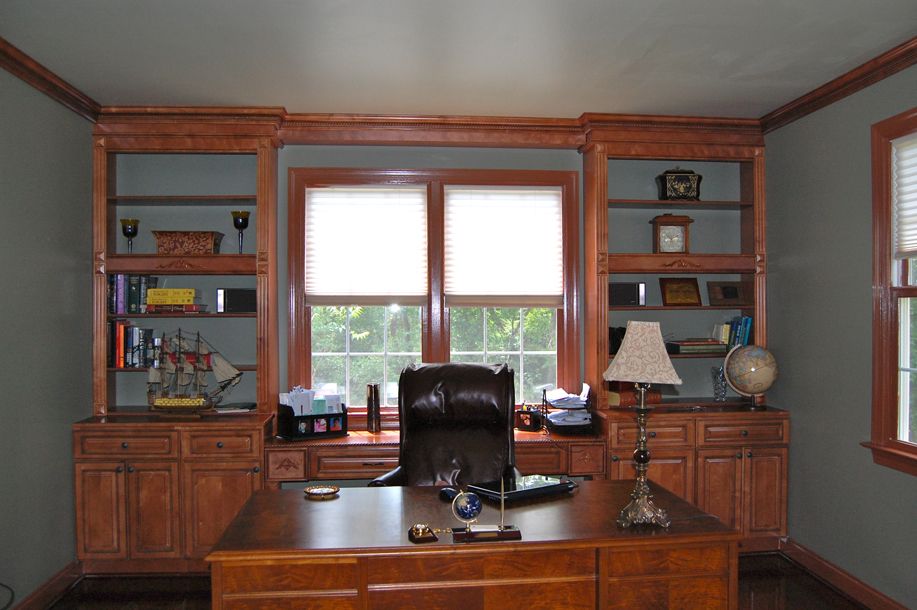 Nadeem P., a medical doctor from Downingtown, Pennsylvania, wanted to add a wall of books shelves across the 13' long X 9' high back wall of his office to complement his burled wood executive desk, but window trim just 28" off the floor limited his furniture options. That is why he chose to customize his space with four Madison Avenue ready-to-assemble base cabinets, two 30" wide X 7" high desk drawers to create a desk UNDER the window, and refrigerator panels, decorative fluted fillers, under cabinet light molding, and four inch crown molding from Kitchen Cabinet Discounts to tailor booksehlves into his space.
Nadeem first assembled and installed his base cabinets. He then trimmed one side of a refrigerator panel that was 24" wide X 84" long to create counters for his 24" deep bases. Next, he cut additional refrigerator panels in half vertically, so each would be 12" wide, then trimmed them to 72-1/2 " in height to create two sides for each of his bookcases. He attached two decorative fluted fillers that were 36" high and 30" high to the front of his book shelves. He cut other refrigerator panels in half vertically to create 12' wide shelves, and cut them to the desired length to create three shelves for each bookcase.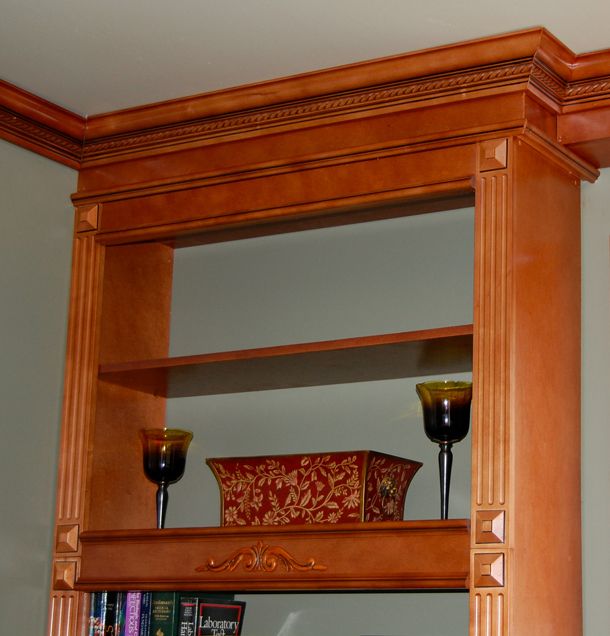 Nadeem used screws to attach one shelf to the bottom of each bookcase, the next shelf at 36" high, and a third one at 66". He added a 3" filler panel to the middle and top shelves in between the decorative panels, and trimmed the middle 3" filler on the top and bottom with under cabinet light molding. The top 3" filler was trimmed with under cabinet molding between the decorative panels. The top of the 3" filler was made level with the decorative panels. The whole length of the shelf was then trimmed with under cabinet molding. The four inch crown molding was cut at 45 degree angle and extended around the side of the shelf. This left about 7" to the 108" high ceiling to fill. Nadeem cut a 6" filler the length of the shelf and mitered it on the inside corner and the extended it along the side. The upper 1" gap that was left was covered by the crown molding. Nadeem stapled the outside panels to the outside wall at the top and bottom so the staples would not show. In between the shelves he cut two 6" filler panels to length and fitted one horizontally and one vertically above the under cabinet molding of the shelf. The vertical peice was attached to the edge of the horizontal piece. Some supports were stapled to the shelf behind the vertical piece. The panels in between the shelves served two purposes: it stabilized the shelves and served as a decorative element that the crown molding could be attached to easily. Nadeem caped off his design by adding 4" crown molding around the entire room.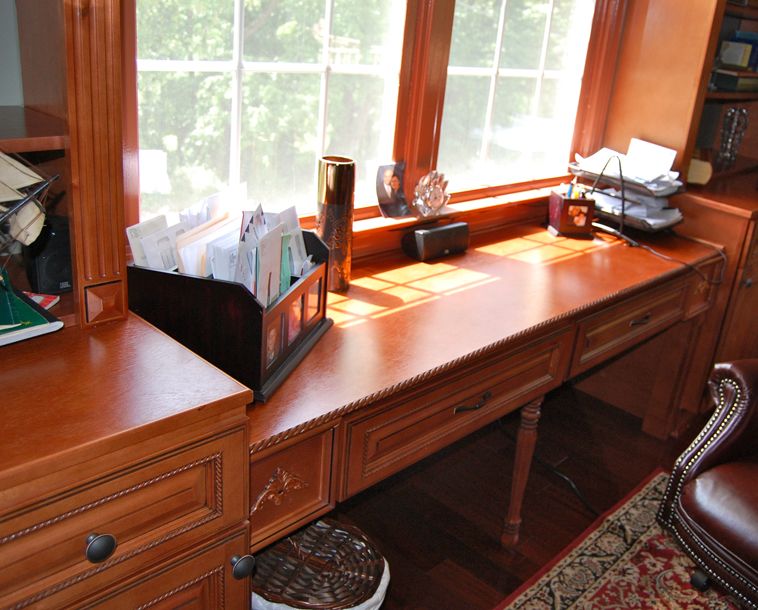 The desk area under the windows was created by cutting a refrigerator panel to a 77" length and then trimming it to a 21" depth, as that was the depth of the desk drawers. The desk drawers were centered and attached to the bottom of the refrigerator panel using L-brackets. To fill a 7" gap on either side of the drawers, Nadeem cut a 6" panel to length and trimmed it on 4 sides using leftover under cabinet molding, and attached it between the desk drawers and base cabinets. He bought some unfinished decorative appliques and an unfinished decorative leg at a local lumber yard, and stained them with matching stain from Kitchen Cabinet Discounts. He attached the appliques to the newly created 6" panels flanking the desk drawers and center of this book shelf panels, and attached the leg to the underside of the desk in the middle to provide additional support.
Upgrade a Laundry Room or Mud Room

John A. from Topeka, Kansas, liked Kitchen Cabinet Discounts' Country Oak cabinets so much, he just kept adding on to his laundry room. The room went from a functional vanilla-looking washer/dryer/extra refrigerator space to this dramatic back door entry. Total cost of two 24" wide X 24" deep X 96" high double wall pantries, one 18" wide X 24" deep X 96" high wall pantry, rollout trays, 5 large additional cabinets, and trim that stretched across 16.5 linear feet and went floor-to-ceiling? Just $2,058 in our builder-grade Country Oak RTA cabinets.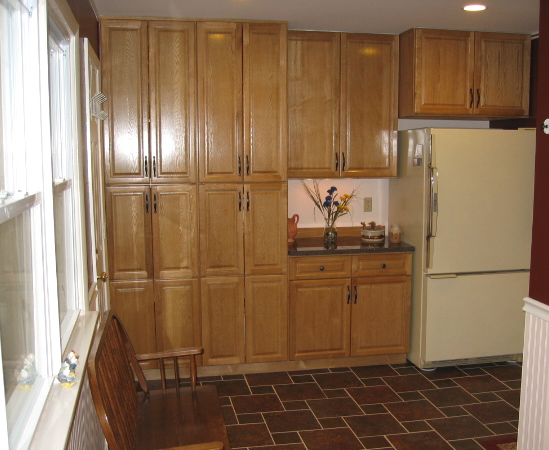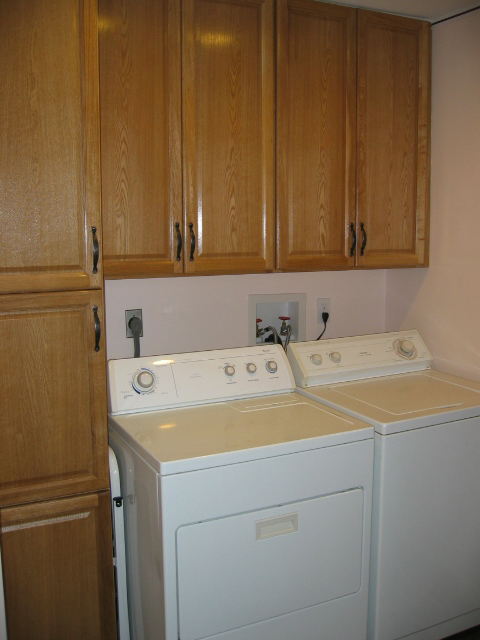 ______________________________________________________________________________________________________________________________________________________________________________
Add Cabinets & Pantries for Storage

Mike M. from Lacey, Washington, wanted to add 12" deep cabinets and 15.5" deep pantries to the laundry room of his retirement home, but couldn't find pantries in that unusal depth. Solution? He purchased three 27" wide X 36" high X12" deep WINTER WHITE RTA cabinets, three wall fillers, and three pantries that were 24" wide X 96" high X 24" deep from Kitchen Cabinet Discounts. He shaved 8.5" off the depth of the sides of his wall pantries on site with a 7.25" diameter power saw using 24-tooth blades. To maintain a true back side straight edge cut, Mike cut a 4' X 8' X 3/4" thick MDF board that he bought at the home center into two equal lengths. He used one length as a platform over four inexpesive plastic, portable saw horses to hold each 96" X 24" pantry side, and he used two wood clamps to hold the other length of the 2' X 8' MDF board over each 96" X 24" pantry side to guide the power saw during the resizing process. A router with a 0.5" diameter ball bearing bit was used to route a groove into each of the back sides of the resized 96" long pantry backs. The recessed grooves were ncessary to hold the back of the prefabricated panel. Completed project - 81" wide X 36" high X 12" deep cabinet space on one side; 72" wide X 96" high X 15.5" deep wall of pantries for storage on the other.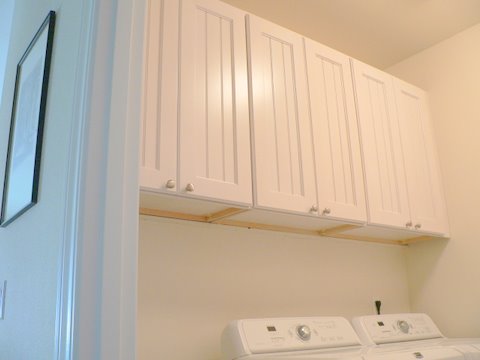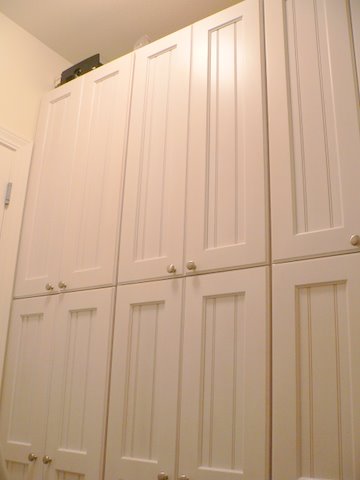 Kitchen Cabinet Discounts' RTA Cabinets are as bargain priced as some of the cheapest cabinets you will find on the internet, but our maple, oak, bamboo and birch cabinets are well-made, ready-to-assemble RTA cabinets sold at VASTLY discounted prices. Our customers tell us the only thing cheap about our cabinets is the price -- not the construction.
Don't be misled by sellers claiming they offer free shipping. If they do, the cost of shipping is already built into their RTA cabinet prices.