Great ideas for RTA kitchen makeovers come from architects, kitchen designers, experienced cabinet installers, do-it-yoursef books, and cable television shows. These great RTA kitchen cabinet makeovers are all from Kitchen Cabinet Discounts' customers. They purchased our ready-to-assemble (RTA) discount cabinets, and either assembled the cabinets themselves, OR, for just $15 - $21 per cabinet more, had their RTA cabinets assembled by our warehouse. Our wholesale cabinets sell for up to 70% off the retail price charged by traditional cabinet stores, big box stores, and lumber yards. PLUS, we offer a FREE kitchen design service to anyone purchasing just $2,000 or more of our cabinetry. Check these creative and dramatic BEFORE and AFTER RTA KITCHEN MAKEOVERS.

NOTE: Kitchen Cabinet Discounts is the SOLE company granted permission to use photos from its customers. These photos may NOT be reproduced or copied without the express written permission of Kitchen Cabinet Discounts.
____________________________________________________________________________________________________________________________________________
Robert & Sheri E. - Blaine, Washington - Transforming a Mundane Kitchen into a Gorgeous, Imaginative One
BEFORE RTA KITCHEN CABINET DISCOUNTS' MAKEOVER
Robert and Sheri E. own a sprawling mid-century modern home in the state of Washington that features soaring ceilings and enormous windows that flood the interior with light, allowing the natural beauty of the outdoors to merge with the beauty of the 300 plants the couple nurture inside their home. Since 2000, the year they bought their fixer-upper, the industrious couple remodeled one room in the house after another. Although they replaced the kitchen linoleum and the laminate countertop with porcelain tile along the way, it was in 2013, at age 74, that Robert decided to renovate the rest of the kitchen from the ground up. According to Robert, the old kitchen was "cold and unimaginative." It was large, but had no seating space anywhere along the lengthy counters, and the washer and dryer occupying the space under the window were visible to all. He and Sheri, both wonderful cooks and bakers, (as this tantalizing fruit custard decorated with edible blue borage and red oswego flower petals attests), wanted a kitchen that would utilize their space better, and be more in harmony with the open floor plan of the rest of their home.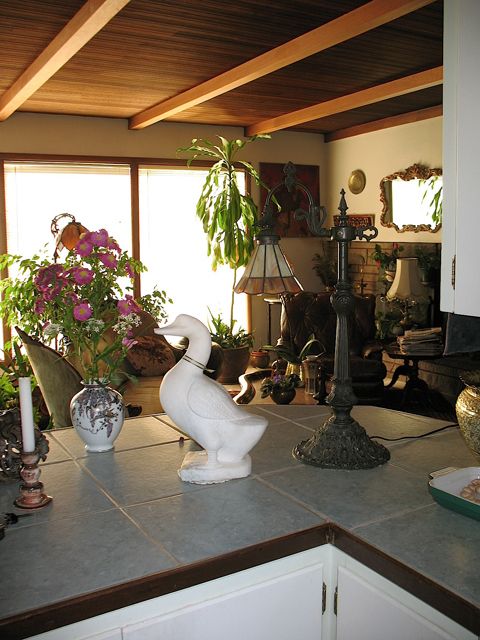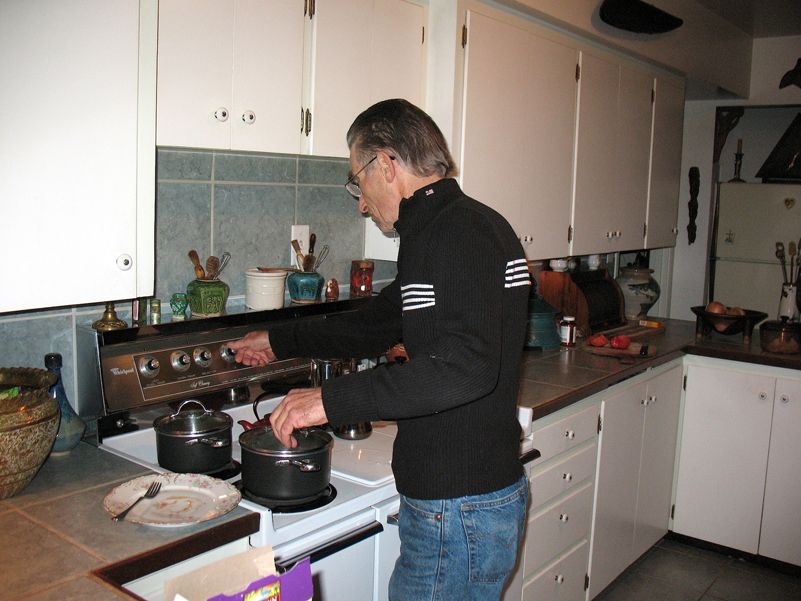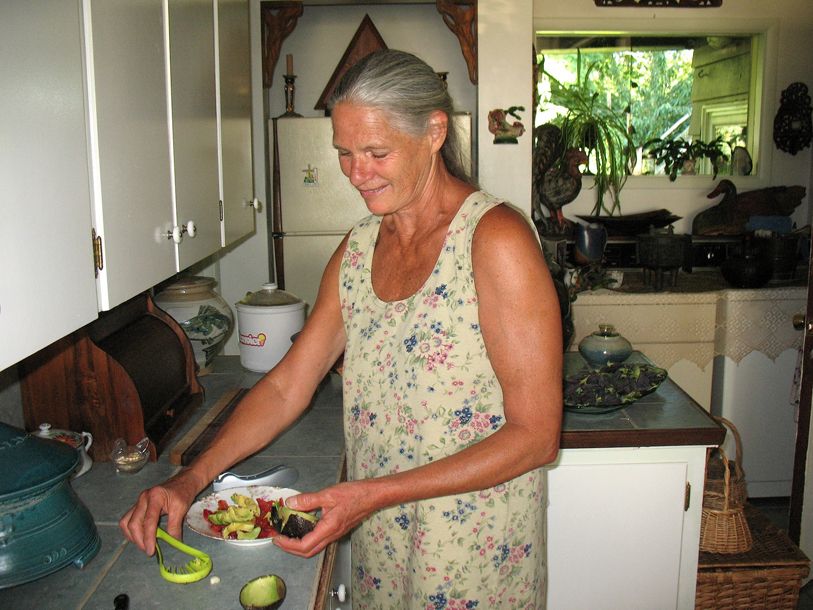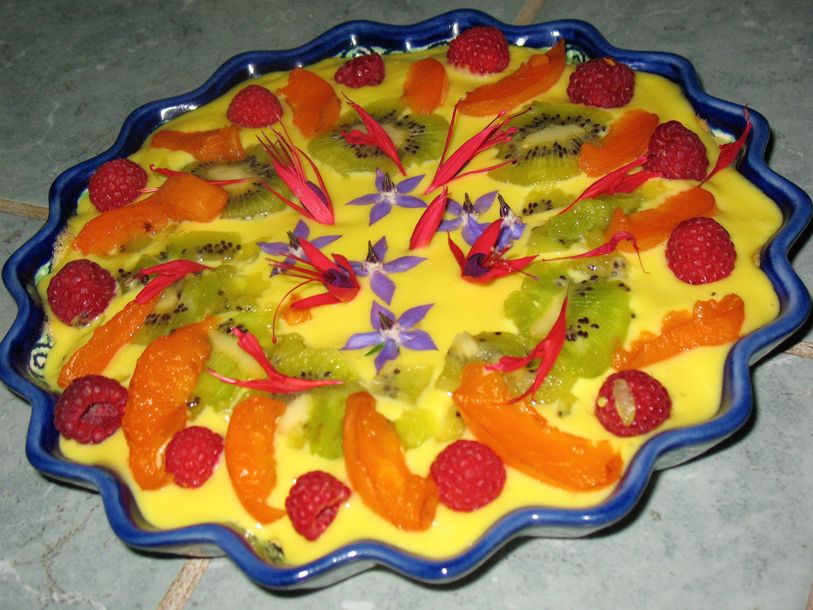 AFTER RTA KITCHEN CABINET DISCOUNTS' MAKEOVER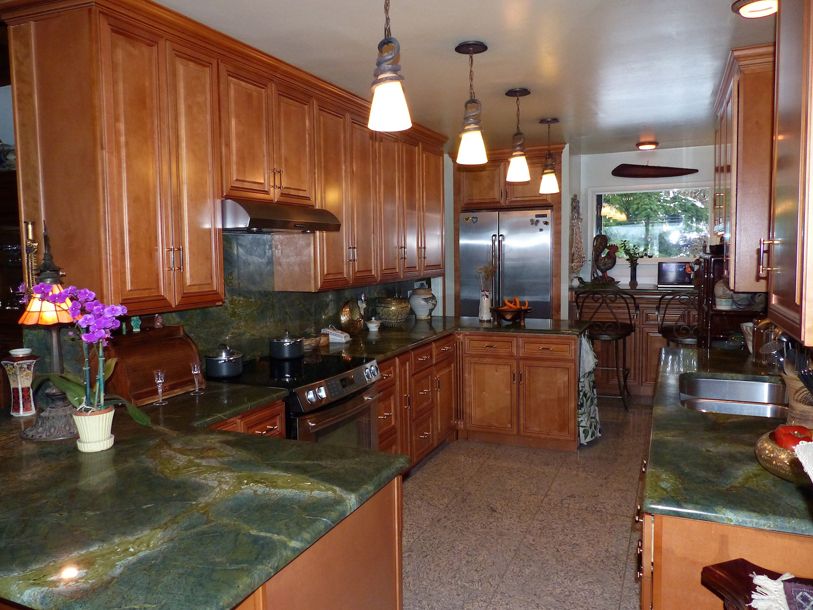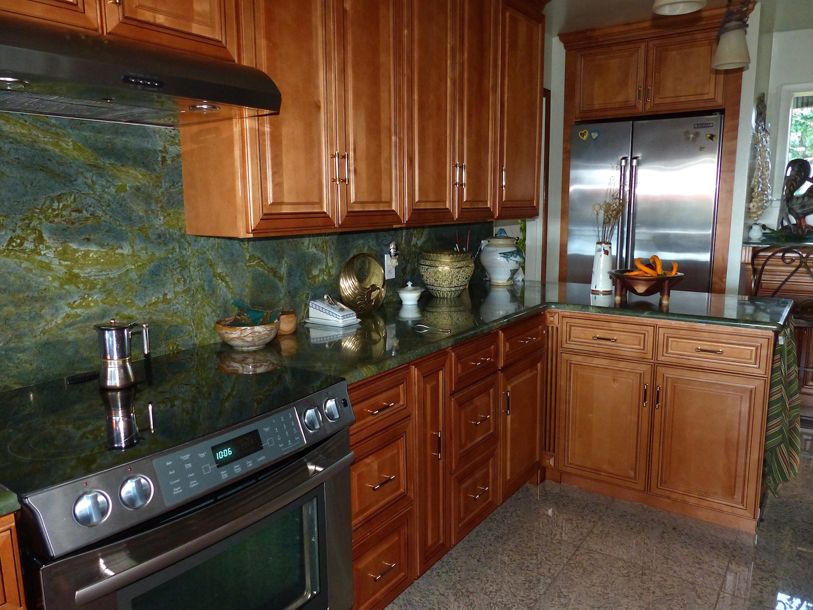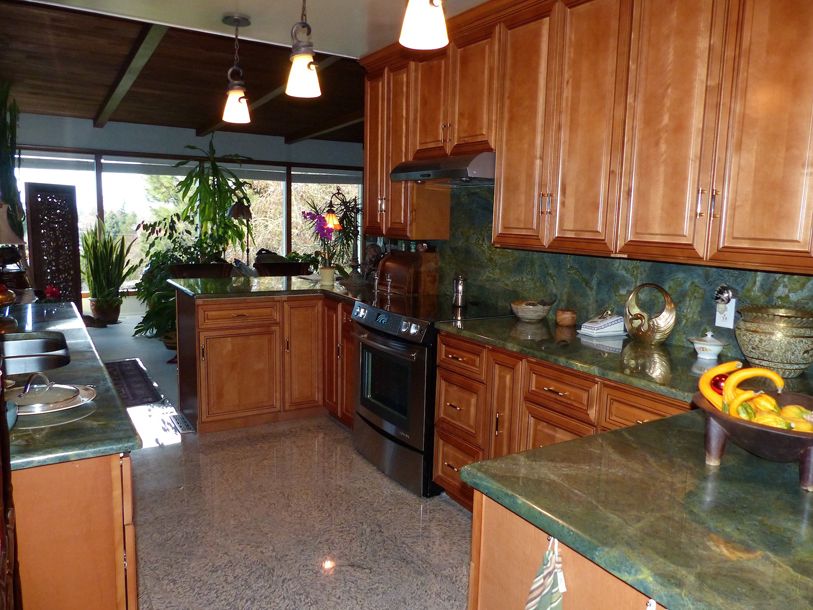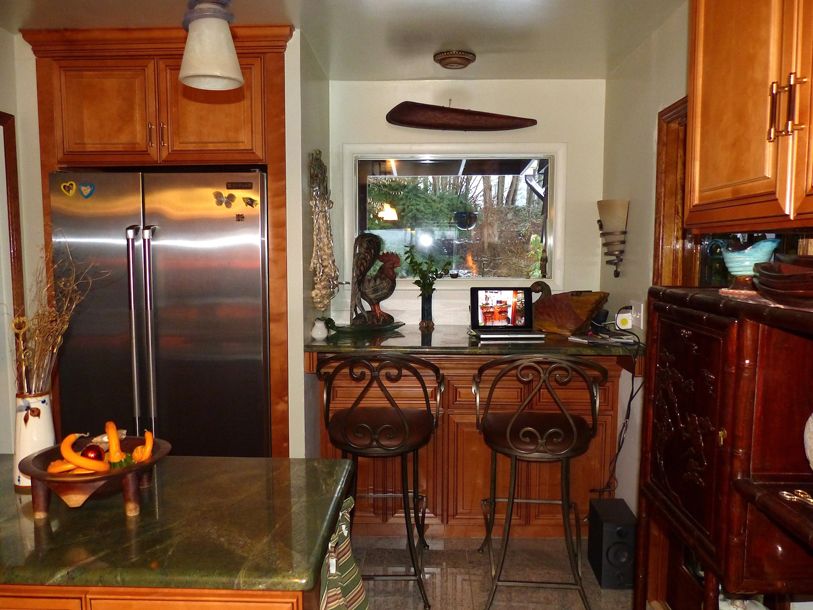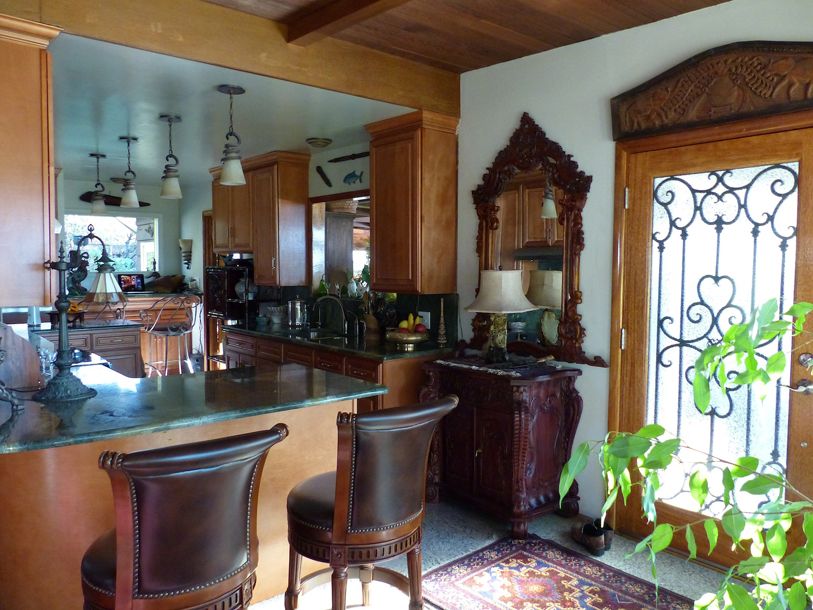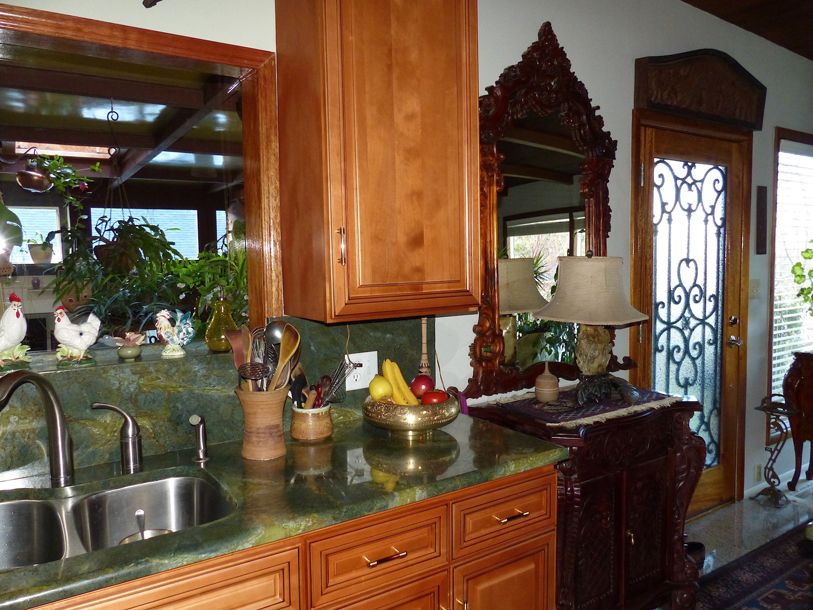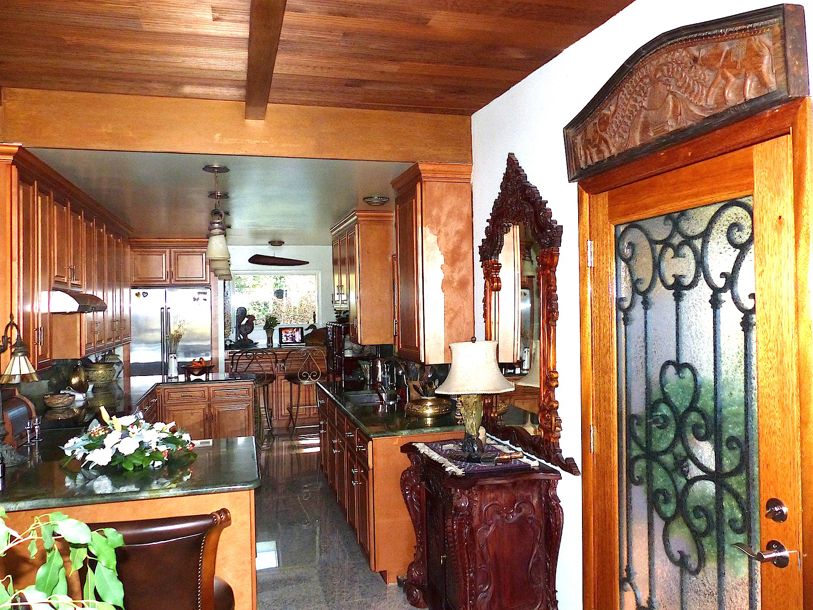 Robert, a former horticultural engineer and researcher at the Botanical Gardens of the University of Utrecht in the Netherlands, removed the washer and dryer from the kitchen and stripped the kitchen to its studs. All wiring and plumbing were updated. Next, Robert installed granite flooring, and then assembled and installed 25 MADISON AVENUE RTA cabinets from Kitchen Cabinet Discounts that make the kitchen look warm and welcoming.
The storage space inside the 42" high wall cabinets and the full extension soft close drawers provide MUCH more usable space than the cabinets did in the old kitchen.

Robert recessed the refrigerator and a double depth cabinet above it into the wall. The trash and recycling bin are now built into a base cabinet and hidden from view. Additionally, Robert built a two-person desk from cabinets in the nook where the washer and dryer had been, and added two bar stools there. He also added two more bar stools to the peninsula on the opposite side of the kitchen, near the new mahogany and iron entry door. All kitchen and laundry area cabinets and the backsplash were capped with a gorgeous Brazilian granite called GOLDEN LIGHTNING (akaVERDE KARZAI) to further promote the natural beauty and shades of green now found indoors and out. Best of all, the two seating areas at both ends of the kitchen allow Sheri and Robert to sip coffee and enjoy the fruits of their labor while comfortably working on a computer or performing their culinary magic.
What do friends say about the incredible transformation? "Yeuhhh Sheri ook helemaal blij?! Wat die handjes allemaal kunnen. Knap!" - (English translation: "Wow! Is Sheri also totally happy? You have nicely done that, Rob. What those hands are capable of. Awesome!"
________________________________________________________________________________________________________________________________________________________________________________________________________________________________________
Rory and Rita P. from New Braunfels, Texas - STACKING CABINETS TO CREATE THE McMANSION LOOK
BEFORE RTA KITCHEN CABINET DISCOUNTS' MAKEOVER

 Maybe it's a Texas trait, since just about everything in the LONE STAR state seems to BIG, but when Rita and Rory P. from New Braunfels, Texas, discussed their vision for opening and enlarging their kitchen space, they had BIG dreams, made BIG plans . . . and ended up with BIG, in fact, PHENOMENAL results. Now, they have plenty of room for Texas-Two-Stepping through the spacious aisles of their luxurious kitchen, plus room for five more dancers to grab a bite at their Texas-sized island counter.
Although Rory and Rita had a modern kitchen with14 good-sized cabinets and a large built-in panty, the layout of their old kitchen encroached into their living room, giving BOTH rooms a crowed, closed-in feeling. Raised counters by the sink "barricaded" their tight rectangular kitchen space, and although large overhead lights lit up the sink well, they didn't provide adequate light to make it easy to work on the counters against the other two walls. The color scheme of the old kitchen with its dark countertop next to a dark backsplash and with a dark floor "lacked contrast, and made the kitchen look common and a little outdated," Rory explained.

BEFORE MAKEOVER AFTER MAKEOVER WITH KITCHEN CABINET DISCOUNTS' CABINETS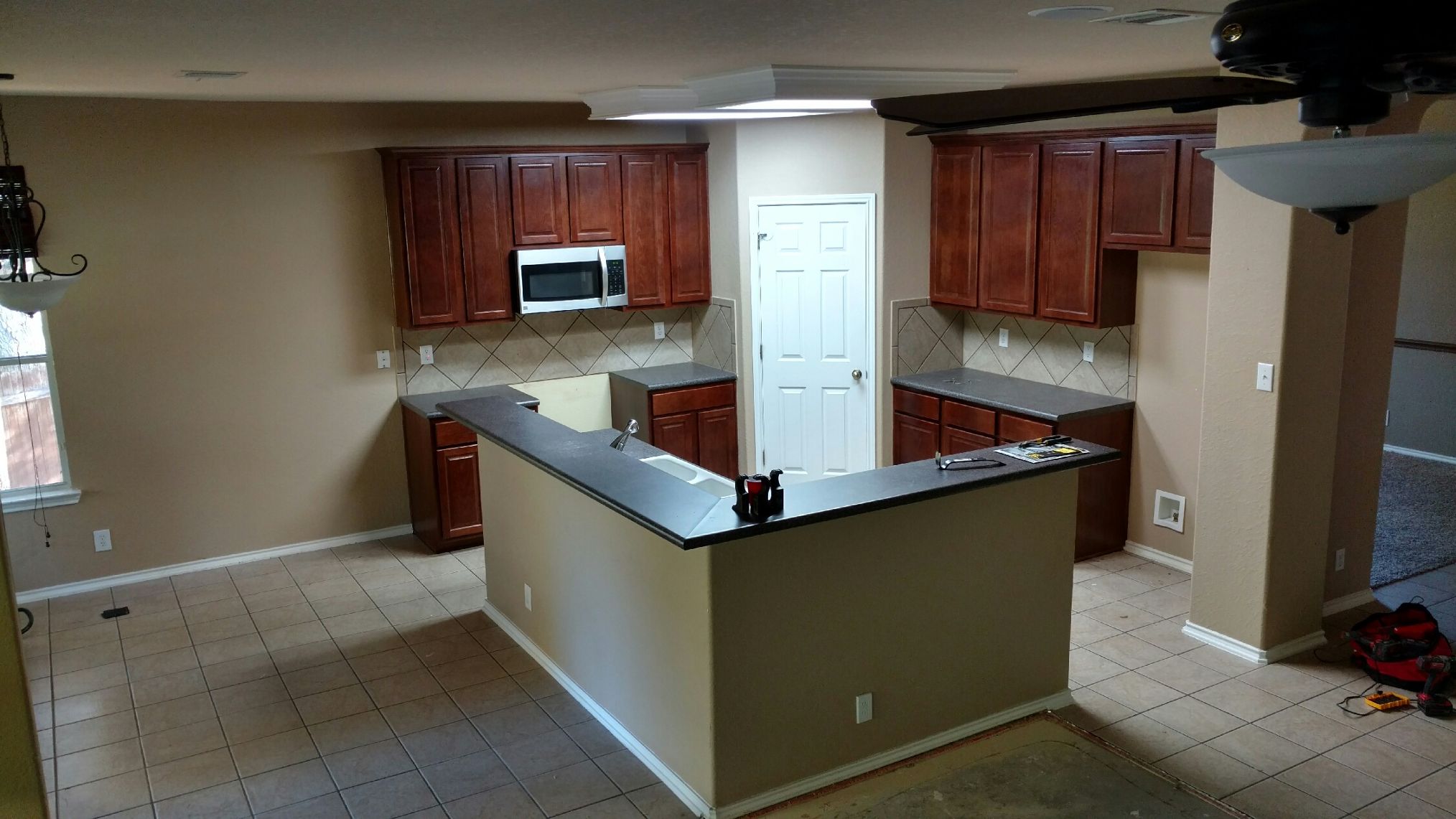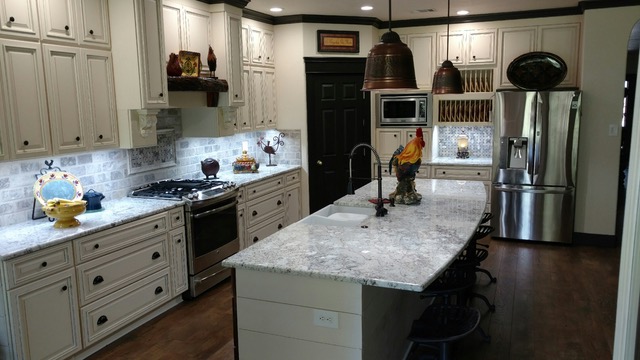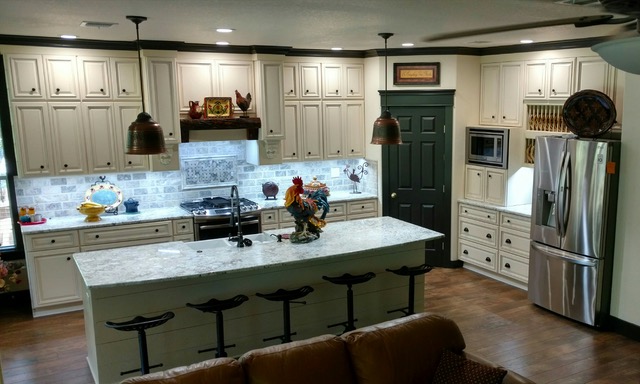 By removing the two walls surrounding the sink, and incorporating their breakfast area into the kitchen and adding a 9' long eat-in island, Rita and Rory transformed their cramped, walled-in 14 cabinet kitchen into a show-stopping 29 cabinet designer kitchen – the kind usually found only in extravagant McMansions. They purchased two "sister" cabinets sold by Kitchen Cabinet Discounts -- PEARL CREEK cabinets for against their walls, and WALNUT CREEK cabinets for their 108" long island. 

According to Rory, enlarging the kitchen required relocating the sink drain two feet from its original location, so it could be placed into the newly planned 108" long island. He also slid the range down two feet, centering it on the newly enlarged back wall. Rory then flanked their new glamorous black and stainless slide-in range with two symmetrical 9" base cabinets to hold baking sheets, then added a drawer base on the side of each of those, and then finished off the ends of the stove wall with single door base cabinets.
Instead of using 36" or 42" high wall cabinets on the stove wall, the couple stacked four 30" wide X 18" high wall cabinets over four 30" wide X 30" high wall cabinets to create a jaw-dropping designer look.
Rita and Rory customized two 12" wide X 36" high X 12" deep spice pullout cabinets, by pulling them out from the wall to a depth of 17", building back supports, and adding corbels under them.
The refrigerator wall features drawer bases and two plate racks. The couple also customized their microwave and the coffee bar cabinet under it on the refrigerator wall. (Rory said the secret was to order two 30" wide X 18" high X 12" deep cabinets, remove the back from one cabinet and remove the doors from the second, to create one double depth (24" deep) cabinet. They then added cut a refrigerator panel to create a new side for the 24" deep customized microwave/coffee bar.
Tall fillers turned horizontally were added to the tops of the wall cabinets, then were capped them off with Walnut Creek molding that touched the ceiling.
The island, which has seating for five, includes a farm sink with a mix of Walnut Creek regular base and drawer base cabinets. Rita and Rory added distressed shiplap siding (rough-hewn pine panels often used on boats or in farmhouses), to the back of the island bar, to add a chic, rustic look. They also turned two metal planters from Home Depot into custom-made hanging lights over the island.
Next, Rory and Rita capped their base cabinets with White Galaxy granite, and used LED under-counter lighting to brighten their counters. They also added recessed lights to their ceiling. They chose a Claros Silver honed-Travertine backsplash, and selected Mannington's Historic Oak Collection for the color of their Timber laminate flooring. Egg-shell finish paint was chosen to match the wall cabinets, and Sherwin Williams' Seal Skin satin finish was selected to highlight the dark accent trim on the cabinets.
"We love our new cabinets!" Rita exclaimed. "The quality, beauty, AND bargain price of our PEARL CREEK and WALNUT CREEK cabinets were impressive. Our cabinets came with under-mount soft-close drawer glides, and the dovetailed drawers already had the drawer fronts attached. Cabinet doors have an enamel finish as slick as glass. "All the cabinets were packed in heavy boxes, shrink wrapped, and delivered on pallets the day promised with nothing damaged. My husband and I assembled all the cabinets except the two we customized, in only a few days."
"We have a lot of base cabinets with drawers, and we didn't even have to adjust the drawer fronts, as they were perfect. The assembly instructions were easy to understand and easy to put together, although we chose to add glue to all joints including the drawers."
---
Mike Z. - Irving, Texas - The Importance of Making Space Flow & Upgrading Cabinets & Lighting
Although the cabinets and ceramic tile on the walls and island were still functional in Mike Z's modern home in Irving, Texas, the room's monochromatic white on white color combination looked bland, and almost sterile. Hoping to increase the value of the house before listing it for sale, Mike wanted to update the kitchen to create a warmer, more inviting space that would stand out in the minds of buyers. To do that, he decided replacing the traditional builder grade cabinets buyers typically toured in house after house with better quality cabinets, upgrading the appliances to stainless steel, and swapping out the dated tile on the counters with granite would be key. He knew if he didn't, those three features could be deal breakers. Mike also realized that the sink counter the builder raised an extra foot to hide dirty dishes, did little else except block the view of the sitting area, making the two living spaces look isolated and disjointed, instead of continuous and open.
BEFORE KICHEN MAKEOVER AFTER KITCHEN MAKEOVER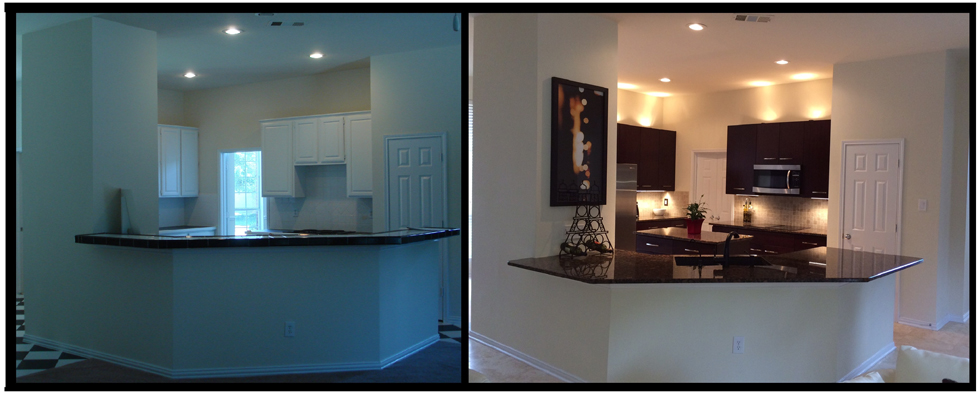 The difference between Mike's BEFORE and AFTER kitchen makeover is almost as dramatic as day and night. Mike ordered Kitchen Cabinet Discounts' chocolate-colored BAMBOO cabinets with dovetail drawers, full extension soft close glides that provide 25% more drawer space than traditional cabinets, and soft close doors. Highly desirable features like these normally shout "CUSTOM-MADE" to buyers, but come standard on Kitchen Cabinet Discounts' deluxe BAMBOO cabinets.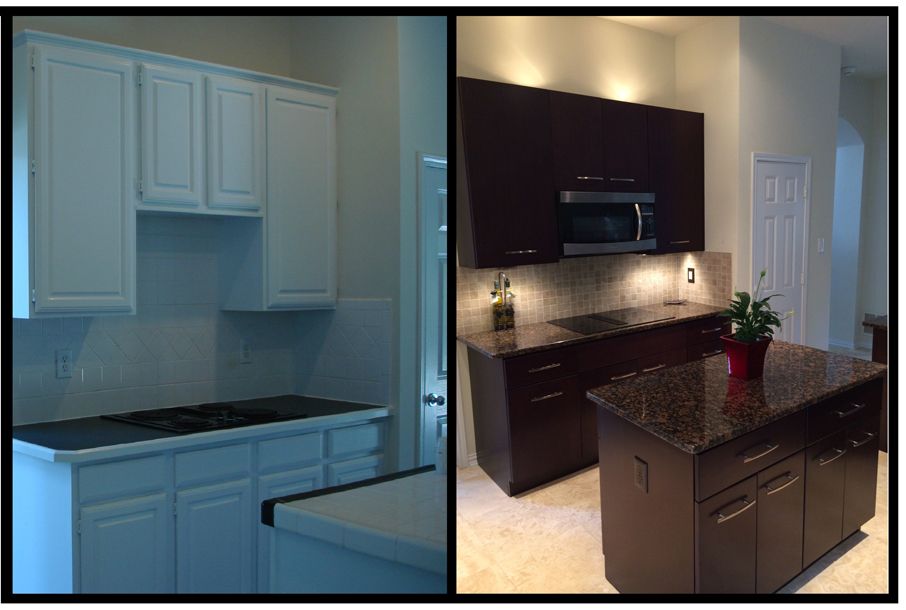 Mike replaced the linoleum floor with honed travertine tile. He chose a closeout-priced neutral beige porcelain backsplash that would NOT detract from the cabinets since he wanted guests to admire the quality of the cabinets and not look past them to the backsplash. He capped the counters with Baltic Brown granite, and added stainless steel appliances.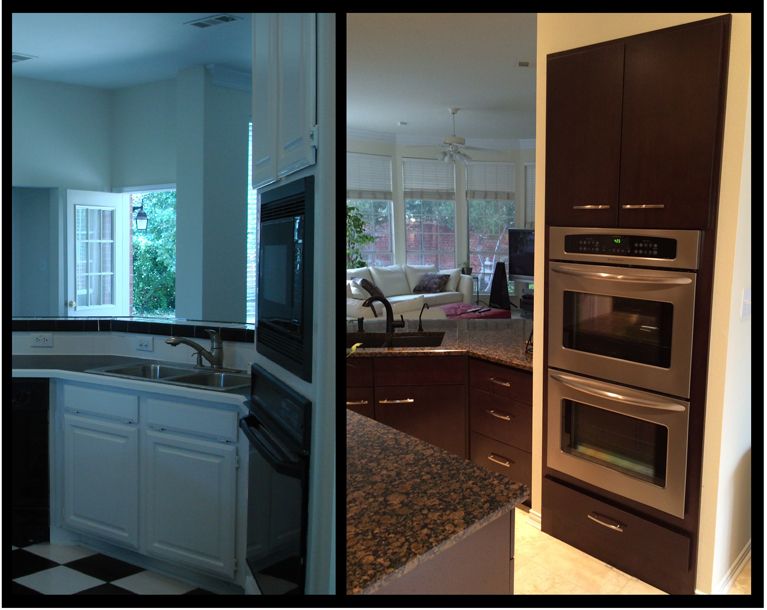 Another phenomenal change Mike made was to the lighting. The old kitchen had only recessed lights in the ceiling. Mike moved all of the electrical outlets that had been on the back splash above the counters to locations directly under the wall cabinets for a cleaner look so they would be out of view. He bought LED lights at Home Depot that he placed UNDER the wall cabinets to uniformly light up all of the counters, and added Xenon lights above a few of the cabinets to cast warm spotlights that practically spell out "WELCOME."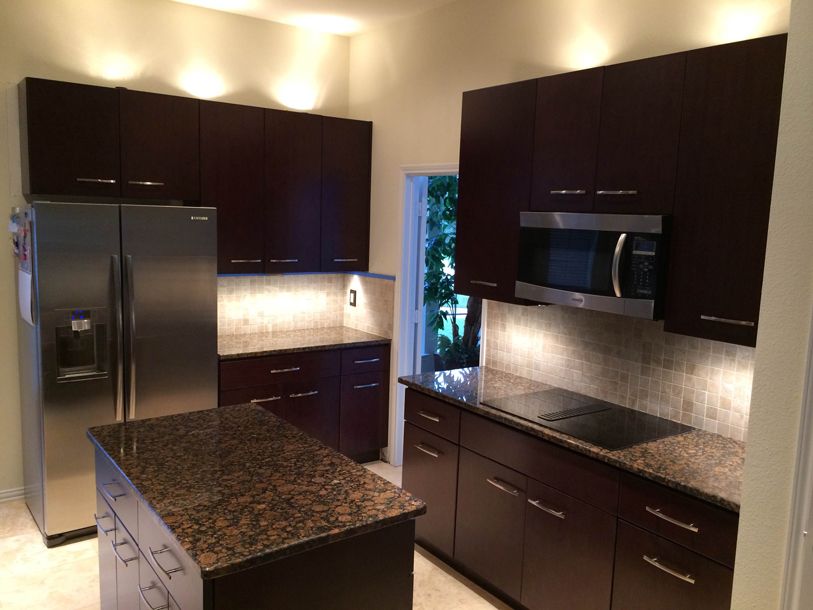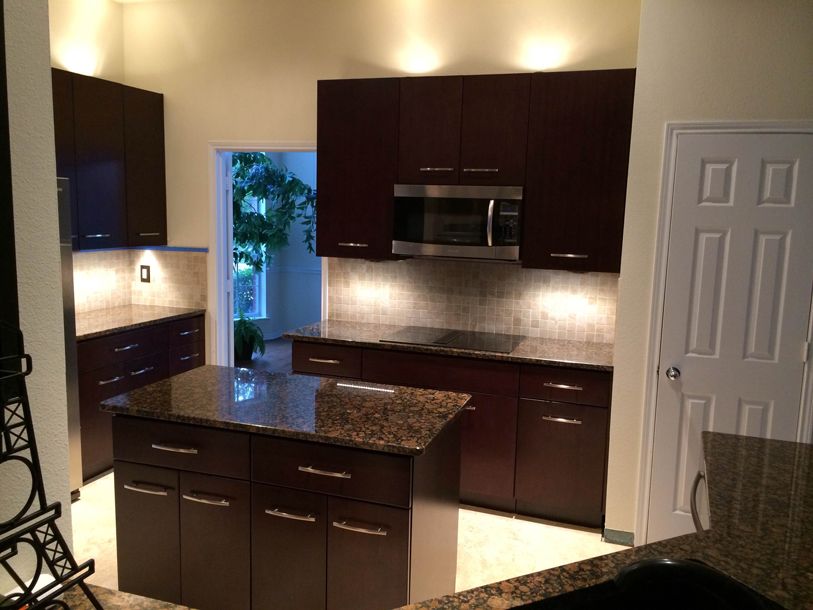 Mike
"We chose Kitchen Cabinet Discounts for three reasons: quality, quality, quality. Your BAMBOO cabinets' soft-close hinges and soft-close doors, finish, delivery, your office help -- everything -- was A-1. Total cost of cabinets was nearly half the price we would have paid to replace just the door fronts. We just moved, and I can't wait to start my next kitchen with you."
---
Lyle - Grosse Point, Michigan -
A Century of Updates: Removing Walls & Reorienting a Staircase
Lyle's home, originally built in 1913, had a white porcelain sink (circa 1930) attached to one wall, a couple pine cabinets that had been painted too many times, and functional, but unattractive appliances. The stove was in a separate room with a pantry. The entry to the basement, ideal only for those under 5 feet tall, was in the kitchen, left of the window.

Lyle cleverly relocated the basement entrance to the hallway. He converted the pantry to a first floor bath and laundry. He added 18 NAPA VALLEY BORDEAUX ROPE RTA cabinets, 4" crown molding, a back splash made of 4" scaba tavertine tile mounted at a diagonal, black granite, and stainless steel appliances to his kitchen. Just look as his results!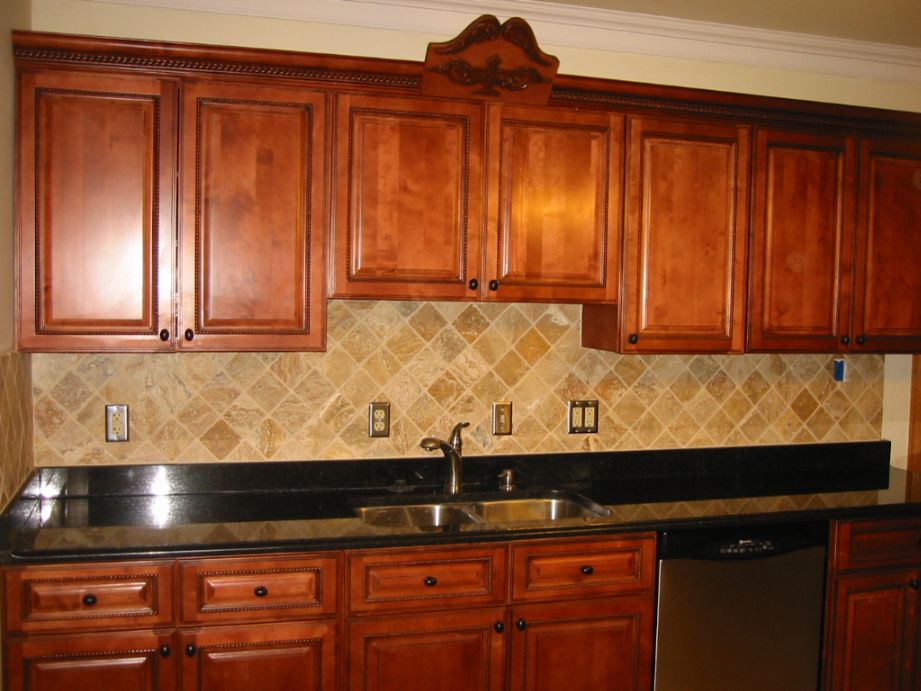 Crown molding is 96" long. To cover the seam in his crown molding, Lyle created the design on top of the sink cabinet from a shelf and wooden applique.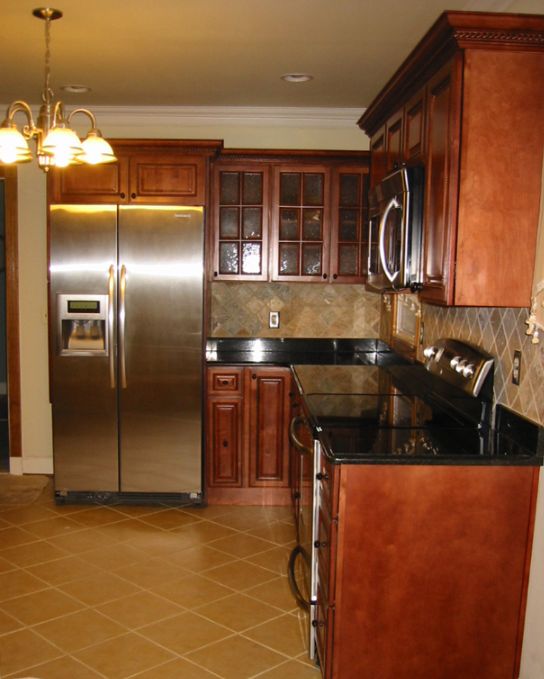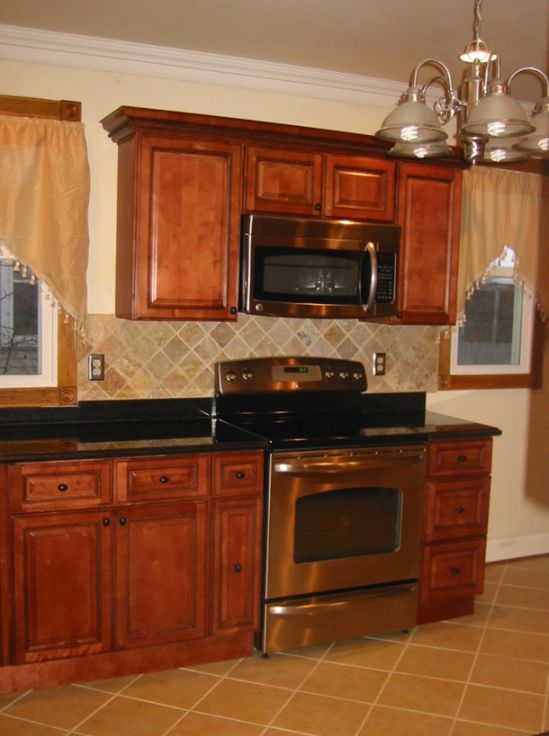 Three decorative glass mullion doors next to the refrigerator add a touch of elegance, reflect light, and create a feeling of even more open space.
---
Joanna S. - Charleston, South Carolina - Turning a Functional Kitchen into Stunning, More Efficient One

BEFORE KITCHEN MAKEOVER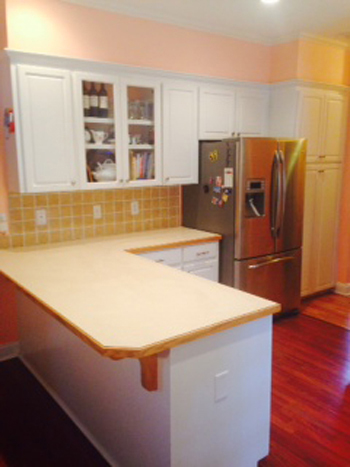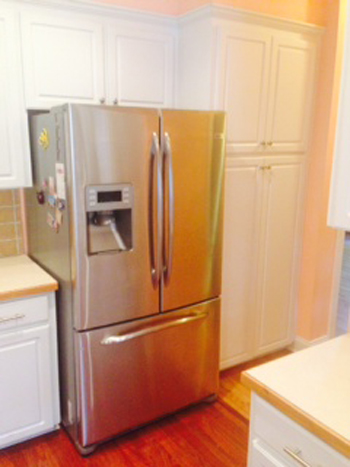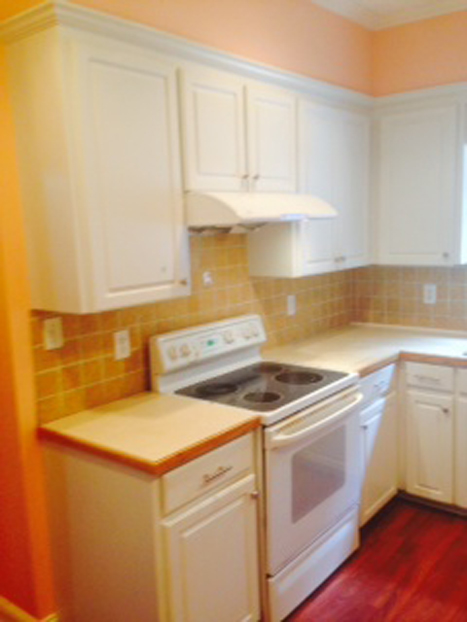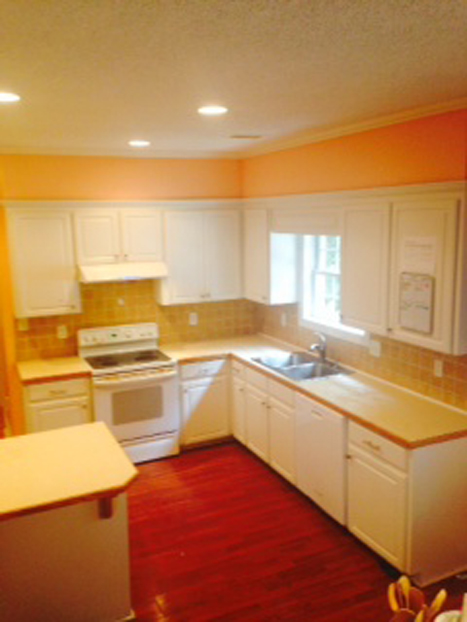 Joanna S. from Charleston, South Carolina, had a spacious, double-Lshaped kitchen with a pantry, and lots of counterspace, but with four growing children, she needed to mazimize the storage space in her cabinets, and wanted to add all the modern pullouts and rollouts she had been admiring in trendy kitchen magazines. Although she liked the capacity of her over-sized refrigerator, Joanna didn't like that it looked so big and bulky, and that its sides were so exposed in her old kitchen. Joanna wanted a double-depth cabinet above the refrigerator, instead of the single-depth one she had, and she wanted to frame in the refrigerator with a pantry on each side. She also wanted to add designer-style decorative door panels to the back of her peninsula for a more glamorous look, and wanted a designer-style stainless and glass hood and matching ceiling fixtures. Capping everything off with an attractive granite surface that would be more germ resistant than traditional formica counters was another priority.
AFTER KITCHEN CABINET DISCOUNTS' RTA KITCHEN MAKEOVER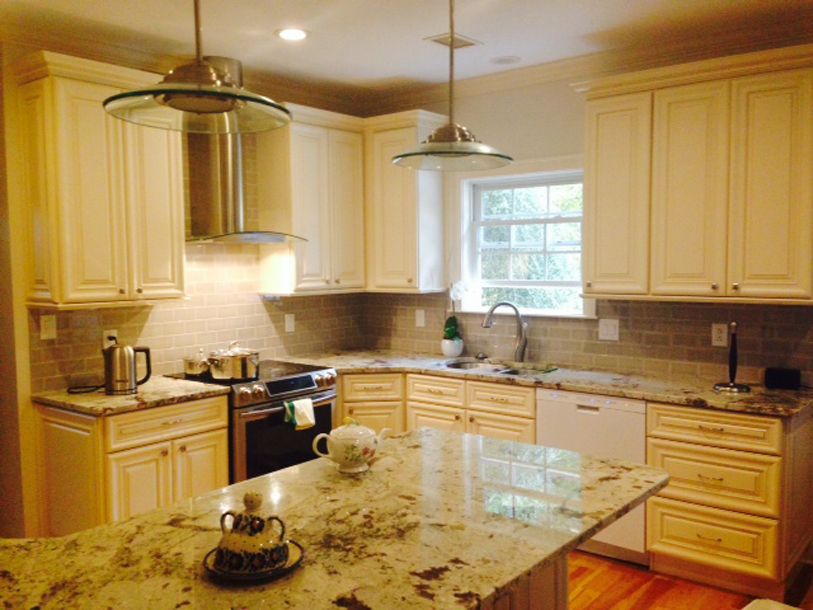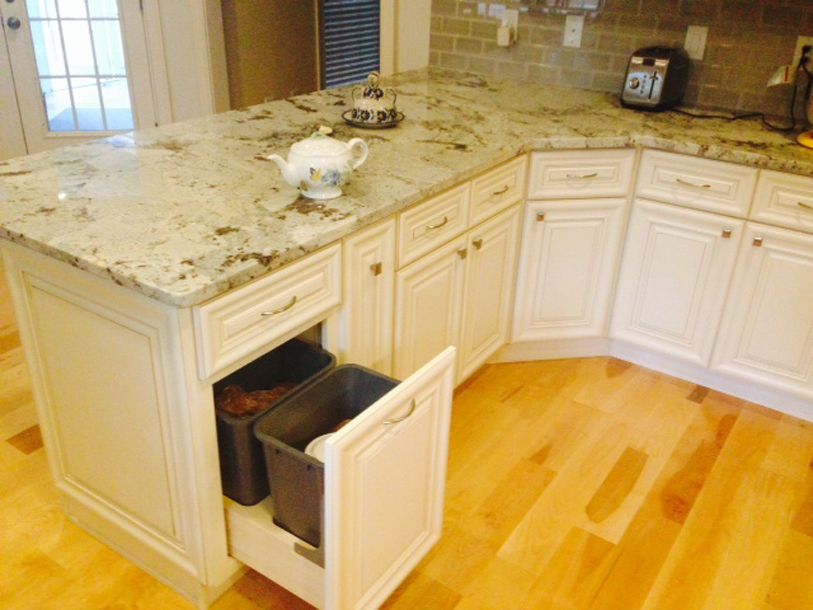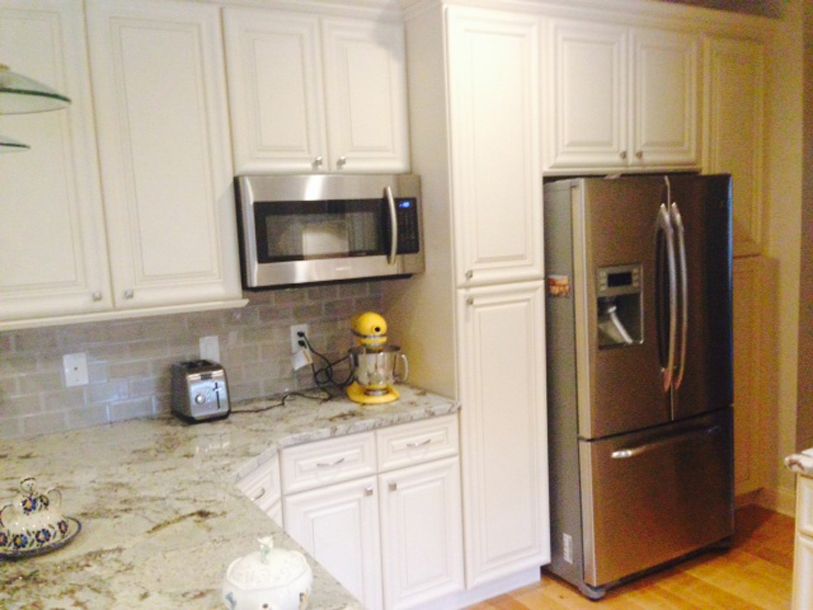 Joanna replaced her 30" high wall cabinets with Kitchen Cabinet Discounts' elegant FRENCH CREAM 42" high wall cabinets. She framed in her oversized refrigerator by adding a double-depth cabinet over it, and by placing an 18" wide X 96" high pantry on each side of it. Decorative doors were added to the BACK of the peninsula to customize its look.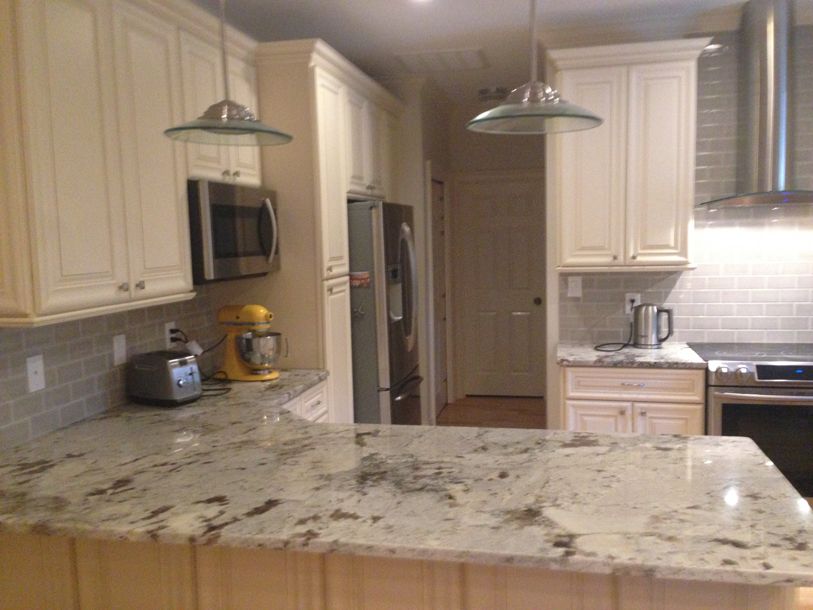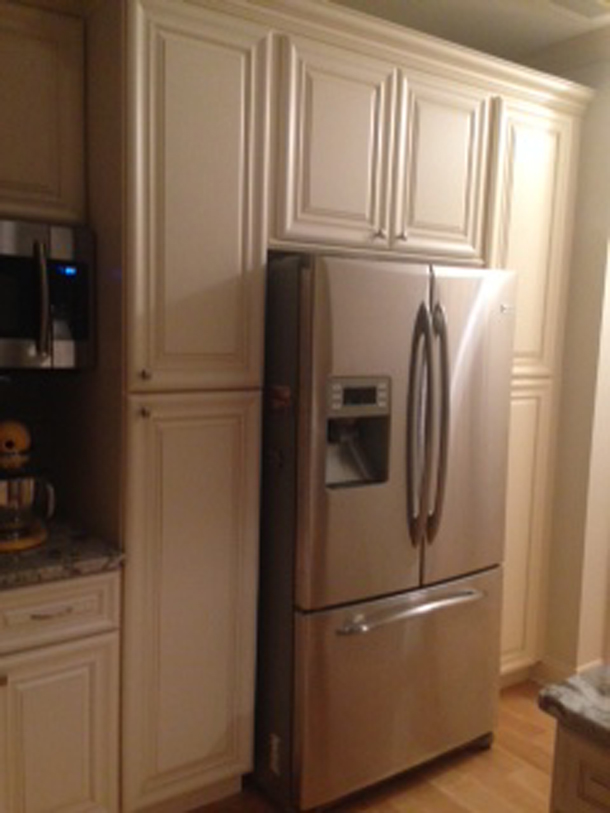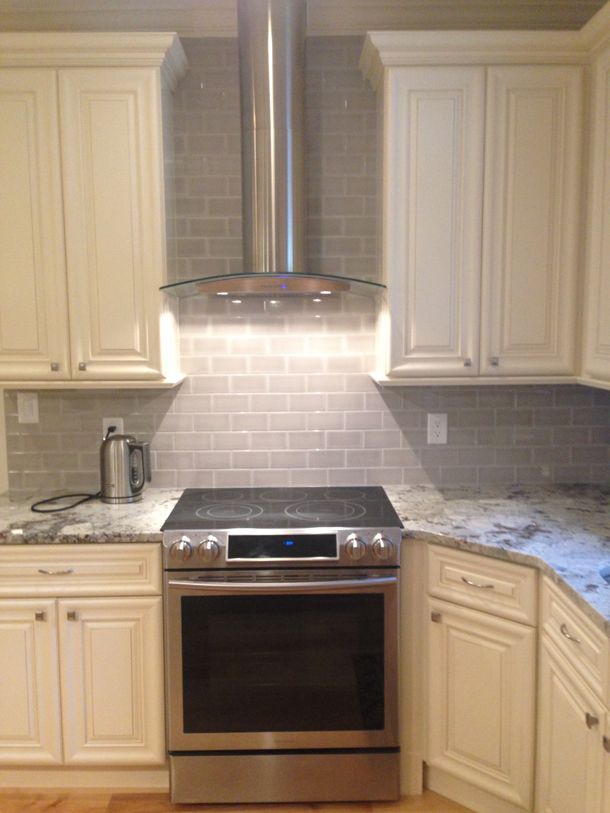 Spice rollouts, a built-in trash bin, foil racks, or rollout trays were added to each of the base cabinets to mazimize organization and minimize bending and stretching.
Joanna added two full-extension soft-close rollout trays to EACH base cabinet and eight rollout trays to her pantries.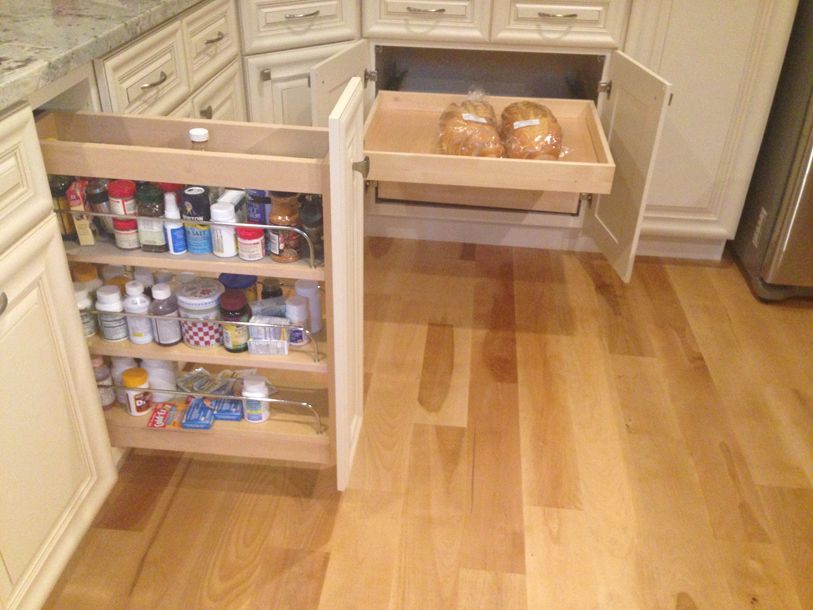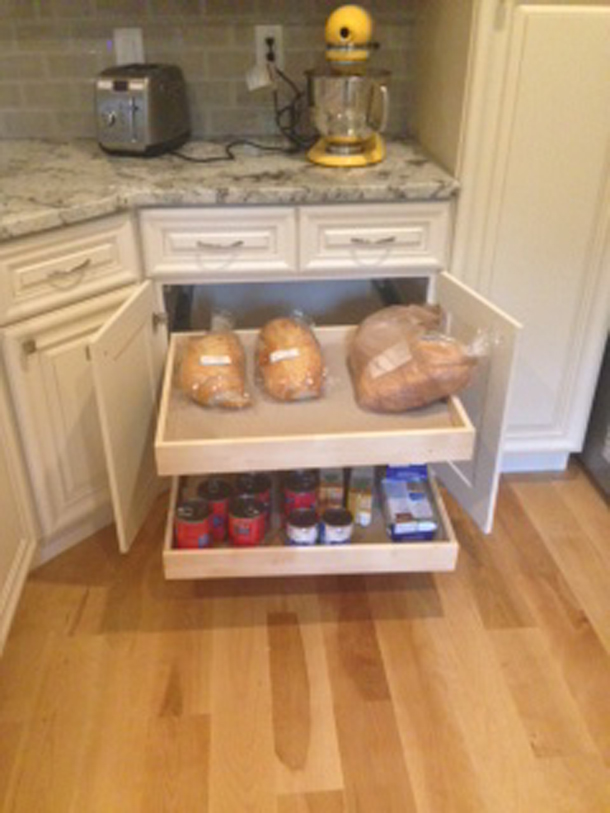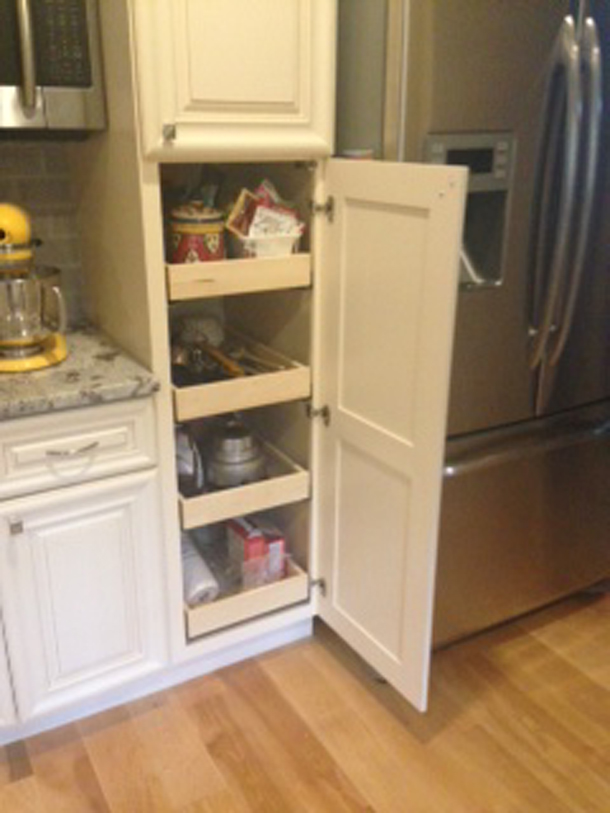 ---
Lisa & Andy G. - South Seaville, New Jersey - Consider Making the Porch Part of the Kitchen

BEFORE KITCHEN MAKEOVER AFTER KITCHEN MAKEOVER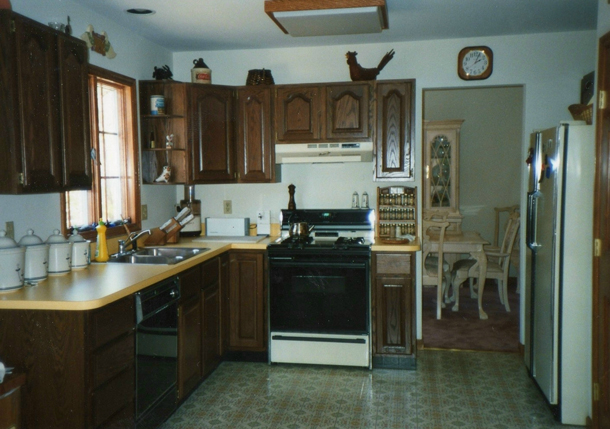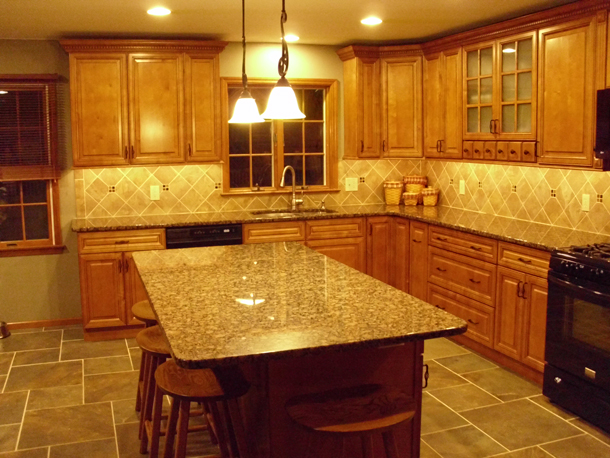 Lisa's and Andy's small kitchen with its 30" high cabinets offered little storage, less counter space, and only limited seating. Their spice rack, knives, canisters, toaster, and can opener were neatly organized on the counter, but added to the clutter, and the overall feeling wasn't inviting. SOLUTION: Adding 8' X 16' to their kitchen, selecting earth tone floor tiles and warm backsplash tiles, and upgrading their cabinetry to 42" high MADISON AVENUE RTA cabinets. They also updated the function of their cabinets by adding convenient pullout spice racks to the sides of the microwave, a built-in trash/recycling bin in the island, and a rollout spice pantry for condiments and cans.
Additionally, Andy and Lisa recessed their new 24" wide pantry and refrigerator, and added four-inch crown molding to all of their wall cabinets. They created an island that seats four, and capped all counters with an attractive complementary granite. They warmed up the roof with recessed lighting in the ceiling, lights over the island, and under cabinet lighting.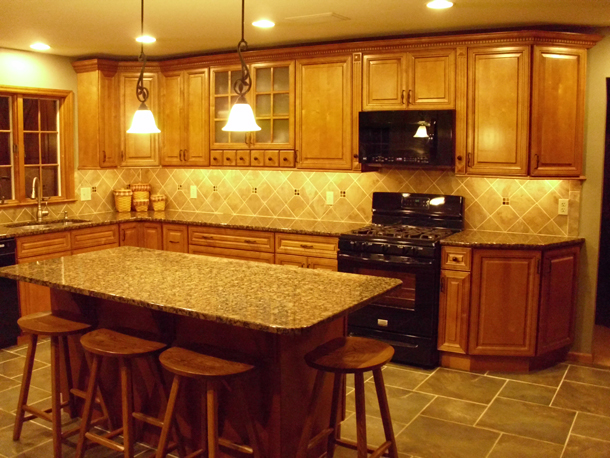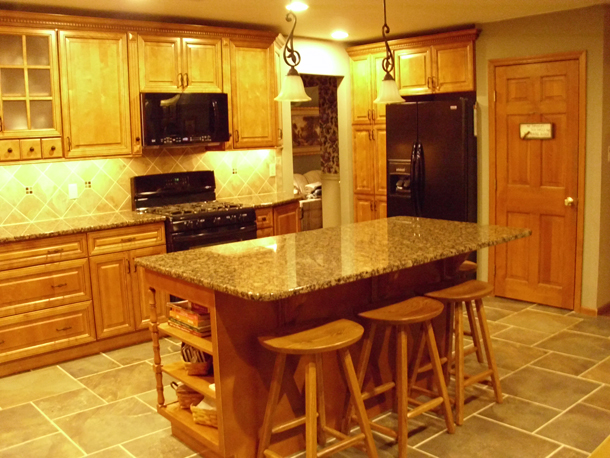 Lisa -
"You won't believe the feedback we get from everyone. When people see the kitchen, their mouths drop open and say, 'OH MY GOD, what a BEAUTIFUL kitchen. It looks like it should be in a model home.' With everything within reach and in one area, it makes life MUCH easier. We spend most of our time in the kitchen now, and I find myself wanting to cook and make things things all the time.
"A lot of my husband's friends who are builders (my husband is not, by the way) couldn't believe the quality of the cabinets and said they are so much better than what they put in homes. They couldn't believe how well put together the cabinets were, the detail in the cabinets, and, most of all, the cost of the cabinets. You can't get the same quality of cabinets in our area for the price.

"We just can't say enough about the beauty of the cabinets and our kitchen. When you walk into our kitchen it gives you such a warm feeling and this is quite honestly where we spend most of our time and do a lot more entertaining. The cabinets give you that custom look with all the details, without the expense of custom cabinets. Most importantly, what added to this great experience was the personal touch that your company gave us. You were with us from start to finish and even afer. Everyone was so nice and helpful from the e-mails to the advice you gave us. If you didn't think something would look good or fit, you let us know and offered another suggestion. You also enabled us to purchase top quality cabinets at a fraction of the cost of what a lesser quality cabinet would have cost us."
---
Bill & Loretta P. - Raleigh, North Carolina How Replacing a Built-in Pantry Opened a World of Possibilities
BEFORE RTA KITCHEN MAKEOVER - Dainty, but Outdated White Kitchen
Bill and Loretta, from Raleigh, North Carolina, had a dainty and attractive, but outdated kitchen with white cabinets, white appliances, a linoleum floor, and busy wallpaper. By knocking out their built-in pantry behind the door, they were able to place their refrigerator on the stove wall, and gave it a built-in look by adding a single door pantry on one side of it and a refrigerator panel on the other. This allowed them to add a 24" deep double depth cabinet above the refrigerator. They also reconstructed the shape of the peninsula that houses their sink, dishwasher, and eat-in-counter.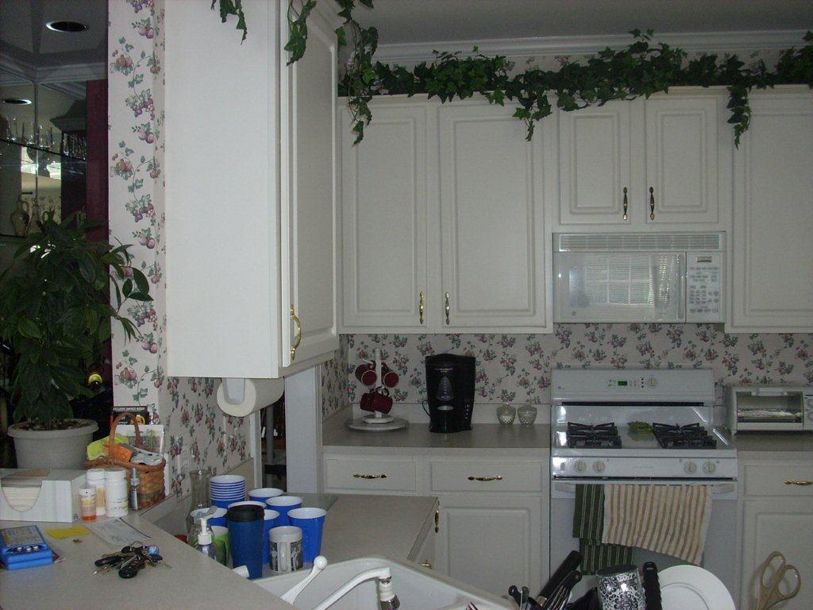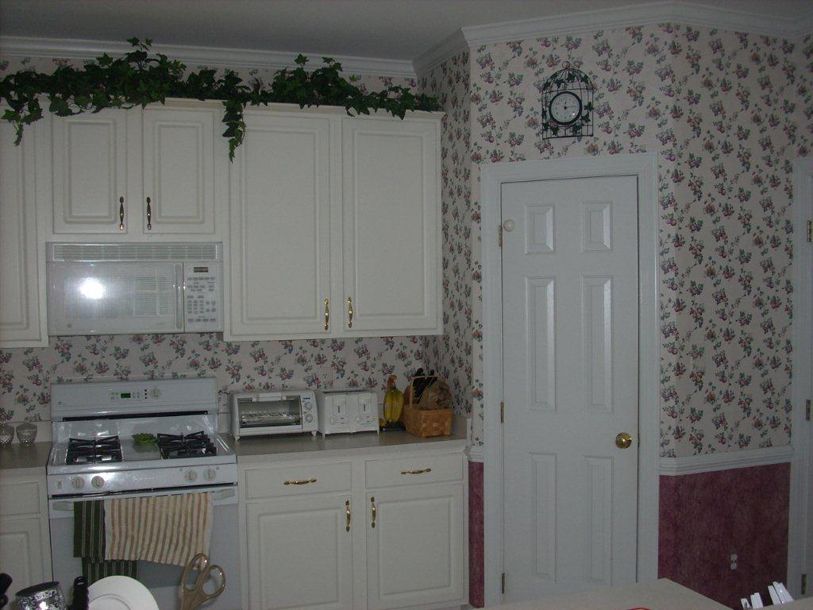 AFTER RTA KITCHEN CABINET DISCOUNTS' MAKEOVER-Sleek, Sophisticated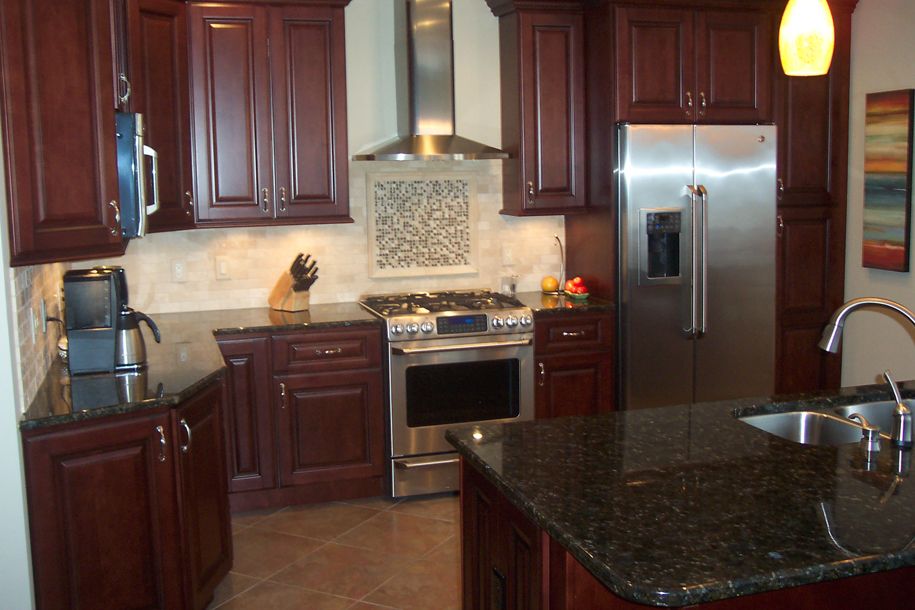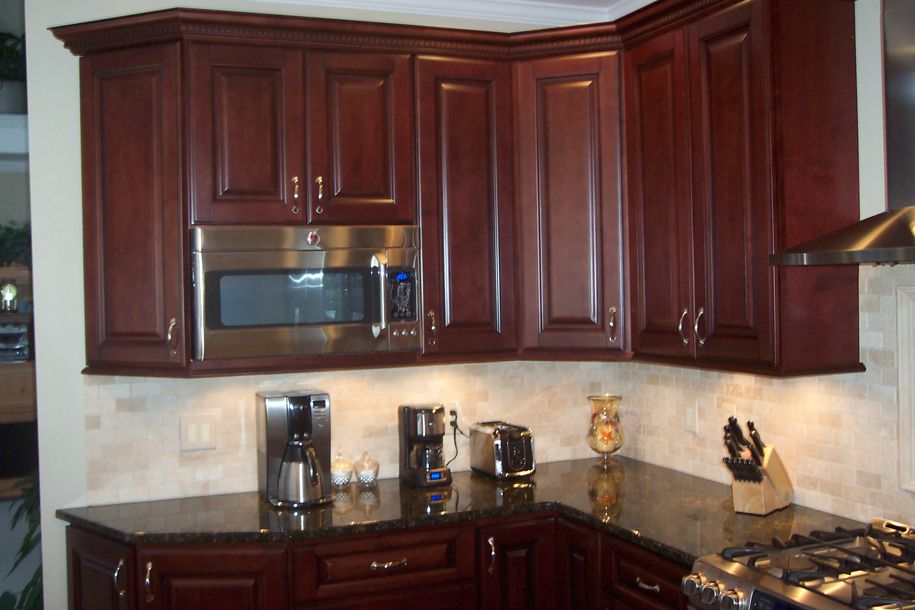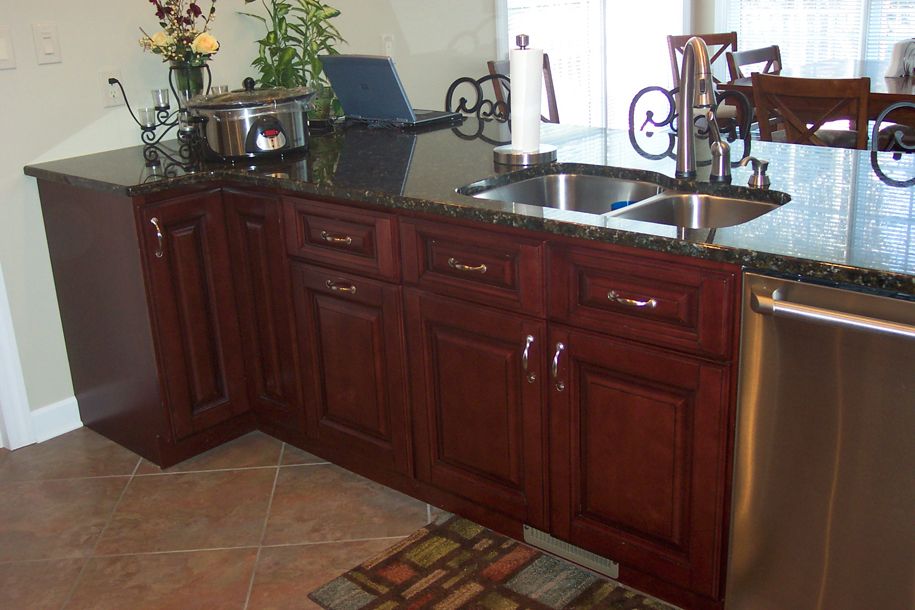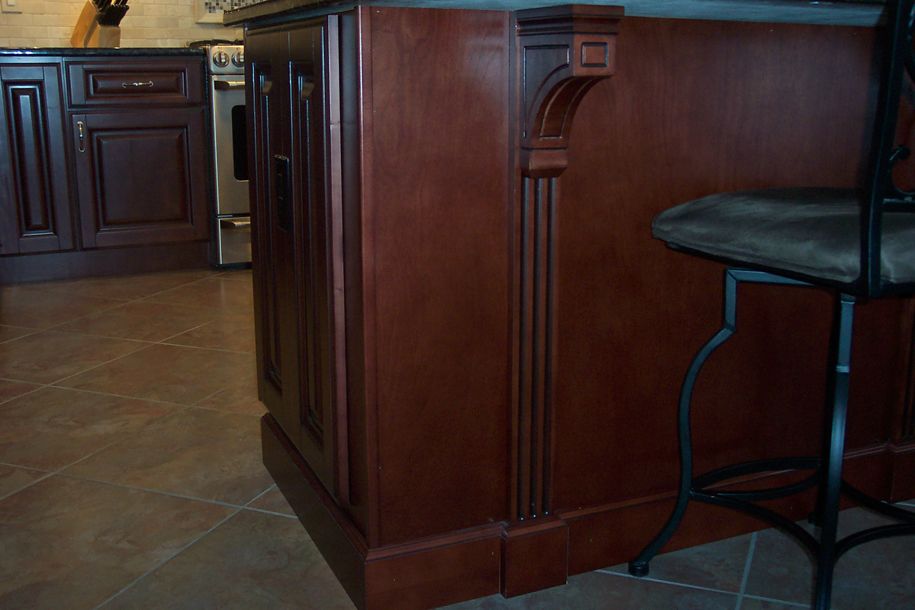 Wanting a change from the white cabinets they had, Bill and Loretta chose Kitchen Cabinet Discounts' IMPERIAL MAHOGANY cabinets, attractive stainless steel appliances, and a steel hood. They placed variegated rust/green colored tile on a diagonal on the floor, and added light beige tavertine subway blocks as a backsplash. They also centered a rust color and beige mosaic rectangle above their stove to accentuate their verde green granite, so now have a sophisticated, elegant kitchen. A fluted wall filler, corbel, and decorative panels helped finish off the back and side of the peninsula.
---

Karen S. - Leesburg, Virginia - Transforming a Small Kitchen into a HUGE, Glamorous Kitchen
Karen S. lives just off the Chesapeake Bay, between Annapolis and Baltimore, Maryland. Although her kitchen featured a peninsula that opened to the family room, the 9 cabinet kitchen offered little more functional space than that found in a cozy apartment kitchenette. It was definitely NOT the desirable space the active lifestyle of her family requires.
By removing the peninsula that separated the kitchen from the family room, and knocking down the walls between the dining room and kitchen, Karen opened her kitchen to a host of possibilities. She was able to add an island with four chairs, and place four cabinets, a microwave drawer and built-in trash and recycling bins into the island. She created an attractive beverage center with a 24" wide pantry, glass cabinets, and a wine rack where the refrigerator had been. She moved the refrigerator to the stove wall, and added yet another 24" wide pantry, more glass cabinets, a 9" rollout pantry, TWO 3" wide spice pullouts flanking the fan above the stove, knife and cutlery drawers, and plenty of drawer space for storing all the dishes.
BEFORE RTA KITCHEN MAKEOVER: Just 9 Cabinets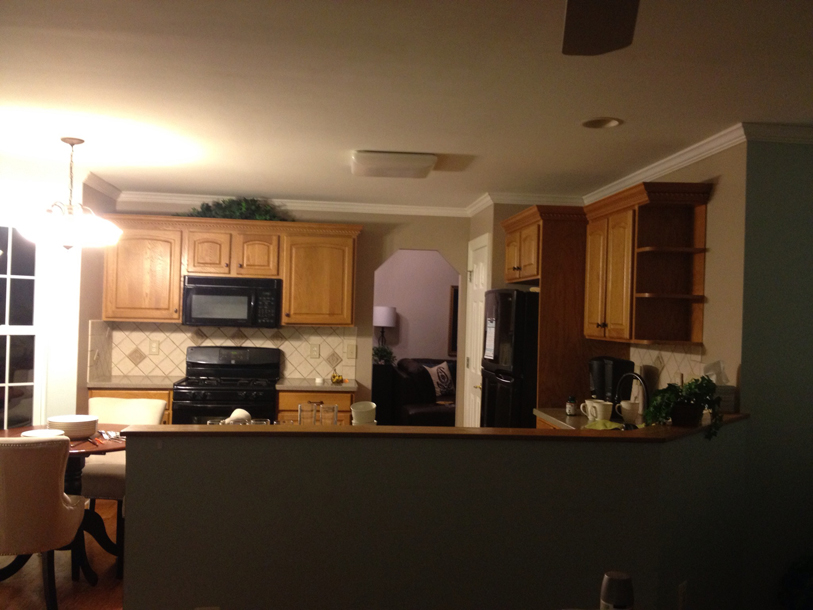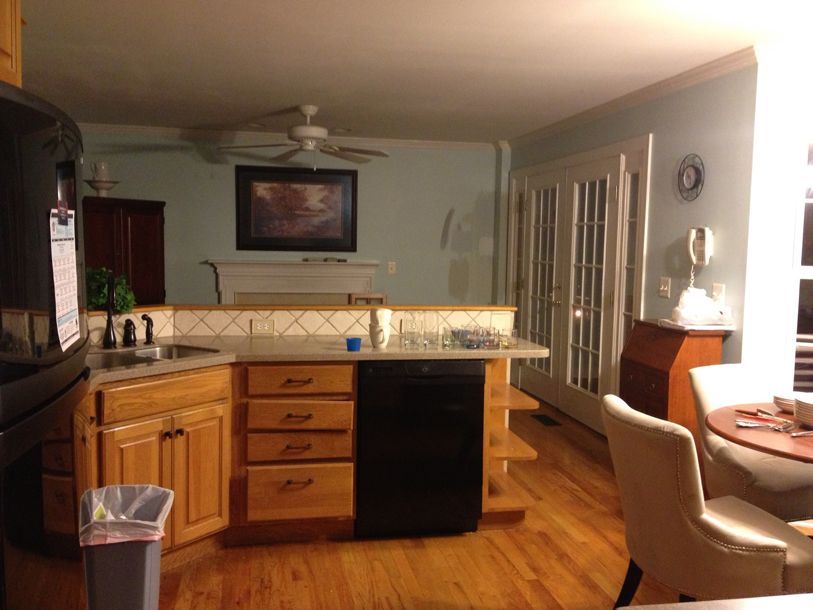 AFTER Kitchen Cabinet Discounts' RTA MAKEOVER - 3 walls of cabinetry, large island, beverage center, 2 DOUBLE pantries, base rollout pantry, 23 cabinets, wine rack, hidden trash and recycling bins, and 2 spice pullouts.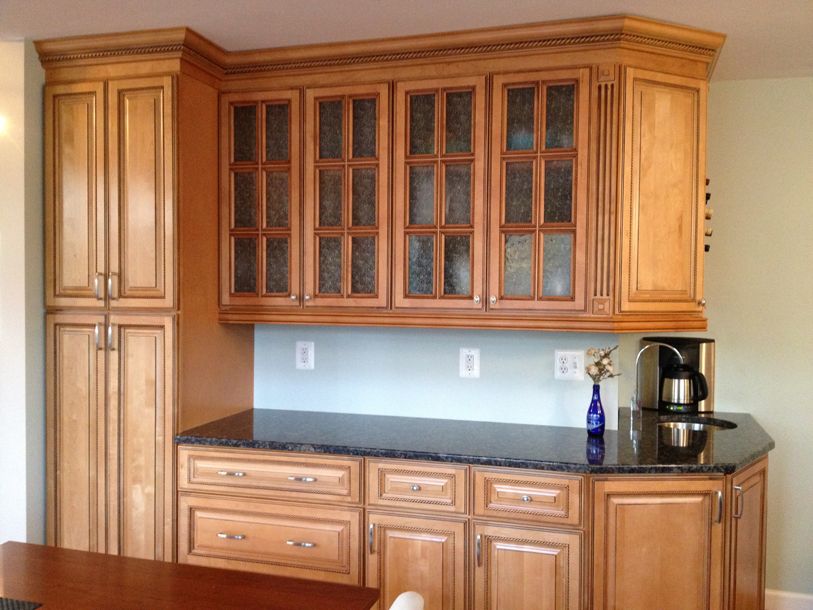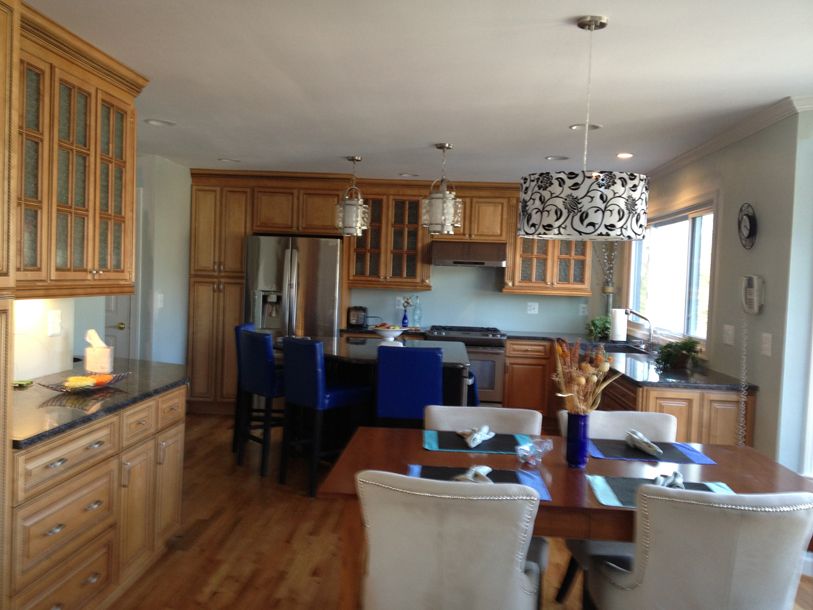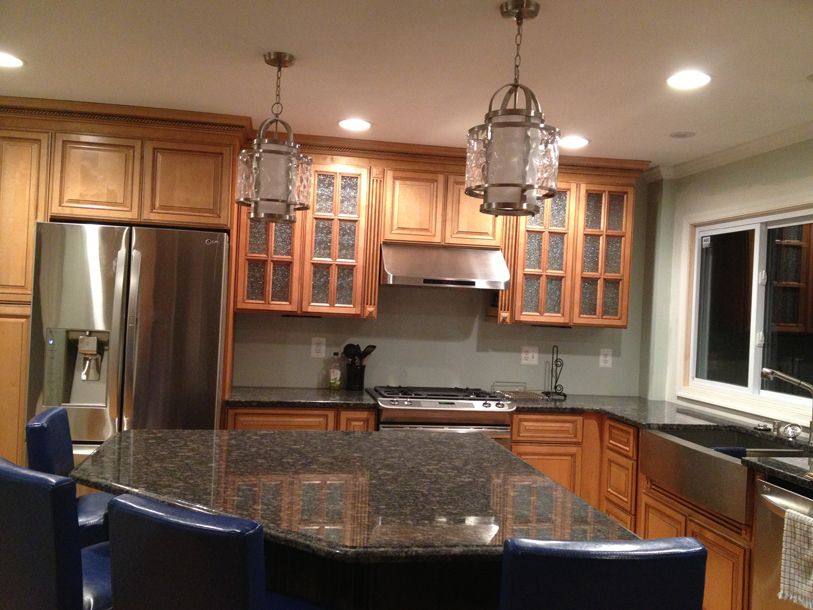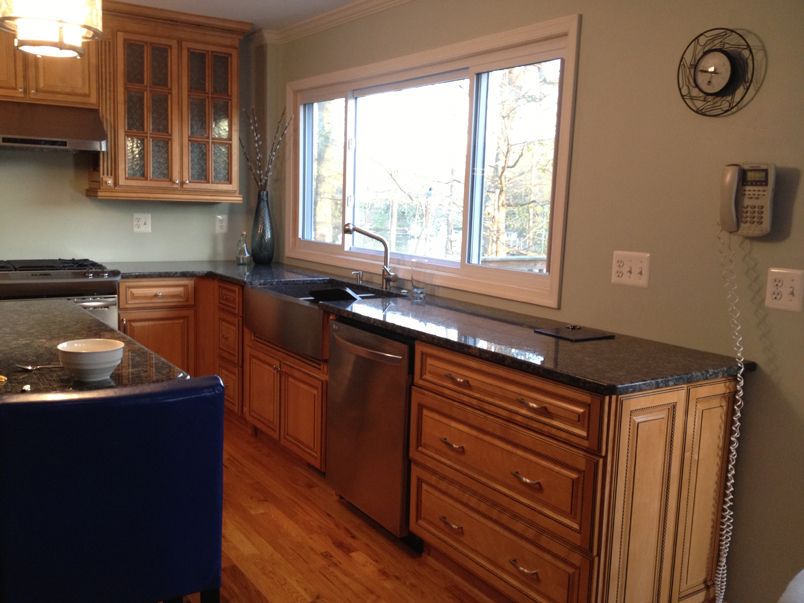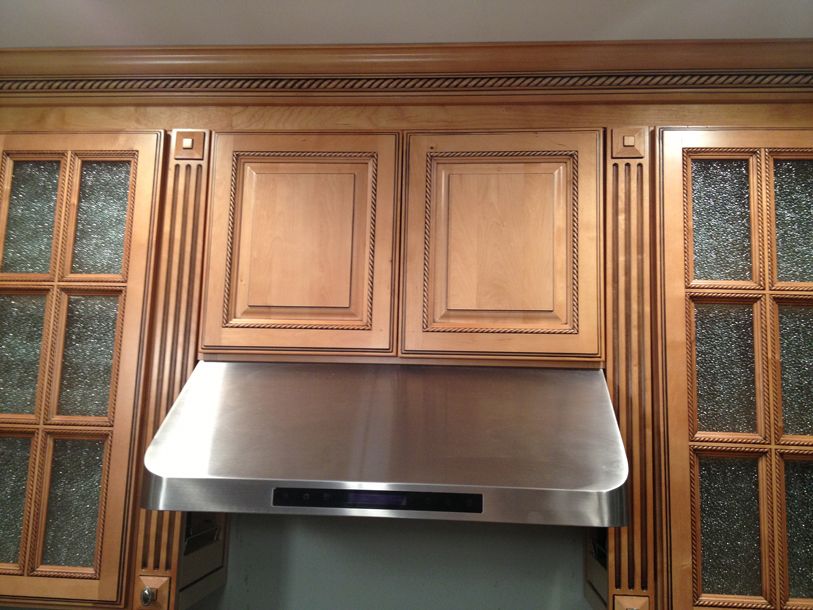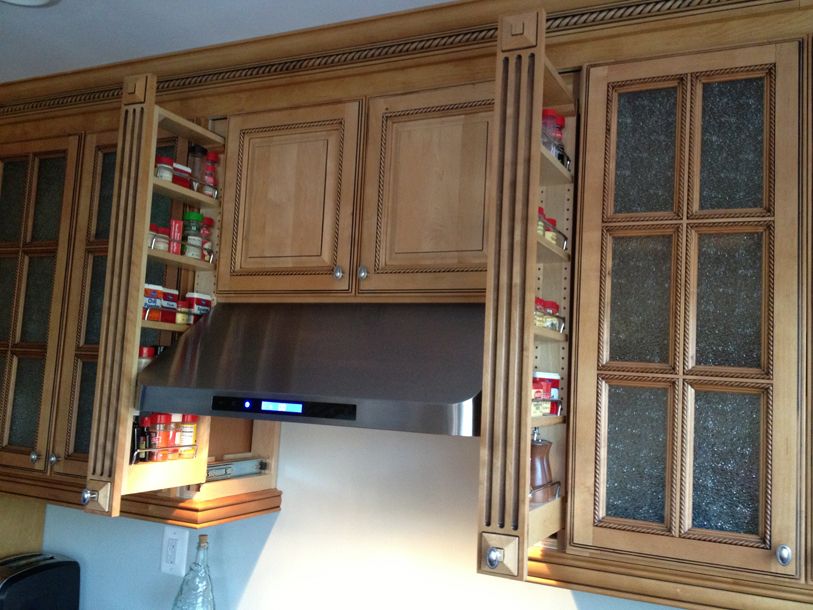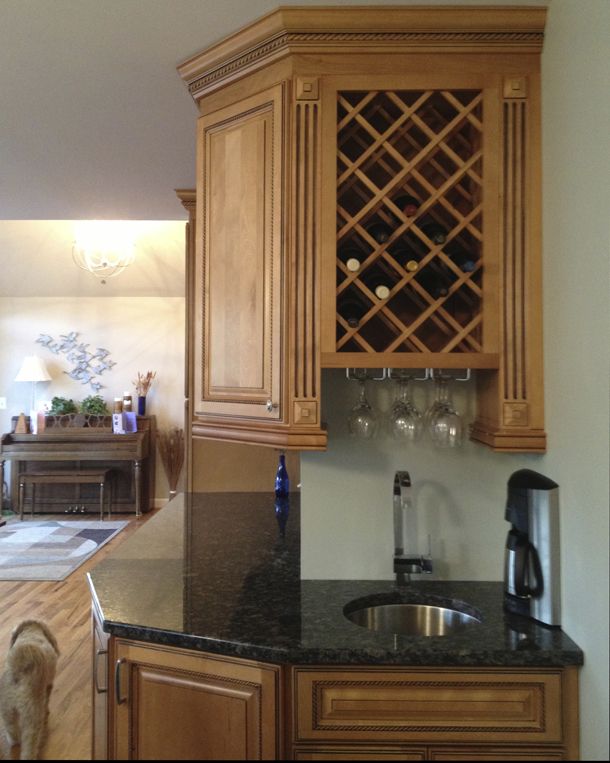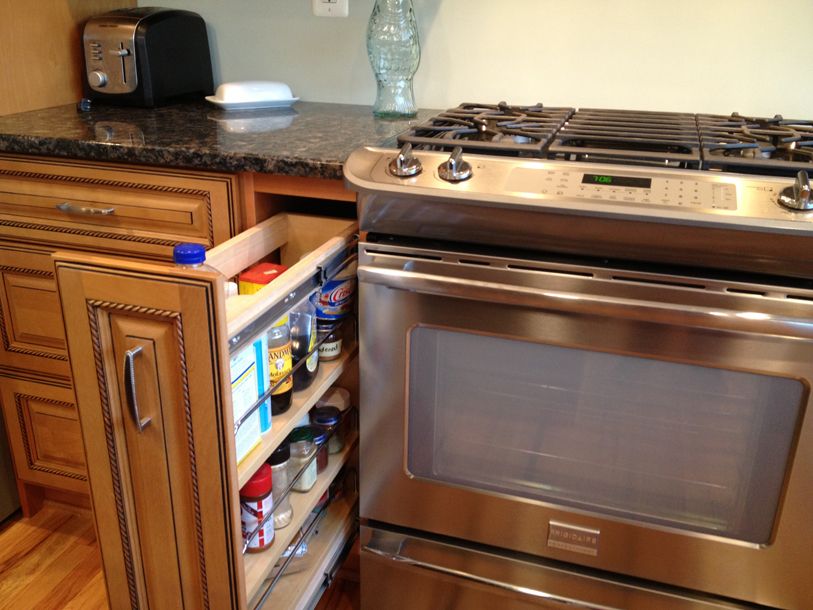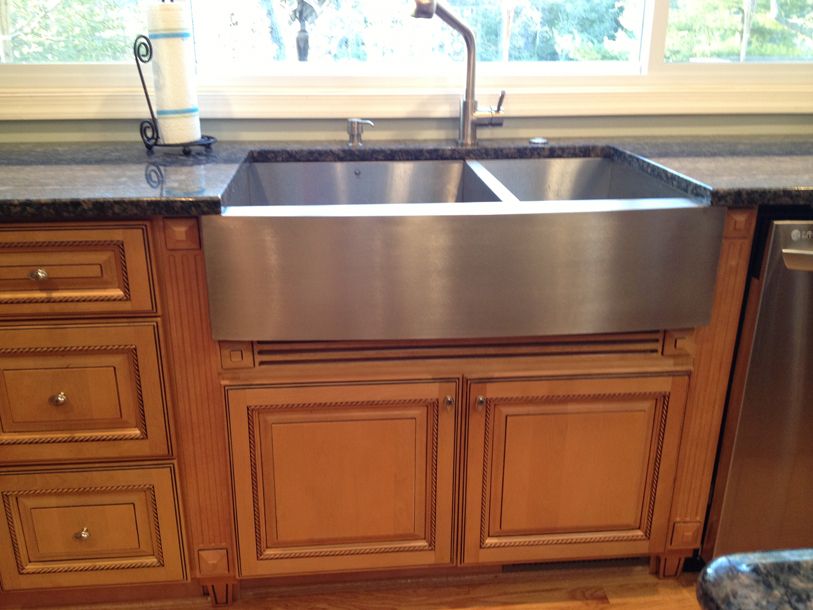 Karen – "Initially, I considered purchasing white Shaker cabinets because of their popularity, but decided they just wouldn't work for me. I wanted well-built cabinets that were timeless and beautiful, and that would fit in with my coastal contemporary theme. When I consulted with a kitchen designer, I was stunned to learn her cabinets would cost an average of $700 each. That's when I began comparison shopping at Big Box stores, kitchen centers, and all the on-line RTA cabinet web sites. After substantial research, I discovered Kitchen Cabinet Discounts would deliver 2 large 24" wide pantries with rollout trays, a huge number of RTA cabinets (including 4 double wall cabinets with glass doors) , 2 vertical spice pullouts, double trash bins, a wine rack, 4" crown molding, under cabinet light molding, decorative fillers and more to my driveway for about half what the designer would have charged.
"I chose Kitchen Cabinet Discounts' LIGHT CARAMEL ROPE because the rope trim on the cabinets had a nautical look, and came with gorgeous matching glass doors that had more rope trim around each glass pane. The cabinet doors were solid maple/birch, and the cabinets came with dovetail drawers and full extension glides. When it came to selecting granite, I avoided light colored granites and marble that wouldn't pass the spilled wine test, and selected a deep, rich sapphire blue to highlight the sea motif. I added sapphire blue chairs to the island to complement the granite and our sea foam green walls, and installed nautical lanterns above the island. Oh, and I absolutely LOVE my double apron farm sink. It's 36" wide and is the biggest, deepest sink I've ever had. It hides everything! In fact, there were probably dishes in there when I took the pic."
---
Eric and Casey C. - Donora, Pennsylvania - How Widening a Wall Allowed Room for a Peninsula
BEFORE KITCHEN CABINET DISCOUNTS' MAKEOVER
BEFORE their kitchen makeover, Eric and Casey had no dishwasher in their kitchen, and their microwave occupied valuable counter space. Although they bought a cart to hold additional items near the opening of the dining wall, their kitchen lacked storage space capacity. The deep refrigerator jutted so far into the room and was so close to the stove, everyone felt crammed into the space. The cabinets and ceramic floor were dated. The kitchen table, although convenient, occupied a massive amount of space. Clearly, they felt a major overhaul was warranted.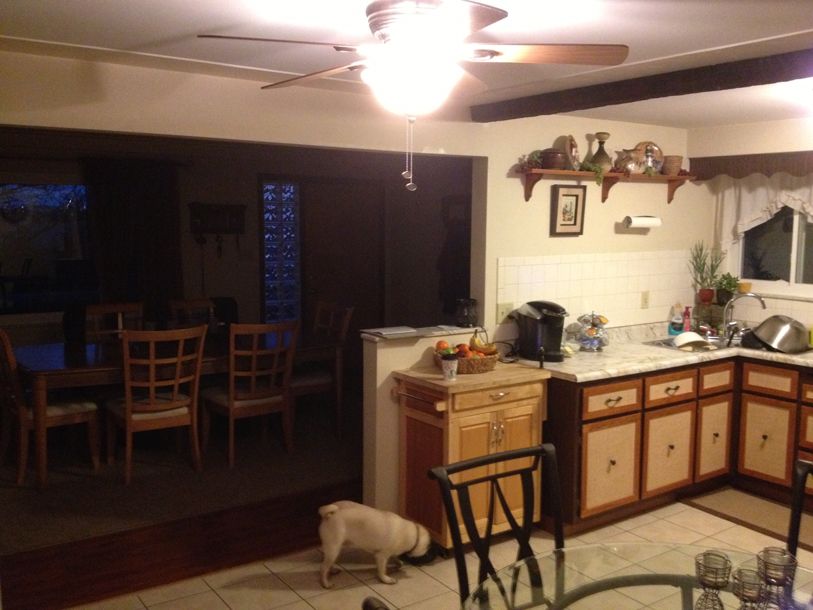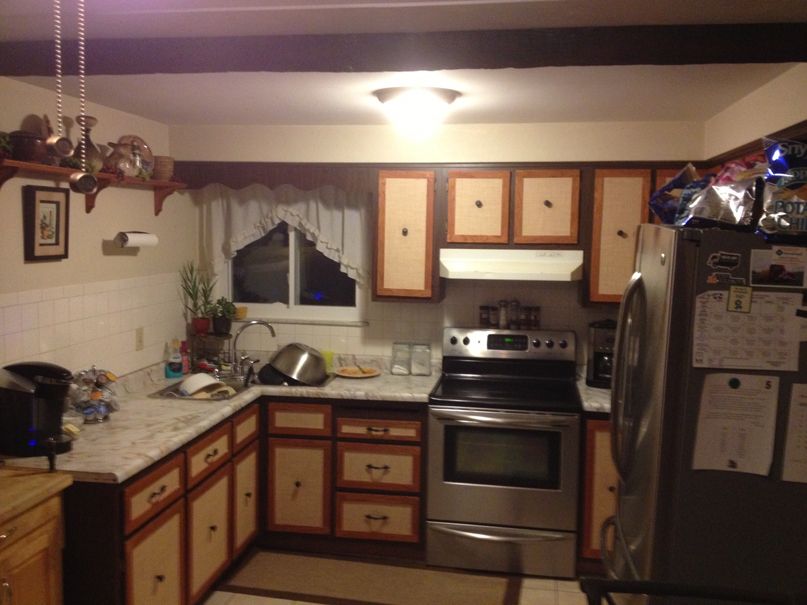 AFTER RTA KITCHEN CABINET DISCOUNTS' MAKEOVER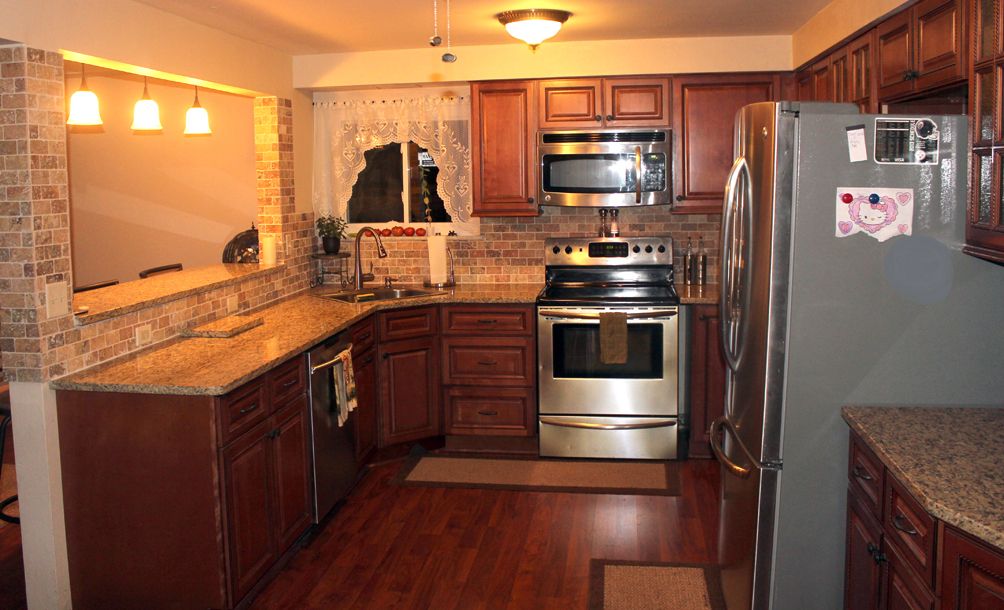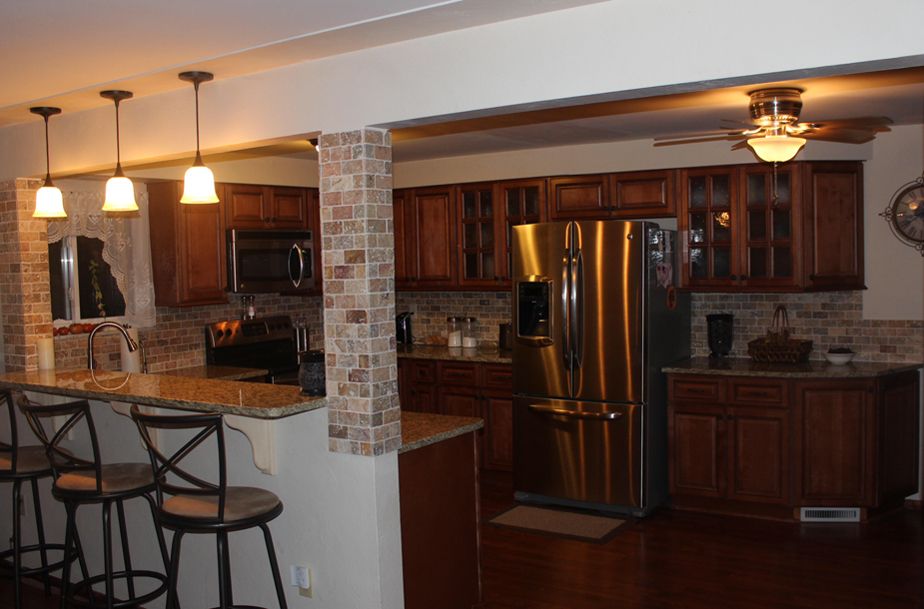 Eric C.
"We were pleasantly surprised by just how much space we had in our kitchen once we eliminated the table. Doing that gave us room for four walls of spacious cabinets and a pantry, instead of just a small portion of 3 walls. By widening the wall to the diningroom, we were able to create a peninsula with three stools, and both the dining room and kitchen seem to be flooded with more light. Casey and I selected NAPA VALLEY BORDEAUX cabinets, which come standard with soft close drawers, and we're definitely pleased with the overall quality of the cabinets, and extremely pleased with the durability of the finish. We saw other cabinets that looked similar, but the quality of the cabinets didn't justify the cost. We added a hideaway trashcan, angled end cabinets next to two of the three entrances to the room, a 9" baking pan, lazy susan, and a pantry on the fourth wall.

"The hardest part of the project was removing the ceramic floor since it had to be 100% clean for a wooden replacement floor to cover it. We decided on Santa Cecelia granite with a tavertine tile back splash that we wrapped around the peninsula columns. The best improvements were the addition of a dishwasher and the creation of so much more counter space. Sliding the refrigerator down more than three feet made a huge difference. There is not one thing I regret about this remodel. I learned from other projects that details are most important and not to be overlooked.

"Initially, Casey didn't think she wanted any glass cabinets in the room, but we bought glass doors for two double wall cabinets, and they are the perfect addition.

"Thank you for everything. Our friends are so impressed, they are asking if we'll help them with their kitchen remodels."
---
Tony & Eleanor M. - Pittsburgh, Pennsylvania -

How to Compensate for a Small Kitchen
BEFORE KITCHEN CABINET DISCOUNTS' MAKEOVER
For decades, Tony, a gifted chef, had been whipping up homemade Italian specialties for his wife, Eleanor, in their tiny kitichen in Pittsburgh. Since the kitchen was only six feet wide, though, and because an exterior door, a doorway, window, and TWO radiators took up valuable space, there simply wasn't room for both of them to work in the kitchen at the same time. The lack of space, however, was only one problem in old kitchen. The cabinets looked disjointed and the kitchen layout wasn't efficient. The cabinets flanking the stove were not symmetrical, although there was adequate space for them to be. Worst of all, one basin from the sink was on the stove wall, and the other was perpendicular to it, extending 18 inches into the kitchen's tiny walkway. The angled wall cabinets that had been tacked onto the sink base and onto the base of a 24" wide pantry on the other side, offered little storage space, and blocked still more of the kitchen's only aisle. Plus, almost every nook and cranny of the house was filled with pots, pans, and kitchen gadgets, and many weren't within 35 feet of the kitchen work triangle, yet alone six feet.
AFTER RTA KITCHEN CABINET DISCOUNTS' MAKEOVER
Placing BOTH sink basins back on the stove side and removing the angled wall cabinets that didn't belong on the floor of the kitchen was a prime design directive for this kitchen makeover, to create a clear path from one end of the room to the other. The next challenge was to find a way to accommodate the couple's larger refrigerator into the narrow kitchen. Framing in the microwave under a short cabinet helped utilize the tight space at the end of the room, and still left room for the toaster oven to be placed beneath it. Creating symmetry for the cabinets flanking the stove and adding glass doors to them to take advantage of the magnificent rope trimmed glass mullions available in the LIGHT CARAMEL ROPE cabinet line, was the next priority.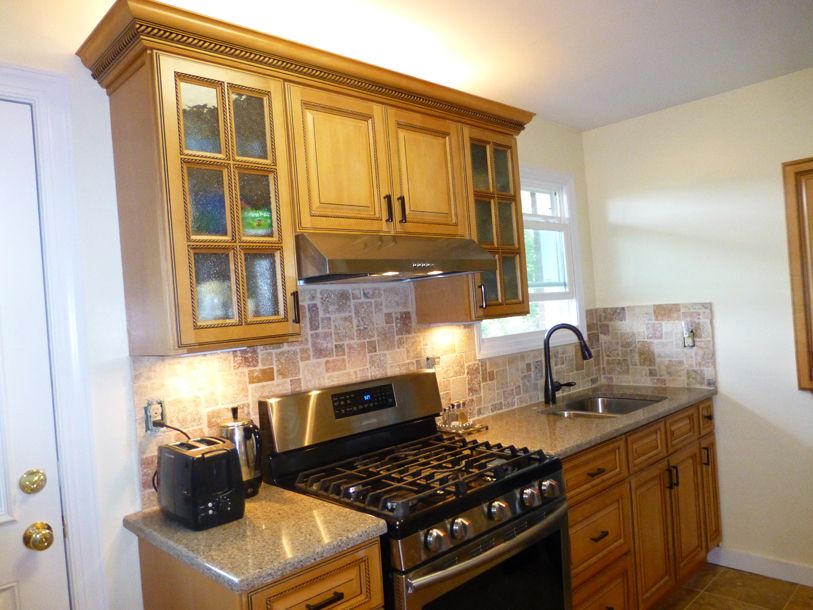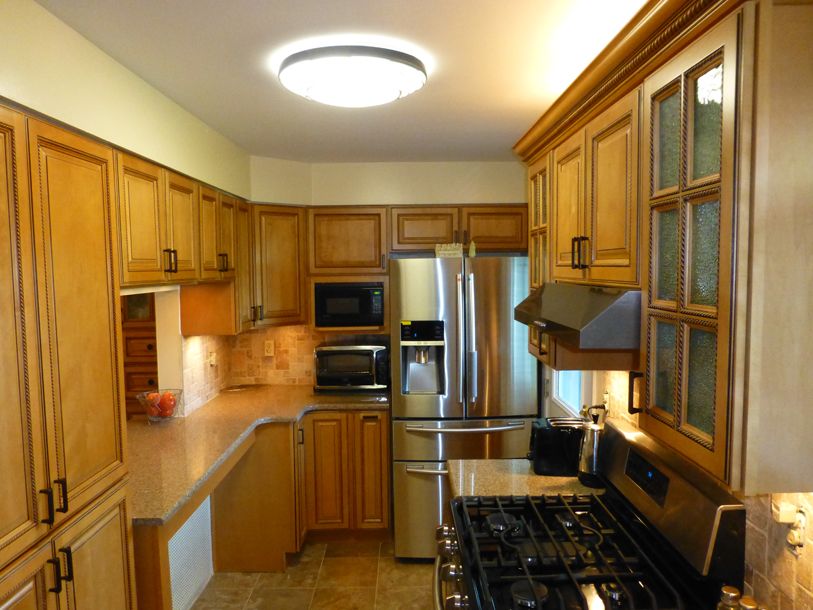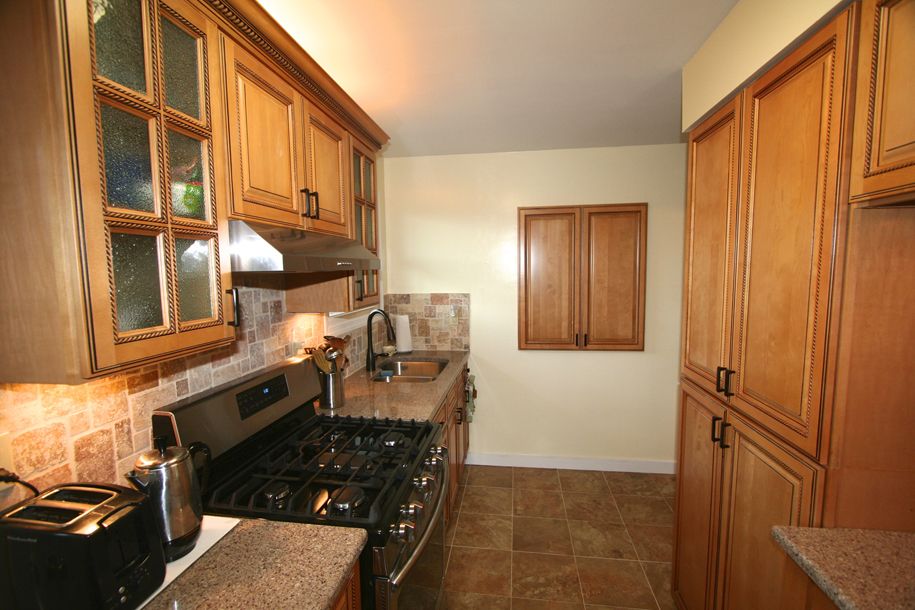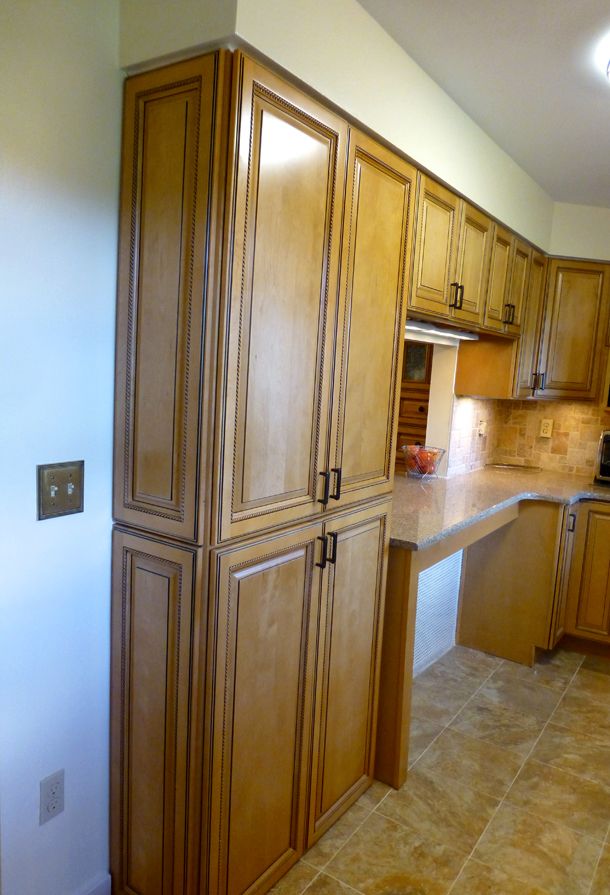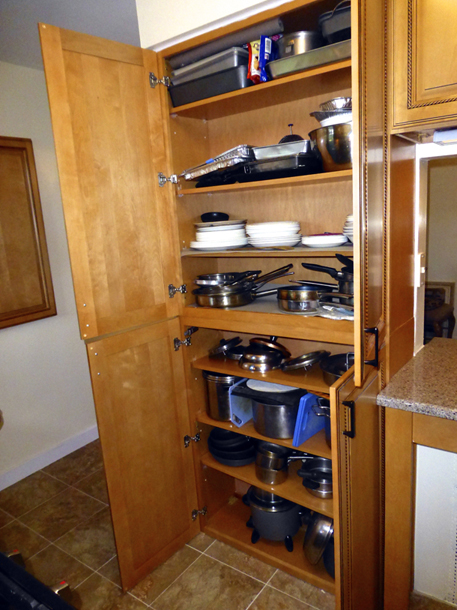 To utilize the bare wall opposite the refrigerator, a 36" wide X 42" wall cabinet was trimmed from its depth of 12" down to to 4", and recessed into the wall, so it wouldn't protrude or impede traffic. Although the cabinets was only 4" deep, Tony was pleasantly surprized by how many cans, spices, vitamins, and boxed goods it could hold, and considers it his favorite feature in the kitchen makeover. Opposite the stove, a 12" deep pantry was created by stacking two 36" wide X 42" high wall cabinets on top of each other, since that side of the room could only accomodate 12" deep cabinets. The pass-through window from the kitchen to the diningroom, located just above the 54" wide radiator, permits two small, backless stools to fit under the counter. A lazy susan and 9" rollout base cabinet were added to the right of the radiator.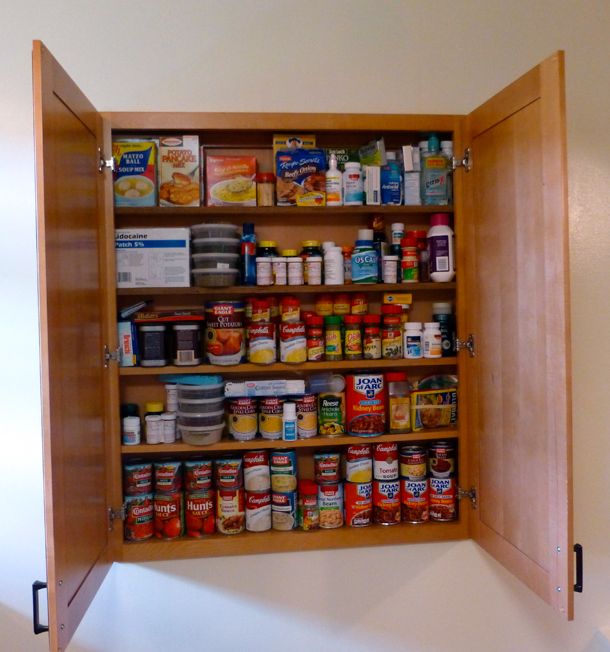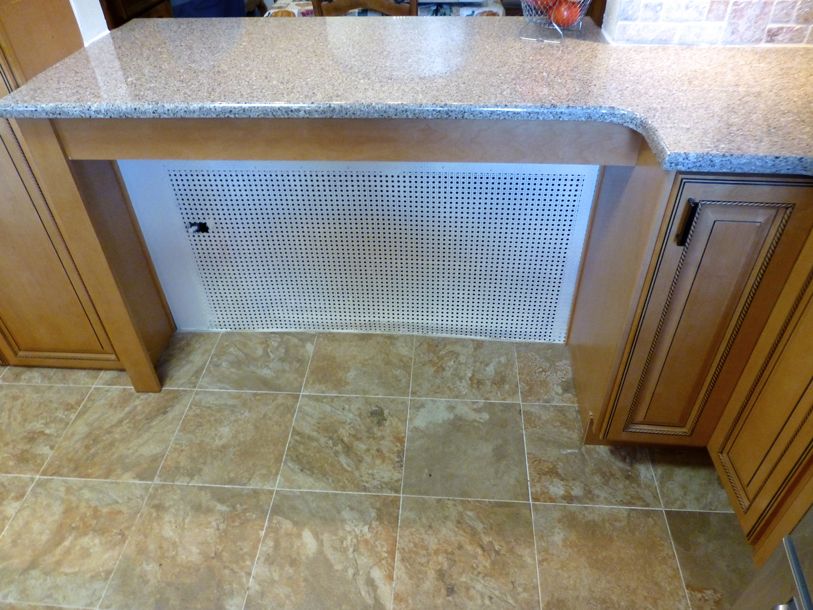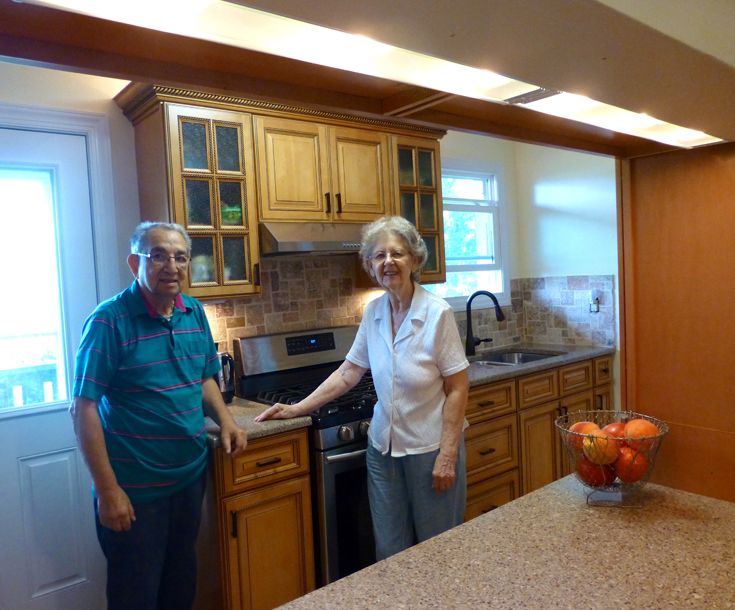 Tony and Eleanor updated their appliances to dramatic looking stainless and black enamel combinations. Task lighting was added UNDER the wall cabinets and UNDER the pass-through window to make it easier to see while working at the counters, improving safety. Mood lighting was added ABOVE the stove side cabinets to highlight the rope trim on the glass doors and the 4" high rope-trimmed crown molding there. The couple chose a durable, slip-resistant Ardosia Gold porcelain floor tile, and added a complementary patterned ceramic backsplash. To create much needed additional space, they added an ENTIRE WALL of 125" wide X 90" high X 12" deep Light Caramel Rope specialty cabinets featuring 12" wall depth drawers under the glass doors to their diningroom (photo BELOW). The diningroom wall of cabinets instantly became Eleanor's favorite makeover feature. She was thrilled the cabinets matched the color of her diningroom table and chairs so well, and was amazed at all the unexpected storage space she could now tap, instead of making countless trips to the basement. She also especially loved how the rope trim framed each mullion on the decorative glass doors, and the way the rope pattern was repeated on the eye-popping 4" high crown molding.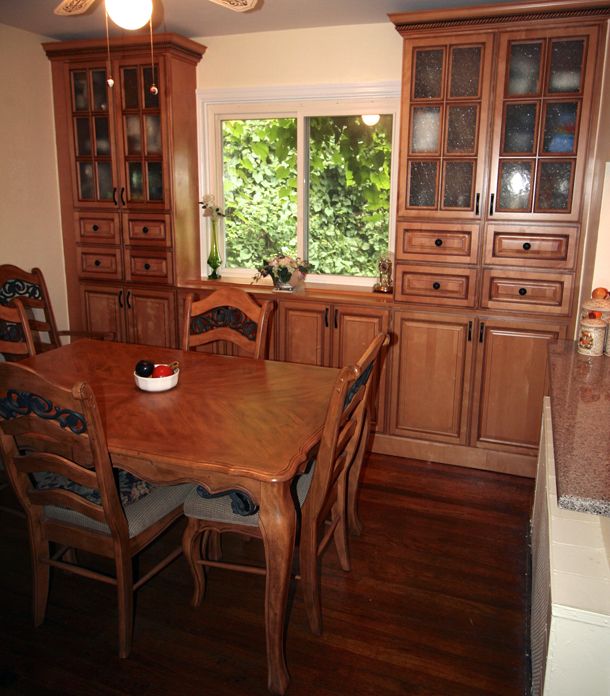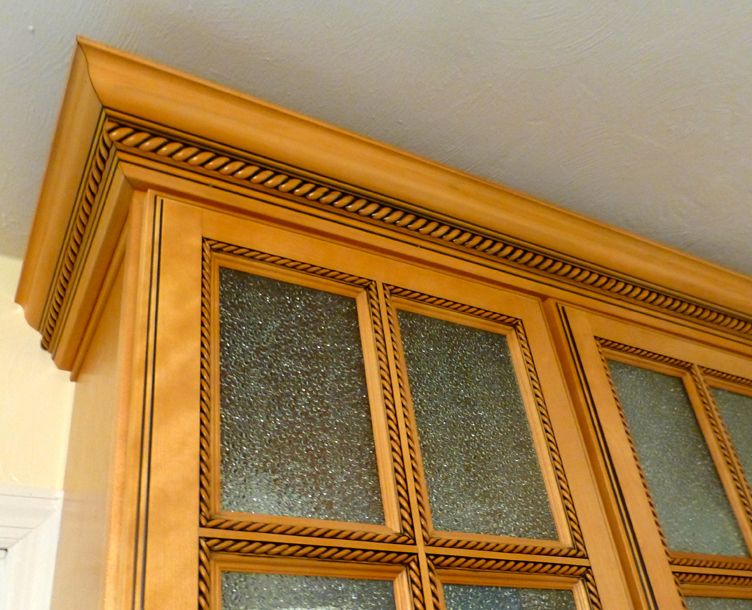 ---
Cathy & Jeff N. - Pittsburgh, Pennsylvania - Removing a Window & Adding Taller Cabinets & Island
BEFORE KITCHEN CABINET DISCOUNTS' MAKEOVER
When Cathy & Jeff purchased a Victorian home, their kitchen featured updated 30" high white cabinets, but it also came with multiple doorways and windows that created unusable "dead zones."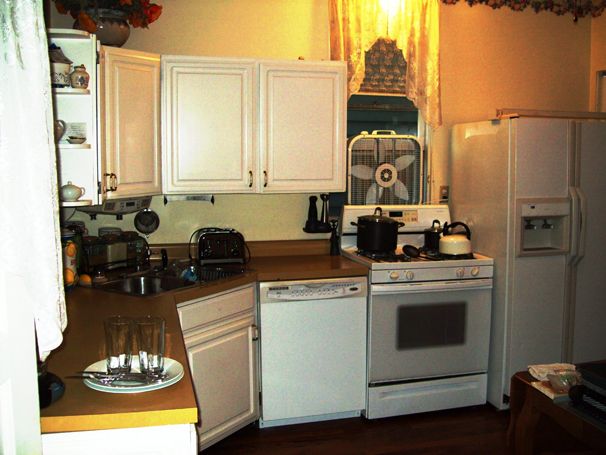 AFTER RTA KITCHEN MAKEOVER - Window Removed & Island Added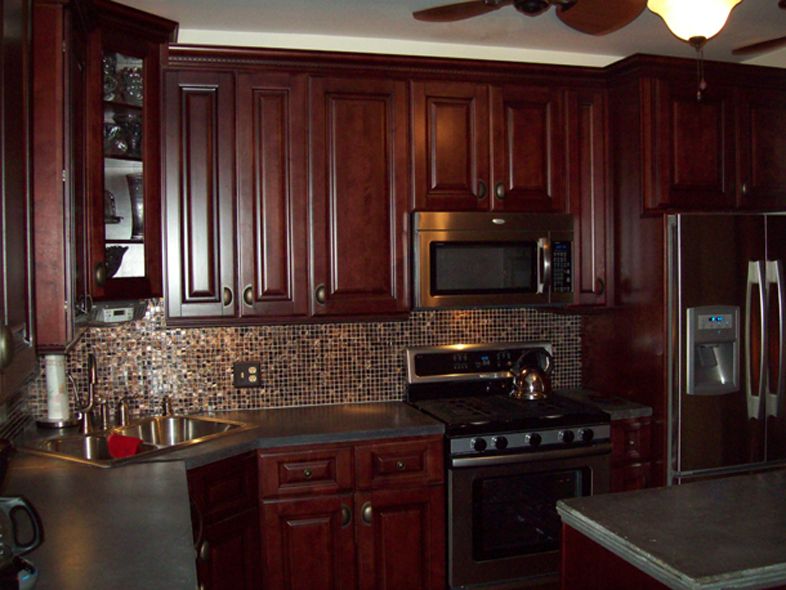 Converting their country kitchen into a contempory, sophisticated one that would make better use of their wall space and the ceiling height available was a priority. By blocking off one window, and opting for 42" high IMPERIAL RTA wall cabinets, base cabinets complete with dovetailed soft close rollout trays, and creating a sizable island, they devised a more practical and comfortable kitchen. They assembled and installed their RTA cabinets themselves, poured their own concrete counter top, and capped off their design with a classy mosaic tile back splash.
---
Trina B. - Lee's Summit, Missouri
Why RTA Cabinets Are a Better Bargain than Refaced Cabinets
Trina B., from Lee's Summit, Missouri, had a HUGE master bath, complete with a 106" long double sink vanity, space for a large pantry, a huge linen closet, and a Jacuzzi tub. Glamorous though the bathroom had been, it was starting to show its age. The room's provincial vanities, mauve floral wallpaper, worn carpeting, and faux paint on its walls were all starting to look dated. Plus, despite the vanity's substantial size, it offered only limited storage since the makeup desk in the center took up so much space.

BEFORE KITCHEN CABINET DISCOUNTS RTA BATHROOM MAKEOVER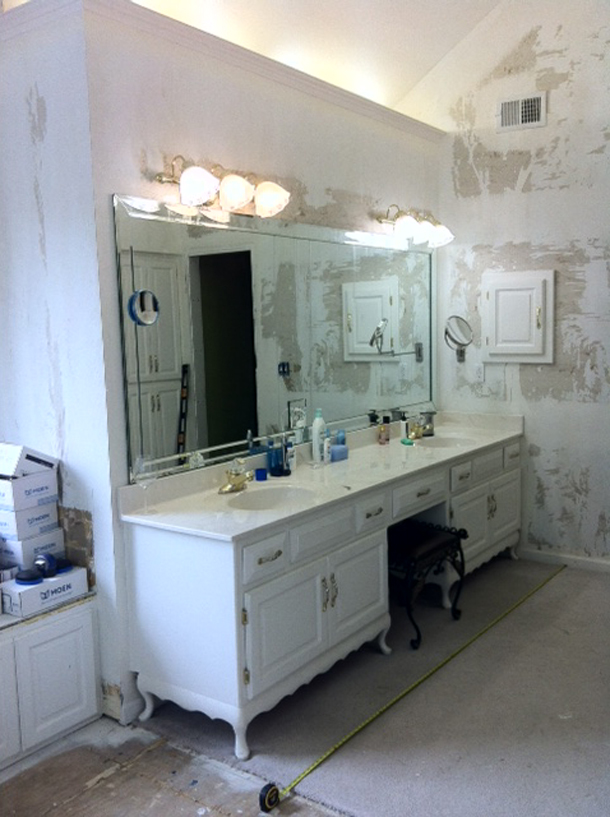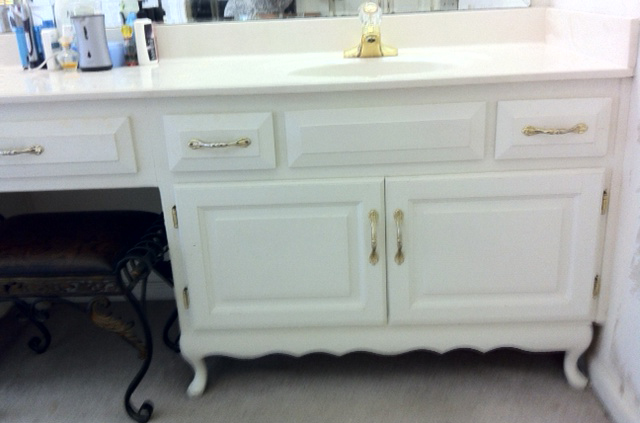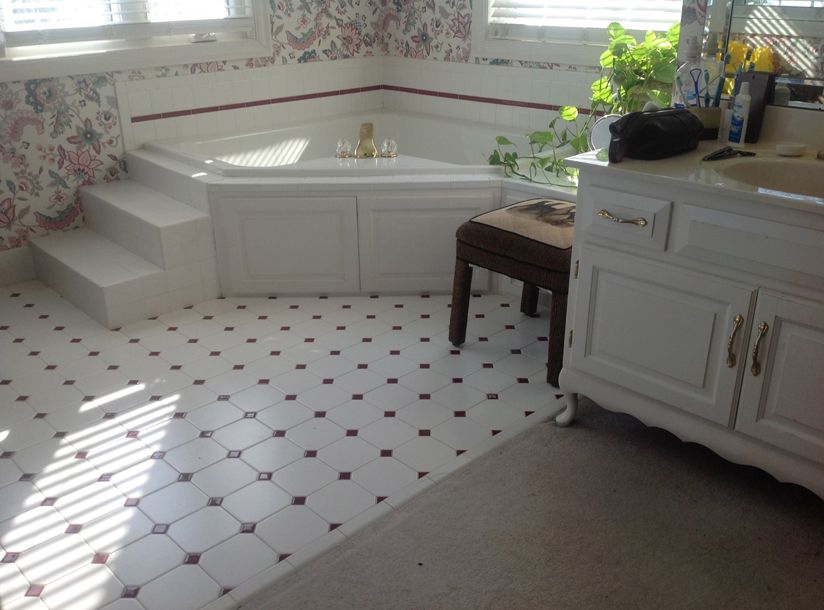 "When other people visit us now to see the transformation, they assume our bathroom makeover was really expensive. We had estimates from other companies for up to $10,000 to build a 106" vanity, reface our tub surround, reface our linen closet, and add a small linen closet for our coffee station. Alexandra at Kitchen Cabinet Discounts told me that I would love having new WALNUT CREEK cabinets instead of just resurfacing our old ones, and said we would not come close to paying that amount. She was right! We paid 1/3 of the price other companies quoted for EVERYTHING. Our solid wood cabinets look much better than the pre-fab particleboard ones the other companies wanted to use, we have a better layout, more organized space with bigger drawers and pullouts, and we have soft close doors on our cabinets."
AFTER KITCHEN CABINET DISCOUNTS RTA BATHROOM MAKEOVER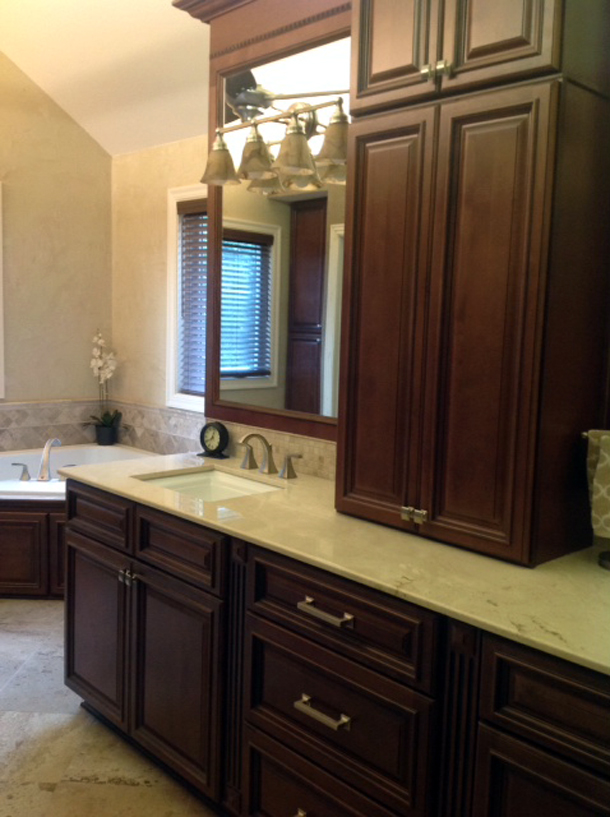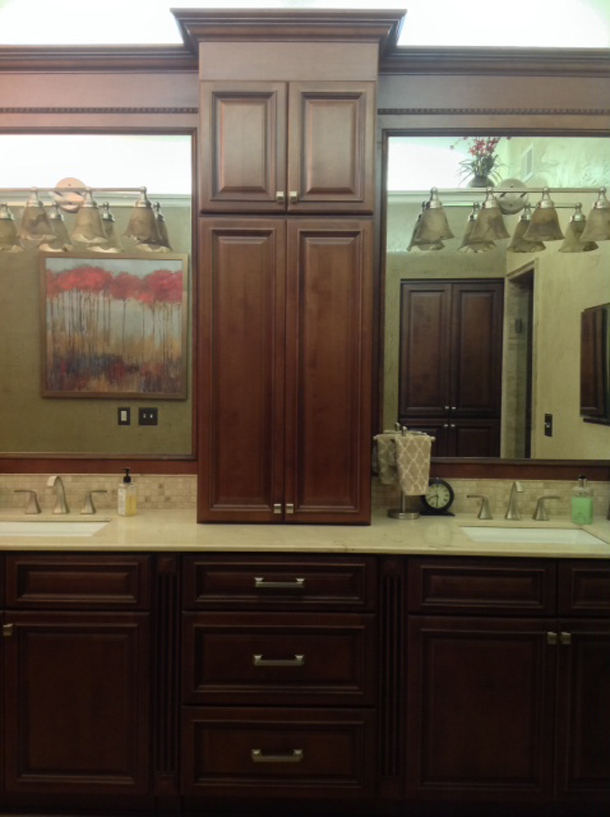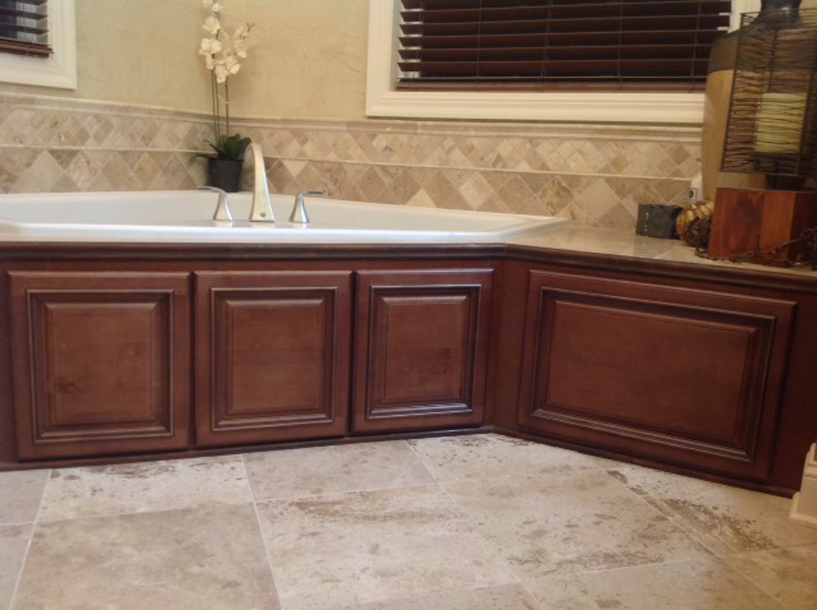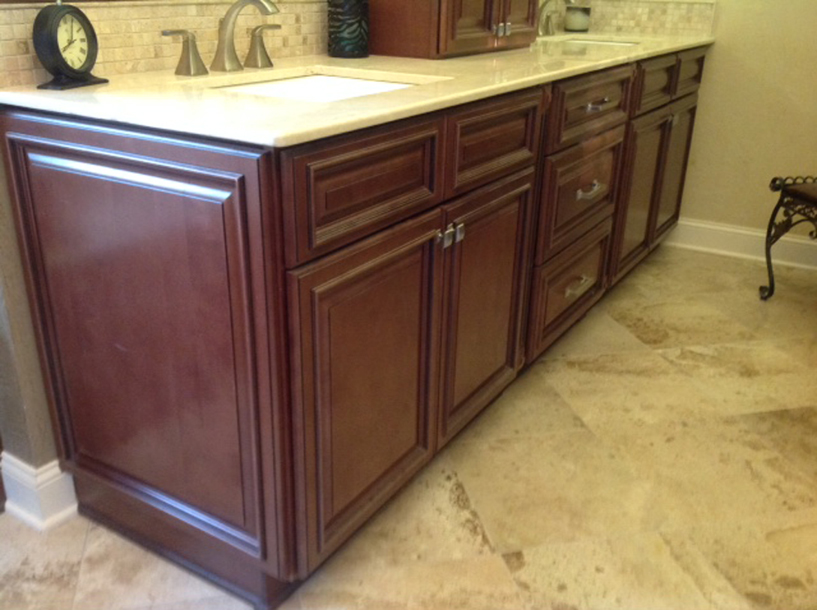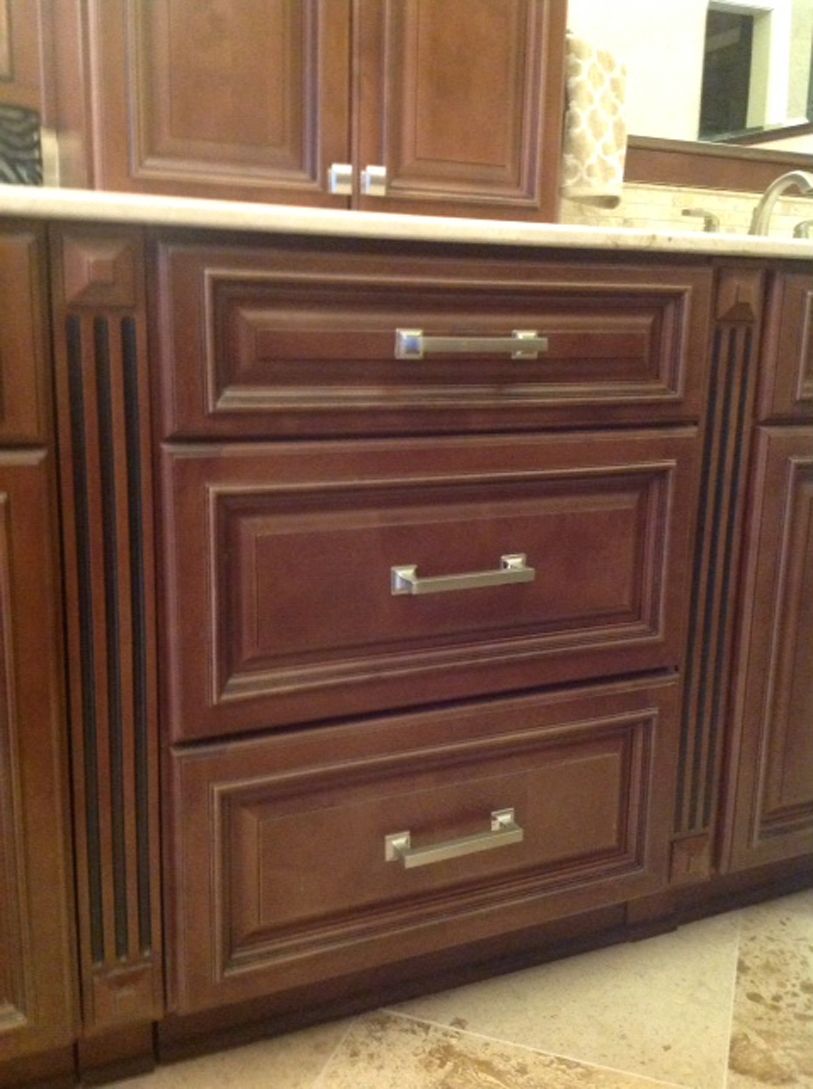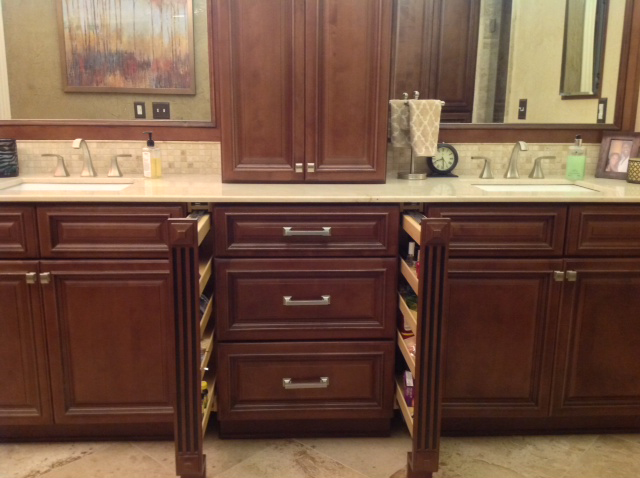 Trina decided to make storage and a high-end look her priorities for this bathroom makeover. She chose Travertine tile for the floor, and a complementary color for the walls. She replaced the makeup desk with a generous 24" wide drawer base that she flanked with 3" wide pullouts. She ordered a curling iron/blow dryer compartment on Amazon that she built in to the inside one of the sink vanities. Once the marble counter was in place, Trina stacked two wall cabinets between the vanity mirrors. The top wall cabinet holds a built-in small television; the lower one stores electric razors, electric toothbrushes, i-phones, their respective recharging stations, and plugs. A new pantry and new doors on the built-in closet (visible in the mirror), matching doors to cover the jacuzzi tub, along with 4" high crown molding, pulled everyting together. The look is new, high-end, glamorous, AND more organized.
"My favorite features are the hidden spice racks! They are perfect for nail polish, make up, and medication you may not want to be easily accessible to children. No one knows they are there until I show them! I'm so proud to have personally put each of these cabinets together, I absolutely LOVED the experience! Best of all, we have bragging rights since we did the work ourselves."
---
Marcy K. - Monroeville, Pennsylvania -
From 7 to 17 Cabinets WITHOUT Changing Doors, Doorways, or Windows
BEFORE RTA KITCHEN CABINET DISCOUNTS' MAKEOVER - Just 7 Cabinets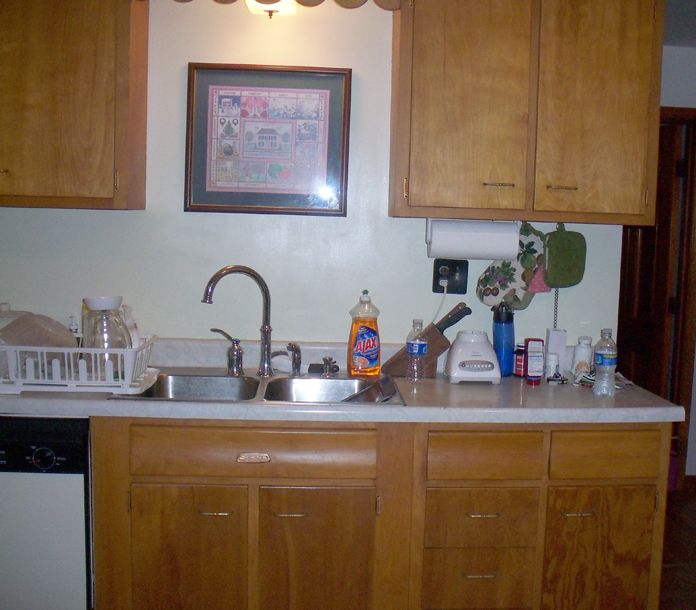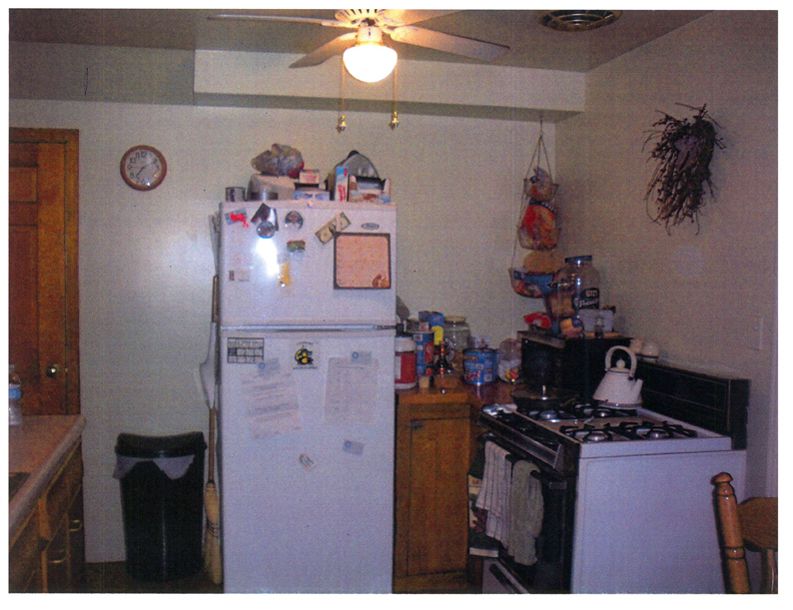 AFTER RTA KITCHEN MAKEOVER - 17 Cabinets + Tall Pantry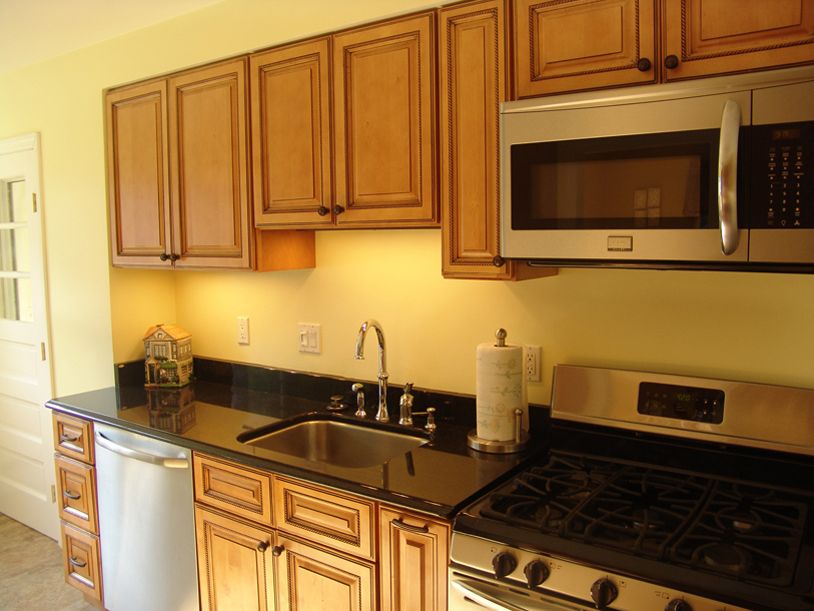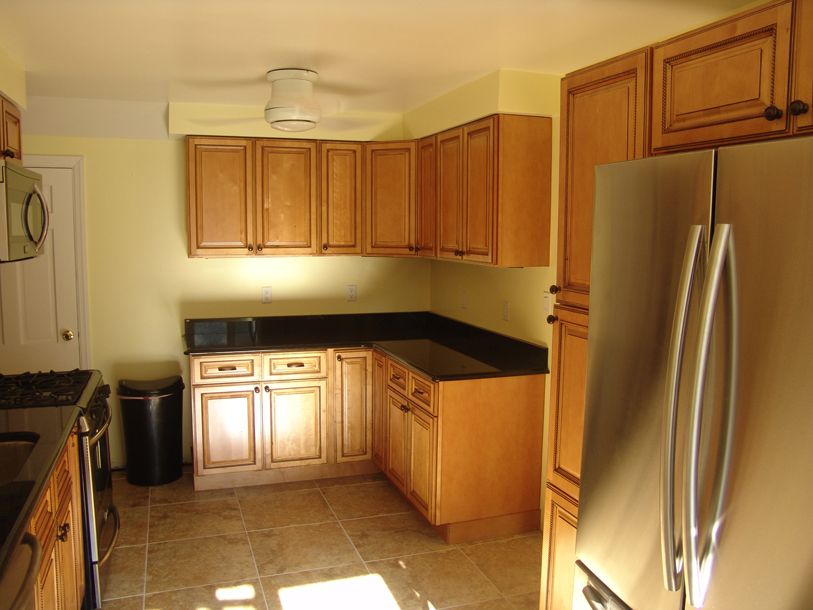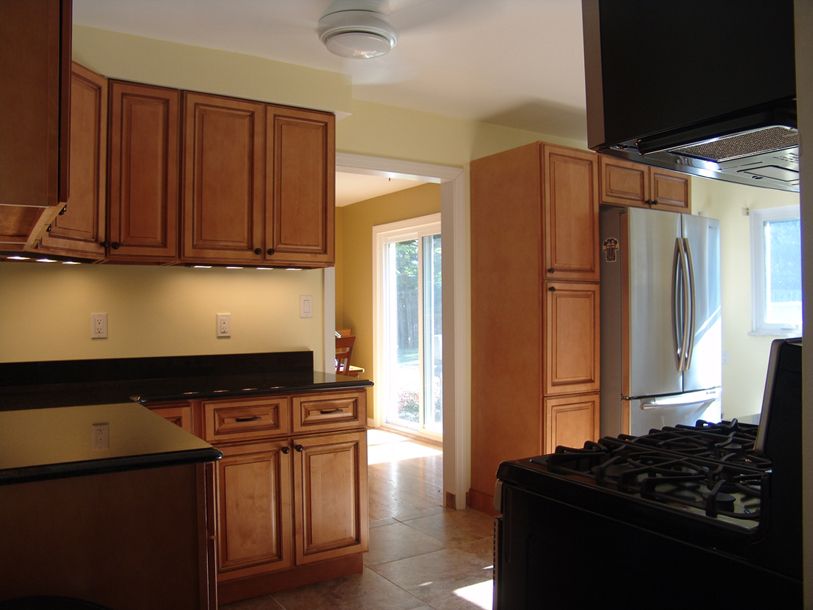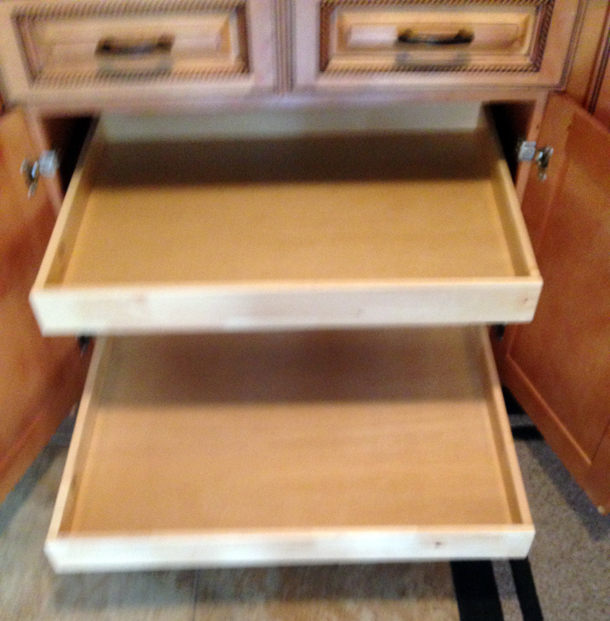 TRANQUIL is the word that describes Marcy K.'s new kitchen in Monroeville, Pennsylvania. Her 17 LIGHT CARAMEL ROPE cabinets and tall 18" X 84" pantry from Kitchen Cabinet Discounts offer so much storage, Marcy now has room to spare. But it wasn't always that way.

Two doors, two doorways, and two windows divide Marcy's kitchen. That's why the room felt tight and choppy, despite the fact that the large window over the kitchen table allowed sunlight to pour into the room. Marcy's old kitchen had only 7 cabinets in it. They layout wasn't practical, and since there was so little space to store food, pots, pans, and small appliances in the 7 cabinets, the little counter space available was covered with foodstuffs. Marcy wondered how she could sensibly redesign the kitchen without relocating the doors, doorways, or windows in the kitche, and still provide enough storage space and enough room for her family to comfortably move around.

The solution? Removing the kitchen table and 4 chairs, and using the dining room as a dining room, instead of keep it as a "holiday only" area. With the table and chairs gone, Marcy could buy a dream-sized refrigerator and place it on an unused wall with a double depth cabinet above it, and add an 18" wide X 84" tall pantry. By moving the stove to the sink wall, she could build a complete "L" of cabinets where only the refrigerator, stove, and lazy susan had been. These changes enabled her to transform a 7 cabinet kitchen into a 17 cabinet kitchen.

Marcy upgraded the floor with porcelain tiles that incorporated black, yellow, and caramel brush strokes. The yellow color in the floor tile picked up the new, inviting yellow paint on the walls, and the caramel color in the tile duplicated the color of the 17 light caramel colored cabinets. The black brushstrokes in the tile highlighted the black glaze over the rope trim of the cabinets, the black tops of the new stainless stell appliances, and the black granite countertop.

"We love the design and the quality of our cabinets. Being able to adjust the shelves of the cabinets the way we want to since there are so many pre-drilled holes in each cabinet is another nice feature. Our friends couldn't believe how much -- or rather, how little - we paid for our cabinets with solid wooden doors and drawers, plywood construction, dovetailed drawers, and soft close glides. And EVERYBODY loves the rollout base pantry. When a friend of ours who is a real estate agent visited, she said, 'Your kitchen alone will sell this house.' But we don't plan to move anytime soon. We're enjoying the new kitchen and the house again." - Marcy

Addendum: Marcy later added two full extension rollout trays to EACH of her base cabinets AND four rollout trays to her pantry, and is even MORE pleased with her kitchen.
---
Kristin S. - Pittsburgh, Pennsylvania - Turning an "L-Shaped" Kitchen into a "Double L-Shaped" Kitchen
BEFORE RTA Kitchen Makeover - 11 Cabinets on 2 walls
Kristin realized soon after moving into her home in 2010 that her "L-shaped" kitchen just wouldn't work for her family of four. The kitchen's 11 cabinets, circa 1964, were small, and had no room to store a crockpot, mixer, blender, or the large pots and pans she used regularly. The blind corner cabinets were hard to access, and instead of enjoying her time in the kitchen, the space always felt crowded and cramped. Kristin and her husband really didn't want to do a kitchen makeover, but she feared if they didn't tackle the projects shortly after moving into her home, one year would become two, two would become five, and only after the kids were ready to leave the house would they finally create a dream kitchen they could all enjoy.
Not willing to suffer for years to come, Kristin didn't let the three doorways coming into the kitchen or the huge furnace duct that restricted expansions deter her improvement plans. By removing just the upper half of the wall to the diningtoom, she opened her kitchen, and nearly doubled her usable space.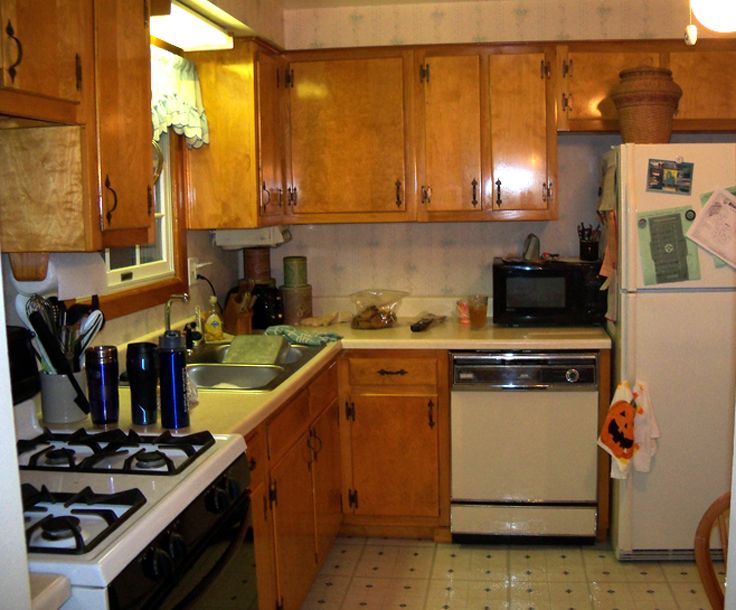 AFTER RTA Kitchen Makeover - 18 Cabinets on 4 walls + Eat-in Counter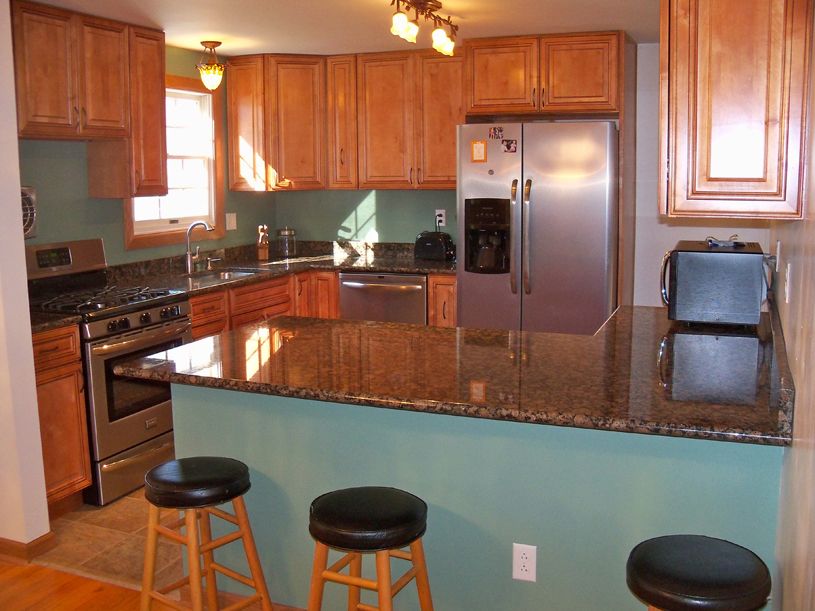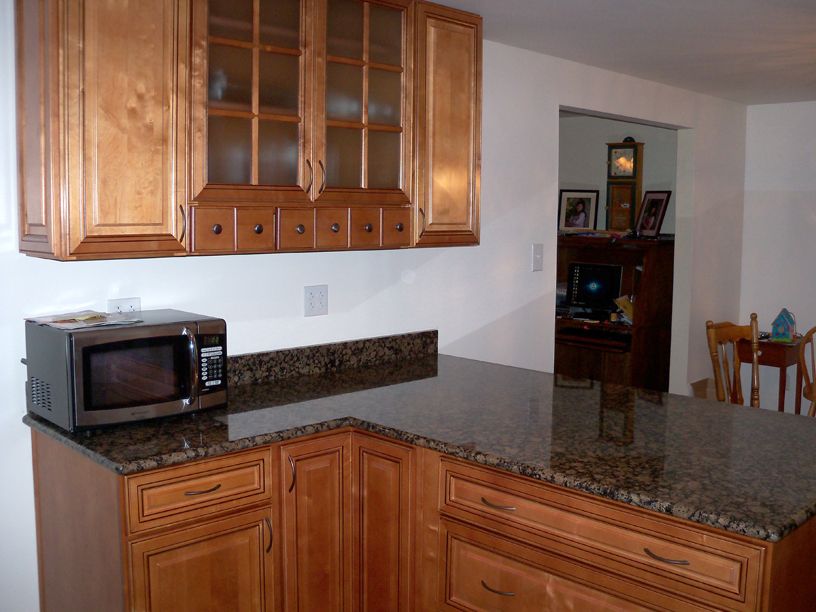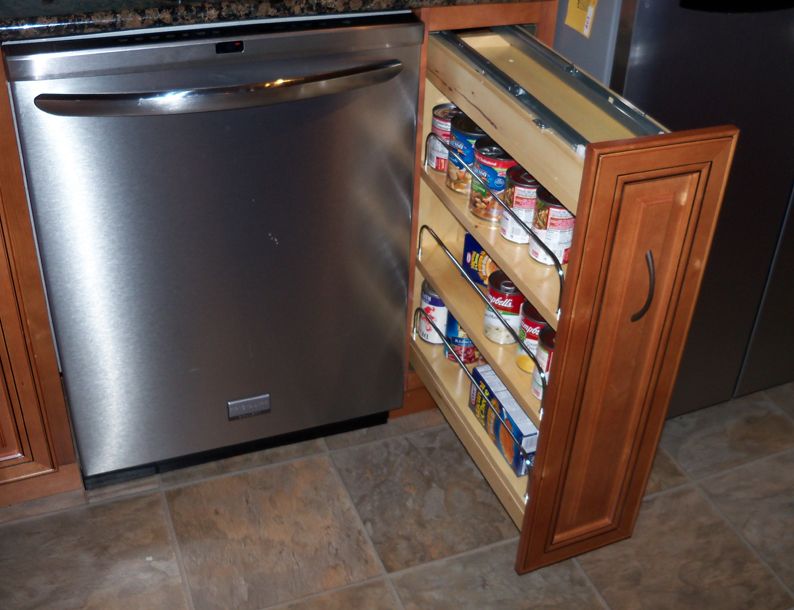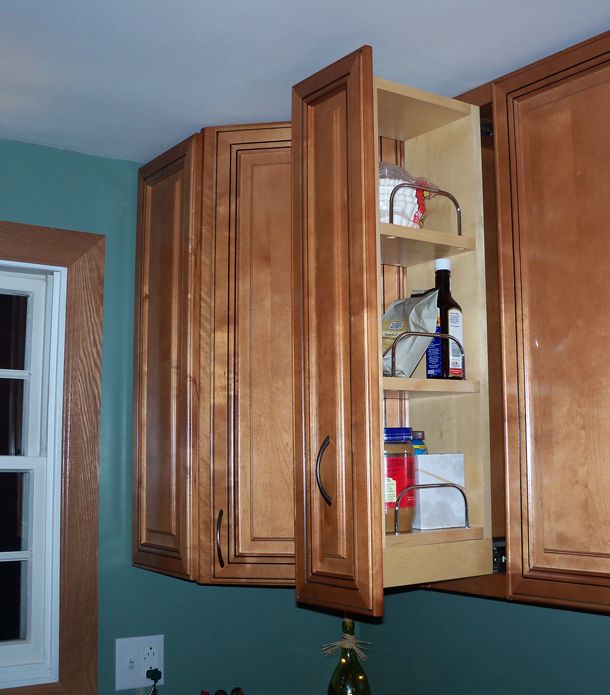 Kristin still utilized Kristin utilized the full space in her first "L-shape" cabinetry area, but by removing the wall to the dining room, she was able to add a second "L-shape of cabinetry, expanding her kitchen from 11 cabinets to 18 cabinets. She swapped out her 30" high wall cabinets with 36" high wall cabinets, and replaced her tough to access blind corner wall and base cabinets with a highly desirable lazy susan and a spacious easy to access corner diagonal wall cabinet. She doubled the space above her refrigertor by using a double depth 24" deep cabinet over it, flanked with refrigerator panels. On the peninsula wall, she added a second lazy susan, a glass cabinet with 6 spice drawers underneath, and a massive 36" wide drawer base to hold pots and pans. To minimize bending, Kristin also added a 9" wide rollout base pantry, a 9" wide pullout wall cabinet, rollout trays in a 15" wide cabinet, and a rollout trash bin. Instead of family members bumping elbows as they mosey around the tight space, they now sit comfortably on stools at the peninsula coutner, engage in in more conversations and assist with more meal preparations.
"I'm so very happy with our decision to redo the kitchen. It turned out wonderfully, and it makes life so much easier. Our old cabinets were so small, we had trouble storing a bottle of oil in them. Now, we have space for everything, and we all work together much more easily than before. I can't imagine not having the pullouts. They are my favorite additions. And our friends keep saying our cabinets have much more detailing on them than they've ever seen before. It just makes us feel good to know our space looks so good." Kristin S.
---
Tom & Judy M. - Endicott, New York - Creating a Designer Look
AFTER RTA KITCHEN CABINET DISCOUNTS' MAKEOVER
When Judy and Tom decided to renovate and expand their kitchen, they opted for 20 IMPERIAL RTA cabinets from Kitchen Cabinet Discounts. Their kitchen now features a sink wall with a pantry, a refrigerator wall with a book shelf built above the microwave, a peninsula with a cook top that opens into their breakfast area, and an island. They created a mini-bar in the kitchen by installing a 36" wide high wall cabinet with glass mullion doors on top, and by stacking a 30" wide X 18" high X 12" deep wine rack over a 30" wide X 15" high X 12" deep wall cabinet under the counter. Instead of using a valance across their window, they framed the window by placing a 36" wide by 12" high X 12" deep wall cabinet above it.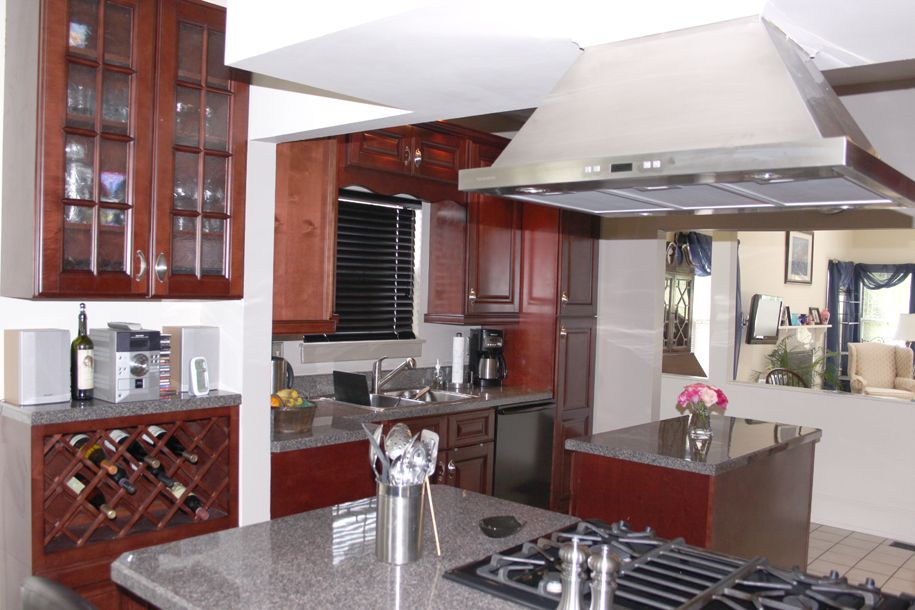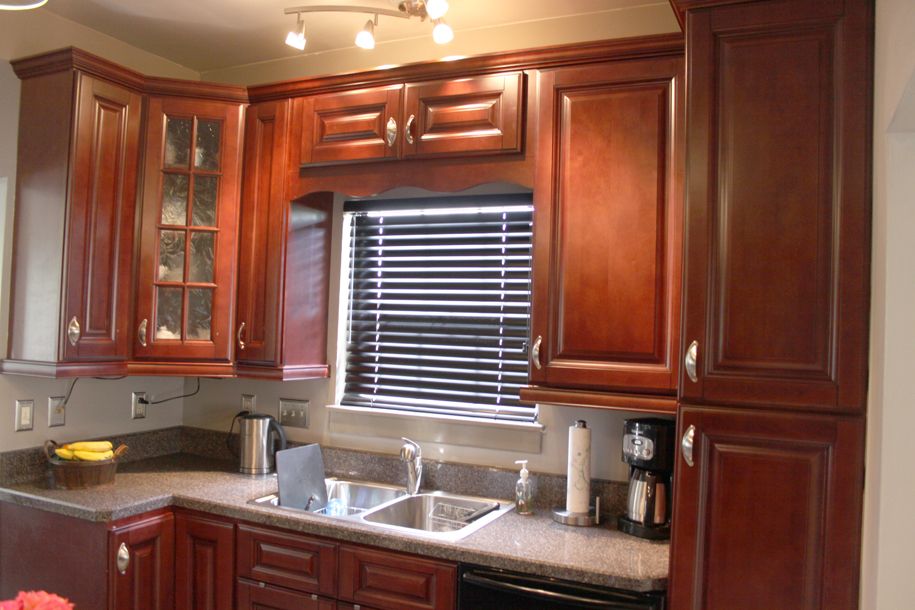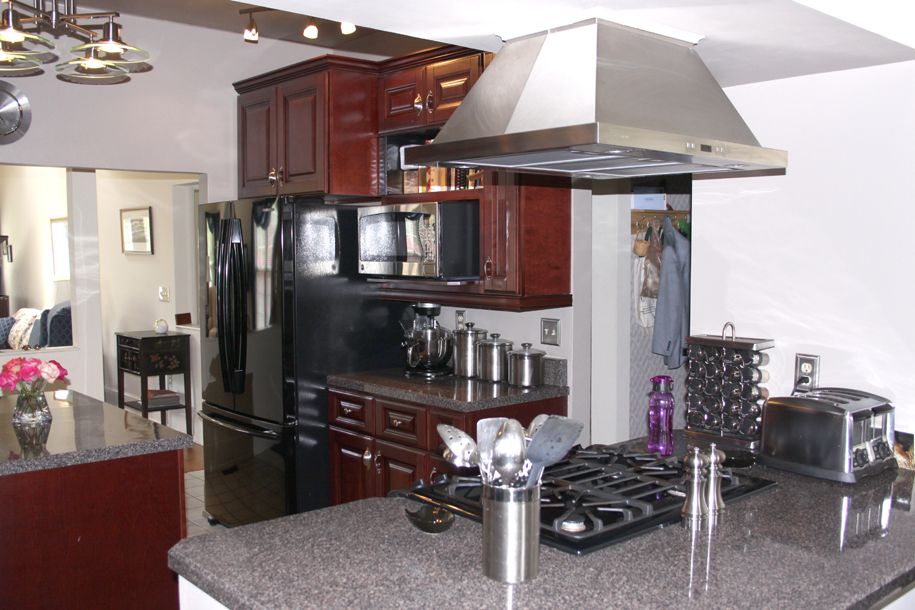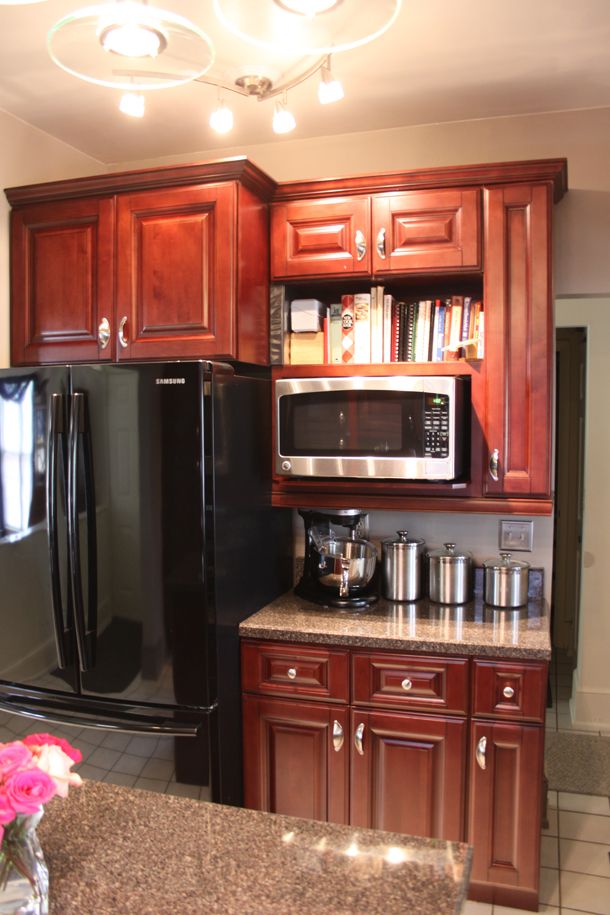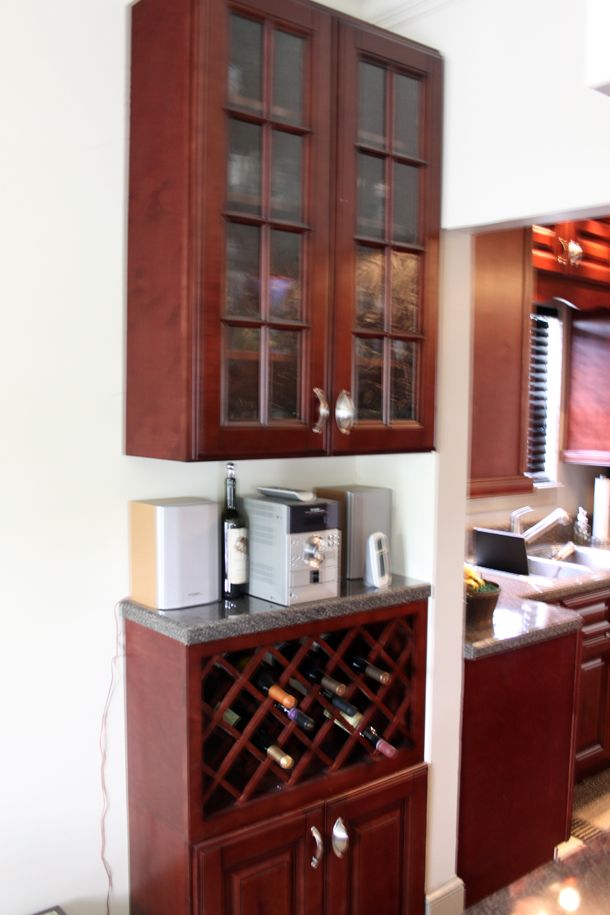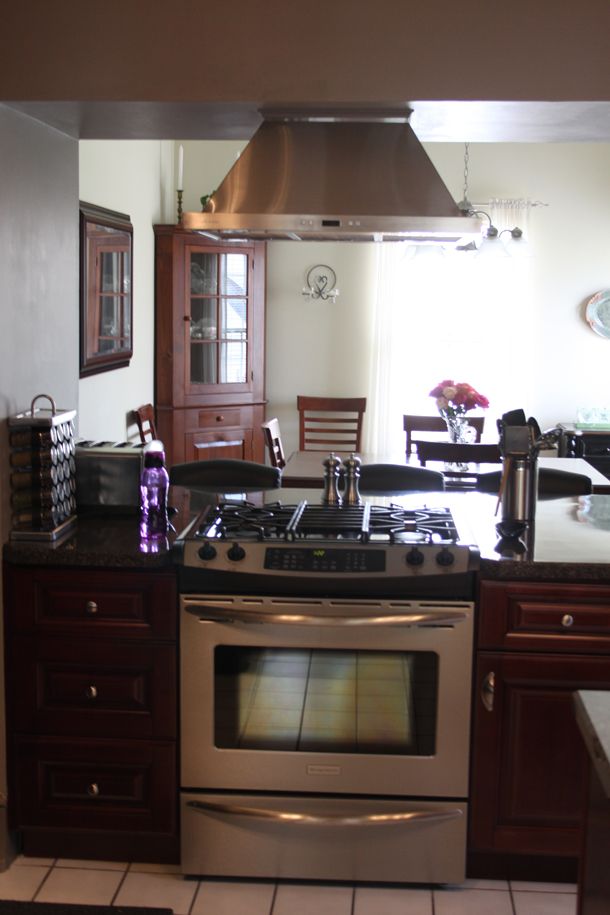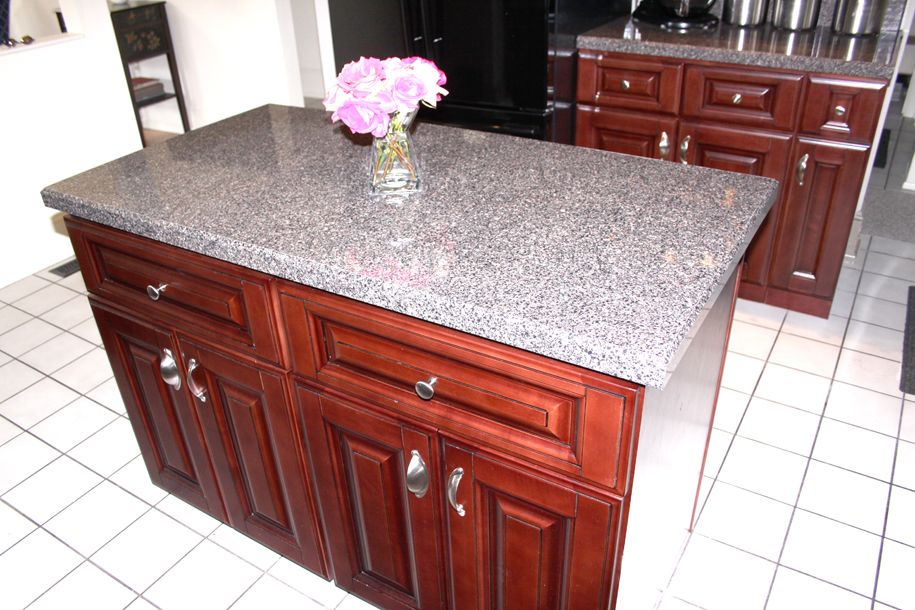 ---
Stephanie & Dean B. - San Antonio, TX - Adding an Island
AFTER RTA KITCHEN MAKEOVER
Stephanie and Dean are experienced house flippers. They know houses with updated kitchens and bathrooms move faster on the market than those with outdated kitchens. That's why they updated the cabinetry in the "L" shaped kitchen of this home in San Antonio, by adding 18 MADISON AVENUE RTA cabinets, including a lazy susan, corner diagonal cabinet, 18" wide pantry, a 9" wide rollout base pantry for condiments and cans, large drawer bases to store pots, a solid wood double bin trash can insert, and more. They created an island with three more large base cabinets that serves as a 72" long eat-in counter/workspace. Matching MADISON AVENUE RTA vanities were added to two bathrooms for consistency.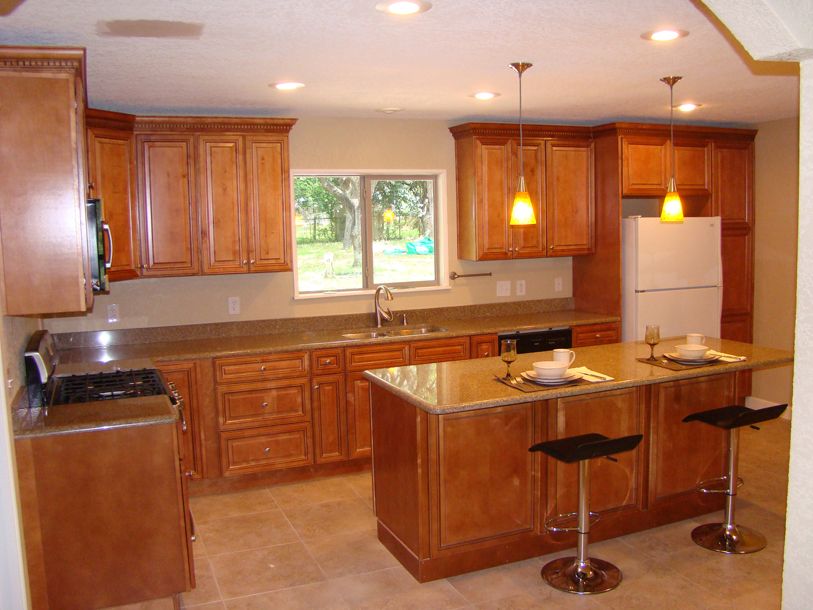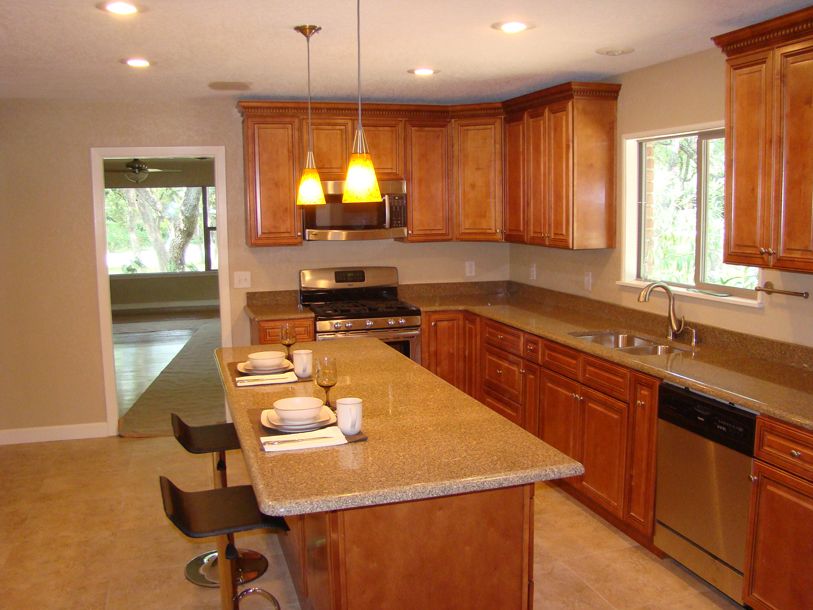 ---
---
Sue M. - Leesburg, Virginia -

Making a Rental Property More Attractive and More Rentable with Builder Grade Cabinets
BEFORE KITCHEN MAKEOVER AFTER KITCHEN CABINET MAKEOVER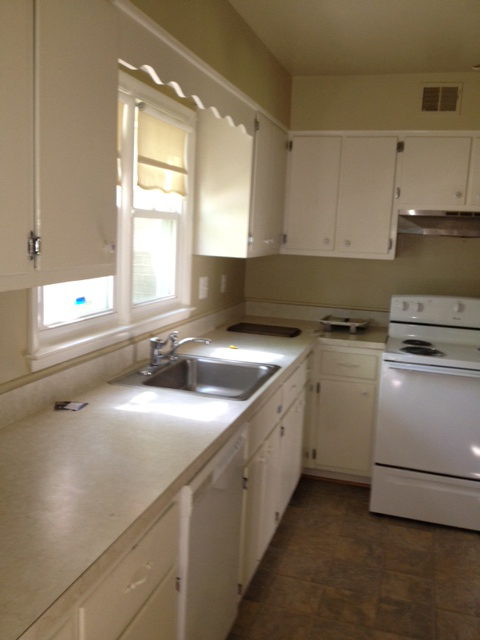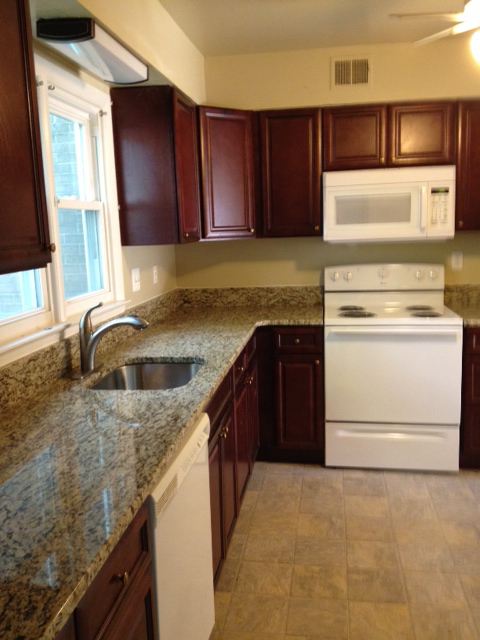 Sue M. from Leesburg, Virginia, buys and renovates houses to rent. For this particular rental property, Sue said remodeling the kitchen made a significant difference in her ability the rent the house.

"The old cabinets that were painted white had hinges on the outside, and just didn't look polished or upscale. The new BETTER BUILDER GRADE CHOCOLATE cabinets have hidden hinges and doors that come almost to the edge of the cabinet itself. They look high quality and solid. Plus, I'm sure I won't be replacing components soon. I also really like the fact that for a rental, if anything happens to one of the cabinets, I've got a company that works with me, and I'll be able to get a replacement quickly instead of waiting 6 - 8 weeks like you do when ordering from Lowe's or Home Depot. That is very important when turning around rental properties.

"My installers did mention that they were worried when I said I would be buying cabinets they would have to assemble, but once they got them, there were HUGE sighs of relief. They said they were a breeze to put together and that they would gladly take a job again when we order these cabinets. Plus, the cabinets are VERY affordable and turn around time -- order to delivery -- was great."
---
Max M. - Pittsburgh, Pennsylvania Keeping the Same Footprint, but SLIGHTLY Altering the Design
BEFORE KITCHEN MAKEOVER AFTER KITCHEN CABINET MAKEOVER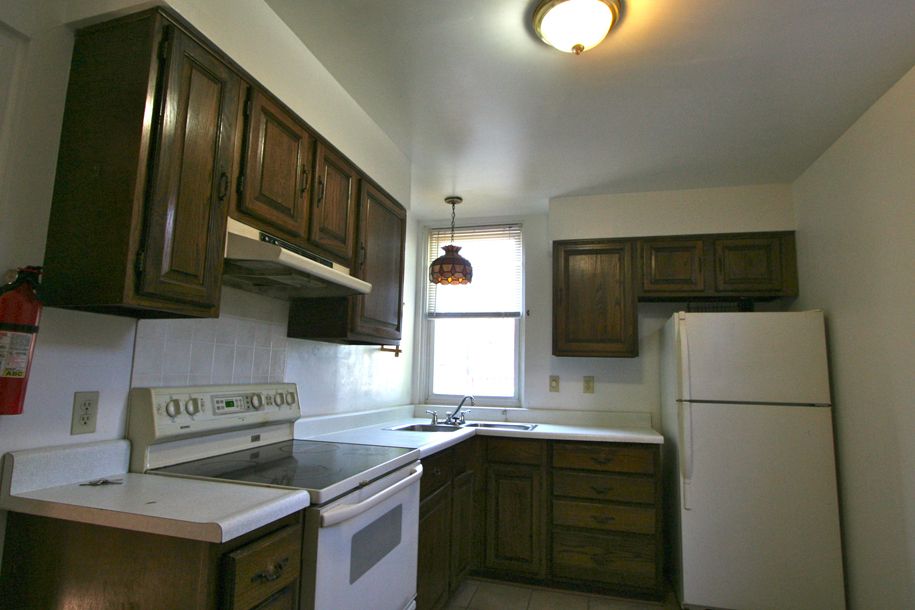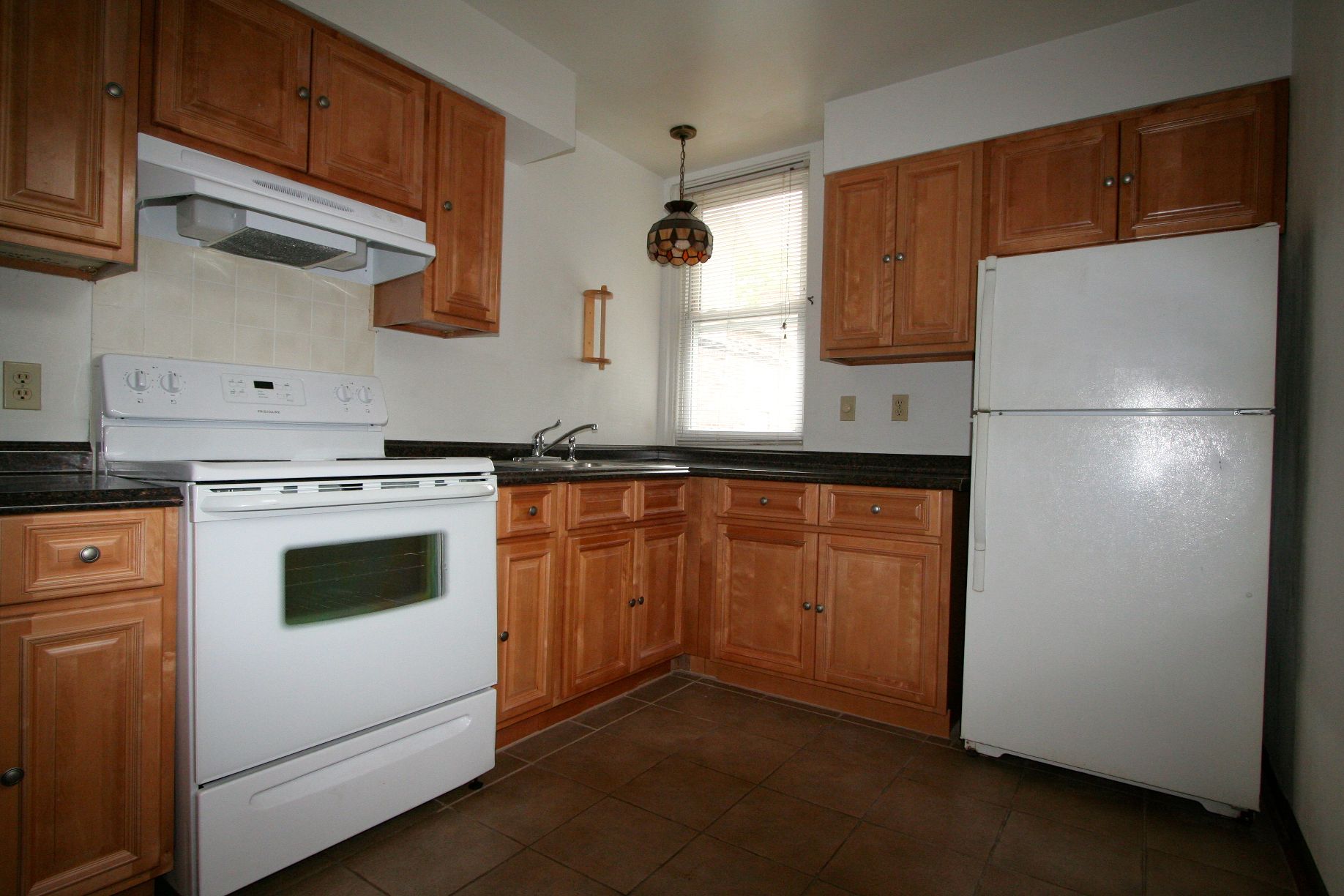 Max M.'s old kitchen cabinets in this rental propery in Pittsburgh, PA, looked dingy on the outside, and worse on the inside. His old cabinets' paricleboard shelves had buckled from water damage, and a few drawers no longer operated properly. Max said the corner sink was a nightmare for plumbers because they had trouble squeezing into the puny opening to work on the pipes. He wanted to replace the cabinets, and slide the sink down the couner a little closer to the stove -- without changing the bulkhead or window, or altering the floor's footprint, to keep costs low. Max purchased our buider grade cabinets, and had them assembled by the warehouse. These builder grade cabinets, like ALL of Kitchen Cabinet Discounts' cabinetry, have solid PLYWOOD BOXES and NO PARTICLEBOARD whatsoever. Best of all, Max now has easy access to the sink.

ELABORATE DETAILING ON RAISED PANELS FULL EXTENSION GLIDES OFFER 25% MORE DRAWER SPACE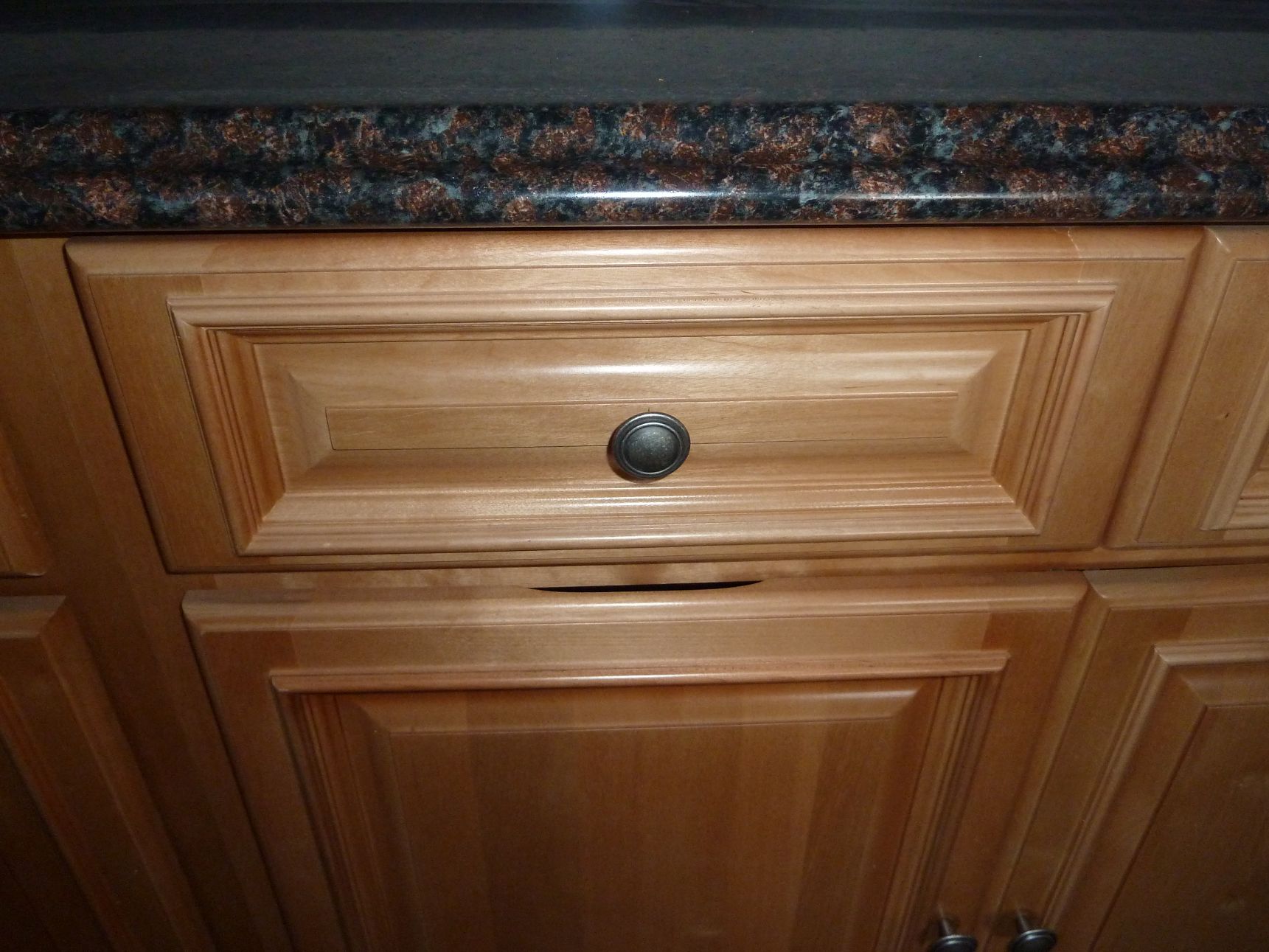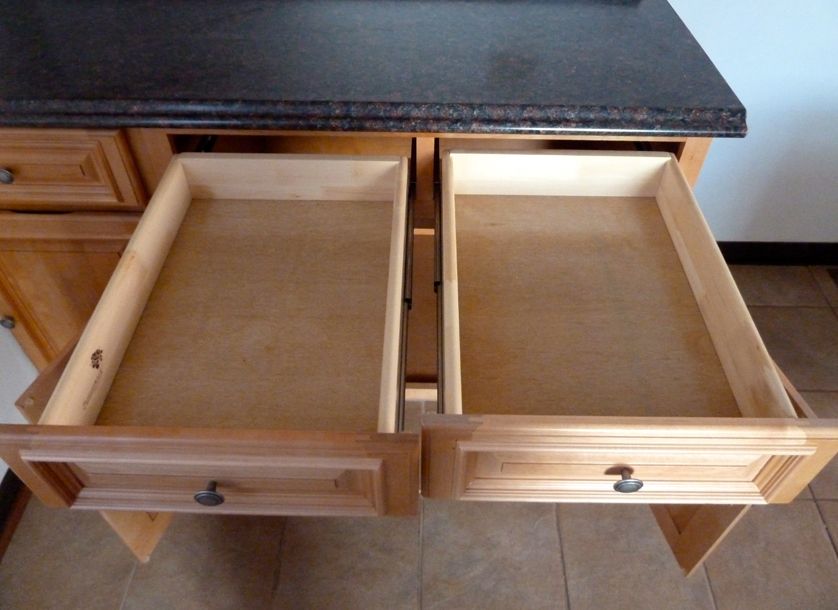 "I've been installing cabinets in my rental units for close to 15 years. I used to buy cabinets at Home Depot or Lowe's, but now buy all of them from Kitchen Cabinet Discounts because I PAY LESS for them, get a MUCH better quality cabinet, and get design advice when I need it. RTA cabinets are easy to assemble, but for just $18 more per cabinet, I buy them already assembled from Kitchen Cabinet Discounts. I get them delivered to the curb of my properties within a few days from the time I order them, and we install that same day." Max M.
** Kitchen Cabinet Discounts is the sole company granted permission to use photos from its customers. NONE of our photos may be reproduced or copied without the express written permission of Kitchen Cabinet Discounts.
---
Kitchen Cabinet Discounts sells high quality RTA cabinets in maple, oak, bamboo, and birch at remarkably cheap prices for quality cabinets like ours. Email us at CabinetDiscounts@icloud.com or phone us at 412-655-7377 to learn how you can purchase maple, oak, bamboo, and birch RTA cabinets at wholesale prices for YOUR RTA kitchen cabinet makeover. We offer a FREE design service to anyone purchasing just $2,000 worth of RTA cabinets from us, and our discount cabinets are sold up to 75% off regular retail costs. Homeowners, builders, apartment managers, and contractors are all welcome to buy our discount cabinets at the wholesale price.
Click HERE, to see Kitchen Cabinet Discounts' HOME PAGE.